Published 02-01-11
Submitted by Points of Light
With Support from HandsOn Network and American Family Insurance, The BE BIG Fund Awards $75,000 In Community Grants To Support Ongoing Civic Engagement Campaign


In Celebration of Valentine's Day, Scholastic Introduces PBS KIDS® Programming Event, BIG In-School Events & Expanded Social Media Offerings
In a significant initiative to engage young children in service and volunteerism to solve problems in their communities, Scholastic Media (NASDAQ: SCHL), a division of the global children's publishing, education and media company Scholastic Inc., and HandsOn Network, the volunteer arm of Points of Light Institute and the largest volunteer management network in the country, today announced BIG growth of its Clifford BE BIG™ campaign with the launch of the third annual "Be Big In Your Community Contest." The contest, along with an expanded Valentine's Day promotional campaign, gives families a way to engage even the youngest children in service and volunteerism. American Family Insurance is sponsoring the BE BIG campaign for a second year.
Beginning today, the third annual BE BIG In Your Community Contest invites kids of all ages, teachers, parents and community leaders to submit a BIG idea that demonstrates Clifford's BIG Ideas (Share, Help Others, Be Kind, Be Responsible, Play Fair, Be a Good Friend, Believe in Yourself, Have Respect, Work Together and Be Truthful) to enter for a chance to win $75,000 in community grants from the BE BIG Fund to be used towards implementing the winning proposals. The mission of the fund is to recognize and reward others for their BIG actions, to catalyze change in local communities and to provide resources for everyone to share BIG ideas. Since its inception, the contest has brought in over 1,500 entries from more than 40,000 children, parents, teachers and community leaders ranging in age from two to 70. Past winning entries and profiles can be found at www.scholastic.com/cliffordbebig/contest. Complete rules are online at www.scholastic.com/cliffordbebig/contestrules. NO PURCHASE NECESSARY. Void where prohibited.
"It's fitting that the BE BIG campaign kicks off during the month in which we celebrate love for family, friends and neighbors," says Deborah Forte, President of Scholastic Media and Executive Vice President of Scholastic Inc. "Since the inception of the contest, thousands of people of all ages have embraced Clifford's BIG Ideas and turned those ideas into actions; Scholastic is delighted to once again provide children and families with an opportunity to improve the lives of others while taking pride in service to their community."
"Through this HandsOn Network partnership and community campaign with Scholastic and Clifford The Big Red Dog, so many young people have been inspired to think about and act on what they can do to create positive change in their families, schools and neighborhoods," said Michelle Nunn, CEO of Points of Light Institute and Co-Founder of HandsOn Network. "Together we look forward to continuing to help equip children and families to adopt a lifelong tradition of service and volunteer action."

"At American Family we understand the importance of strong communities to a better quality of life," says Debbie Peterson, Customer Relationship Marketing Director. "We're proud to again support a campaign that aligns with our values and encourages citizens of every age to offer ideas that promote positive change, and then helps make them a reality."
Throughout the month of February, Scholastic Media, in conjunction with HandsOn Network affiliate organizations, will take the "BE BIG in Your Community Contest" to local communities nationwide by providing children with the opportunity to participate in BE BIG in-school events. Clifford The Big Red Dog will join teachers and students to celebrate what it means to BE BIG in the following cities and schools:

Atlanta / Ron Clark Academy / Hands On Atlanta


Chicago / Newton Bateman Elementary School / Chicago Cares


Minneapolis / Capitol Hill Magnet School / HandsOn Twin Cities


New York City / Children's International School P.S. 22 / generationOn


Phoenix / Encanto Elementary / HandsOn Greater Phoenix


Denver / Metro Volunteers of Denver
As Clifford's ten BIG Ideas were borne out of the curriculum developed for the award-winning animated television series that airs weekdays on PBS KIDS, the BIG dog is celebrating the upcoming holiday with a three-day television event called "Clifford's BIG Valentine Celebration." Showcasing Valentine-themed episodes of "Clifford The Big Red Dog"® and "Clifford's Puppy Days," the shows air February 10, 11, and 14 on PBS KIDS (check local listings). Each episode emphasizes one of Clifford's ten BIG Ideas. In addition, Lionsgate is releasing the first all-new Clifford DVD in nearly two years that includes six fun-filled episodes never released to DVD that follow BE BIG theme "Be a Good Friend." "Clifford: Best Buddies" also includes six bonus Speckles stories and is available today for the suggested retail price of $14.98.
Also beginning today, Scholastic Media introduces a new Clifford Valentine's Day Facebook App at www.facebook.com/cliffordbebig - where BIG Clifford fans can post a Clifford's BIG Valentine "badge" to their profile. Fans can also make the "Clifford's BE BIG Promise" at www.scholastic.com/cliffordbebig/promise and pledge to BE BIG all year long. Those who make the Promise, depending upon their age, will have the opportunity to share it with their friends and families via email, Twitter and Facebook, and explore volunteer opportunities in their communities through the HandsOn Network.
In addition, a Clifford Valentine's Day national advertising campaign will kick off today sending out heart-filled Valentine's wishes to peoples' homes, computers and mobile devices. And finally, Clifford will also be hosting a BE BIG event at Scholastic's flagship Soho store in New York City on Monday, February 14 from 3:30 to 4:30 PM to celebrate Valentine's Day with a special story time reading for kids by Erica Hill, Co-anchor of CBS News' "THE EARLY SHOW."
The Clifford BE BIG campaign (scholastic.com/cliffordbebig) is a fully integrated cause marketing program that invites everyone to take action and raise awareness for how Clifford's BIG Ideas can make the world a better place. The initiative is sponsored by American Family Insurance, an organization with a long tradition of community sponsorships and involvement, contributing to organizations that improve the quality of life for those in need, particularly children. With more than 126 million books in print, Clifford is a literary classic embraced by parents, teachers and kids. Newly repackaged Clifford classic stories by Clifford creator Norman Bridwell were introduced in May 2010 by Scholastic.
For more information on HandsOn Network, please visit www.HandsOnNetwork.org. For more information about Scholastic, please visit Scholastic's media room at mediaroom.scholastic.com. For more information on Clifford visit PBSKIDS.org/clifford or PBS.org/pressroom. For more information about American Family Insurance, please visit www.amfam.com.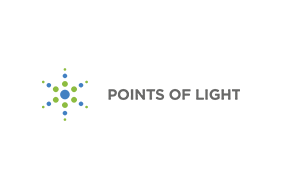 Points of Light
Points of Light
Points of Light is a nonpartisan, global nonprofit organization that inspires, equips and mobilizes millions of people to take action that changes the world. We envision a world in which every individual discovers the power to make a difference, creating healthy communities in vibrant, participatory societies. Through 177 affiliates across 38 countries, and in partnership with thousands of nonprofits and corporations, Points of Light engages 5 million volunteers in 16 million hours of service each year. We bring the power of people to bear where it's needed most.
More from Points of Light