Published 01-27-11
Submitted by Novo Nordisk
At the World Economic Forum, currently taking place in Davos, a group of leading CEO's have introduced the so-called Workplace Wellness Alliance. This consortium of corporations including Novo Nordisk, Nestlé, Johnson & Johnson, Unilever, BT and others, have partnered up to improve global health and productivity by making wellness a priority, starting at the workplace.
Return on investment of workplace health has been demonstrated to be as high as 4 US dollars per 1 dollar spent, contributing not only to increased productivity but also to better health in the general population with the workplace as an entry point for prevention at community level.
"At Novo Nordisk we strive to create a culture which promotes and supports healthy living for all employees. Our employee health programme, NovoHealth, focuses on the key areas of healthy eating, physical activity, a smoke-free environment and regular health checks. Ultimately, we want to inspire our employees to live longer, healthier and happier lives," says Lars Rebien Sørensen, chief executive officer at Novo Nordisk.
A pilot carried out on the wellness programmes offered by nine members of the Alliance showed that employees in these specific companies are by far healthier than the average person in OECD countries when it comes to BMI, smoking and alcohol consumption.
There are three levels of membership to the Workplace Wellness Alliance which, so far, has 24 members. The progress of the Alliance will be featured at World Economic Forum meetings while working for a global standard for workplace wellness.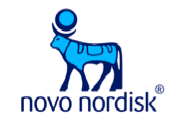 Novo Nordisk
Novo Nordisk
Novo Nordisk is a global healthcare company with more than 90 years of innovation and leadership in diabetes care. The company also has leading positions within haemophilia care, growth hormone therapy and hormone replacement therapy. We believe that a healthy economy, environment and society are fundamental to long-term value creation. This is why we manage our business in accordance with the Triple Bottom Line business principle and consider the financial, environmental and social impact of our business decisions. The strategic commitment to corporate sustainability has brought the company onto centre stage as a leading player in today's business environment, recognised for its integrated reporting, stakeholder engagement and consistently high sustainability performance.
More from Novo Nordisk