Published 02-07-11
Submitted by Berrett-Koehler Publishers
Green has gone mainstream. What used to be a fringe market that appealed to a faction of eco-hippies is now a bona fide $290 billion industry ranging from organic foods to hybrid cars, ecotourism to green home furnishings. Over the past 20 years, Jacquelyn Ottman has been watching this transition from her perch as green marketing pioneer and adviser to over sixty Fortune 500 companies. In The New Rules of Green Marketing (Berret-Koehler; February 2011; $21.95), Ottman, considered to be the nation's foremost expert on green marketing, provides unparalleled insight into the changing needs of mainstream consumers, how companies large and small have responded with fresh green marketing strategies, what it takes to succeed, and what the future of marketing will look like.
Products claiming to be greener have been around since the 1970s - you may faintly recollect those phosphate-free laundry detergents that left clothes dingy, or compact fluorescent bulbs that cast a green haze. But it's only in recent years that green products have rivaled their "brown" counterparts in quality and ubiquity. As a result, today's greener products are no longer sold just in health food stores, but in major retail outlets including Safeway and Wal-Mart that bring highly satisfying greener goods to the masses.
Meanwhile, savvy marketers have moved beyond targeting "deep green" consumers with a "save the planet" pitch. Instead, they appeal to today's newly mainstream consumers by promoting the added value their products provide: better health, superior performance, good taste, cost-effectiveness - and even status. In The New Rules of Green Marketing, Ottman argues that emphasizing these primary benefits is critical to winning over today's broad swath of mainstream consumers.
According to Ottman, green consumers now measure in the millions in the U.S. alone. They are a diverse bunch that can be segmented into any number of creative ways, including according to specific green interests, as pictured below.
Drawing on the latest poll data and incorporating lessons learned from her Fortune 500 clients and from other sustainability leaders, Ottman demonstrates how to: spur innovation through a proactive approach to sustainability, design products to be green throughout their lifecycle, and communicate credibly and transparently to avoid accusations of "greenwashing."
Chockfull of practical checklists at the end of each chapter, an extensive 25-page green marketing resource guide, and dozens of inspiring case examples of the most successful greener products and companies today, Ottman's work will inspire even the most skeptical managers to pursue green opportunities or risk losing out on one of the most exciting business opportunities of the century.
About the Author
In 1989, Jacquie, an ardent environmentalist since childhood, pioneered green marketing by founding J. Ottman Consulting, Inc. Her mission: apply her blue chip consumer packaged goods expertise gained at top NYC ad agencies, with a creative bent for dreaming up new products and her finely honed strategic instincts to help businesses develop and market the next generation of products designed with sustainability in mind.
With a client roster that includes over 60 of the Fortune 500, including 3M, Nike, GE, Johnson & Johnson and the U.S. Government, Ottman is a sought-after keynoter for conferences and corporate forums around the globe. She is a founding co-chair of the Sustainable Business Committee of the Columbia Business School Alumni Club of New York. She is also the former co-chair of the NYC chapter of O2, the global network of green designers, and for seven years was founding jury chair for the American Marketing Association's Special Edison Awards for Environmental Achievement in New Products.
In 2004, she spearheaded the Design:Green educational initiative with the goal of jumpstarting eco-design education in the U.S. Underwritten with an Innovation Grant from the U.S. Environmental Protection Agency and endorsed by the Industrial Designers Society of America, Design:Green now continues as a course in the online Certificate in Sustainable Design program of the Minneapolis College of Art and Design.
The author of hundreds of articles on green marketing topics, she blogs at Jacquie Ottman's Green Marketing Blog (www.greenmarketing.com/blog), as well as for the Harvard Business Review and other websites. Her company's website is the largest resource on the web on the subject. Her three previous books on green marketing have been translated into five languages.
A graduate of Smith College, she lives in New York City.
140 Character Overview: "Saving the planet" is not nearly as effective as "saving you money" or "saving your health" in green marketing claims @jacquelynottman.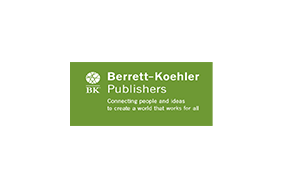 Berrett-Koehler Publishers
Berrett-Koehler Publishers
Berrett-Koehler Publishers is a mission-based, independent publishing company located in Oakland, CA. Berrett-Koehler's (BK) mission is - Connecting People and Ideas to Create a World that Works for All. BK publishes books in the areas of sustainable business, corporate social responsbility, leadership, social justice, politics, economics, and personal development. BK is both a B-Corp and a Benefit Corporation.
More from Berrett-Koehler Publishers