Published 01-18-11
Submitted by Points of Light
On the 25th anniversary of Martin Luther King, Jr. Day, Americans honored Dr. King by helping their neighbors and communities, making it a "day on, not a day off." One day after HandsOn Network mobilized approximately 100,000 volunteers, they are launching Follow the Leader to channel the energy and volunteer engagement generated by Martin Luther King Jr. Day into a more consistent commitment to service.
Every year millions of Americans dedicate themselves to volunteering on Martin Luther King Jr. Day. Follow the Leader aims to bridge the one day commitment to Martin Luther King's vision into a broader embracing of service as a strategy to the nation's most pressing challenges. From January 18 through May 31, lead the way to change by downloading Follow the Leader project playbooks; some of the most impactful and successful volunteer projects undertaken across the nation.
All members who complete and report back on the impact of their project will be eligible to win the Follow the Leader Grand Prize Award: an all expense paid trip for two to the Philippines for a one week "Volunteer Vacation" coordinated by HandsOn Manila that includes airfare, and six nights' lodging. There are also chances to win other great prizes, including: an Apple iPad, a trip to Washington D.C. for the upcoming Tribute Event, and a trip to New Orleans to attend the National Conference on Volunteering and Service. Register at www.gethandson.com to become a member of the Follow the Leader community.
HandsOn Network wants to motivate those already creating change and tap into the vast network of those who want to join them but need to be invited - in an imaginative way. Once a Follow the Leader member chooses and downloads a playbook, the website offers the ability to invite family, friends and co-workers to join in the project via Twitter, Facebook and email.
Follow the Leader is part of the Get HandsOn campaign, a national call to action and multi-year effort by the Points of Light Institute to demonstrate the impact of volunteer service as a solution to the nation's most pressing challenges related to education, environment, economy and emergency response.
The campaign's first phase, Tag, created a successful viral volunteer community. Follow the Leader looks to tap into that engaged network and build deeper volunteer commitments. Break the Record, the final phase of the Get HandsOn campaign, will try for the most people volunteering on one day, breaking the record in the Guinness Book of World Records.
About Points of Light Institute
Points of Light Institute inspires, equips and mobilizes people to take action that changes the world. The Institute has a global focus to redefine volunteerism and civic engagement for the 21st century, putting people at the center of community problem solving. We are organized to innovate, incubate and activate new ideas that help people act upon their power to make a difference. Points of Light Institute operates three dynamic business units that share our mission: HandsOn Network, MissionFish and the Civic Incubator.
About HandsOn Network
HandsOn Network, the volunteer-focused arm of Points of Light Institute, is the largest volunteer network in the nation and includes 250 HandsOn Action Centers in 16 countries. HandsOn includes a powerful network of more than 70,000 corporate, faith and nonprofit organizations that are answering the call to serve and creating meaningful change in their communities. Annually, the network delivers approximately 30 million hours of volunteer service valued at $626 million. For more information, please visit www.HandsOnNetwork.org.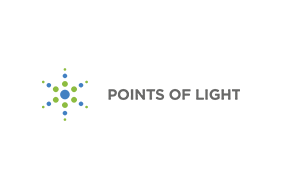 Points of Light
Points of Light
Points of Light is a nonpartisan, global nonprofit organization that inspires, equips and mobilizes millions of people to take action that changes the world. We envision a world in which every individual discovers the power to make a difference, creating healthy communities in vibrant, participatory societies. Through 177 affiliates across 38 countries, and in partnership with thousands of nonprofits and corporations, Points of Light engages 5 million volunteers in 16 million hours of service each year. We bring the power of people to bear where it's needed most.
More from Points of Light