Published 12-15-10
Submitted by Points of Light
In just one week, more than 117,000 kids and teens from across the U.S. and around the world have joined with generationOn, pledging their commitment to service and ensuring a donation of approximately $2.6 million in toys from Hasbro, Inc. (NYSE: HAS) to Toys for Tots. The newly-launched generationOn is a first-of-its-kind global youth service movement that is igniting the power of all kids (pre-school through 12th grade) to make their mark on the world. It is also the youth division of Points of Light Institute, an organization that inspires, equips and mobilizes people to take action that changes the world.
generationOn and Hasbro came together to create a holiday promotion that would encourage kids and teens to join generationOn and learn more about giving back for the holidays and all year long. For every service pledge made between December 3 and December 10, 2010 at www.generationOn.org, Hasbro pledged to donate a toy to a child in need through the Toys for Tots Holiday Gift Campaign. With the help of partner organizations, Kids Care Clubs, schools, community groups, families and kids across the U.S., in just one week 117,104 pledges were received.
"If we give kids and teens the tools they need to make their mark on the world, extraordinary things will happen," said Chris Caruso, generationOn's executive director. "When we see acts of service and compassion like dozens of high school students pledging to raise money to support their fellow classmate who is battling cancer, it reinforces our belief that youth have infinite potential to bring positive changes to their communities, themselves and our shared future."
"Holiday toy donations are one of the great traditions of giving at Hasbro, and the generationOn holiday promotion represents an unprecedented abundance of goodwill," said Brian Goldner, president and CEO of Hasbro, Inc. "Not only will Hasbro be donating toys to children in need, all of the kids and teens that have pledged their commitment at generationOn.org will be serving their communities, and they in turn will receive the gifts of knowledge, self-esteem and empowerment that come with youth service."
Pledges were received from kids and teens across the U.S. (including Alaska) and as far away as Singapore and Burundi. Projects ranged from visiting residents of nursing homes to blood drives to performing benefit concerts at local shelters to creating a school-wide environmental project set to launch next spring.
With the support of a generous, $5 million investment by the Hasbro Children's Fund, generationOn is helping young people develop into healthy, empowered, creative problem-solvers and global leaders by experiencing their power and potential through service, service learning and giving back. Currently, generationOn includes over 30 youth programs, 1,800 Kids Care Clubs and thousands of schools that engage more than two million young people in all 50 states and internationally.
About generationOn
generationOn is the global youth service movement igniting the power of all kids to make their mark on the world. generationOn has brought the nation's leading youth service organizations and programs under one umbrella including New York-based Children for Children, The League, Learning to Give, Points of Light Institute's Kids Care Clubs, HandsOn Schools and HandsOn Network's youth-driven programs. By partnering with teachers, parents, schools, community organizations and businesses, generationOn gives kids the opportunity to see firsthand the issues in their communities and the tools and resources they need to respond and become part of the solution. For more information, visit www.generationOn.org.
About Points of Light Institute
Points of Light Institute inspires, equips and mobilizes people to take action that changes the world. The Institute has a global focus to redefine volunteerism and civic engagement for the 21st century, putting people at the center of community problem solving. Points of Light Institute operates three dynamic business units that share the mission: HandsOn Network, MissionFish and the Civic Incubator, which includes generationOn and AmeriCorps Alums. For more information, visit www.pointsoflight.org.
About Hasbro, Inc.
Hasbro, Inc. (NYSE:HAS) is a branded play company providing children and families around the world with a wide-range of immersive entertainment offerings based on the Company's world class brand portfolio. From toys and games, to television programming, motion pictures, video games and a comprehensive licensing program, Hasbro strives to delight its customers through the strategic leveraging of well-known and beloved brands such as TRANSFORMERS, LITTLEST PET SHOP, NERF, PLAYSKOOL, MY LITTLE PONY, G.I. JOE, MAGIC: THE GATHERING and MONOPOLY. The Hub, Hasbro's multi-platform joint venture with Discovery Communications (NASDAQ: DISCA, DISCB, DISCK) launched on October 10, 2010. The online home of The Hub is www.hubworld.com. The Hub logo and name are trademarks of Hub Television Networks, LLC. All rights reserved. Hasbro's philanthropic work strives to bring "the sparkle of Hope, the joy of Play and the power of Service" in to the lives of the children who need it most through the Hasbro Children's Fund and other initiatives aimed to help children worldwide. Come see how we inspire play through our brands at www.hasbro.com. © 2010 Hasbro, Inc. All Rights Reserved.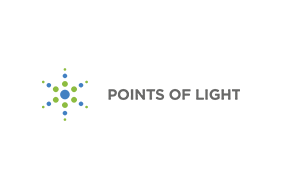 Points of Light
Points of Light
Points of Light is a nonpartisan, global nonprofit organization that inspires, equips and mobilizes millions of people to take action that changes the world. We envision a world in which every individual discovers the power to make a difference, creating healthy communities in vibrant, participatory societies. Through 177 affiliates across 38 countries, and in partnership with thousands of nonprofits and corporations, Points of Light engages 5 million volunteers in 16 million hours of service each year. We bring the power of people to bear where it's needed most.
More from Points of Light