Published 12-13-10
Submitted by CARE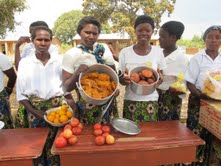 Members of the Chikondi Village Savings & Loan Association (VSLA) in Tembwe village show some of the products from the businesses they started using savings and loans from the group.
Join My Village, a "click-to-commit" social change initiative, is launching the second year of its online community with a new partner: American country music singer and songwriter Lee Ann Womack. Individuals will have the power to release up to $500,000 of General Mills' charitable dollars for economic and educational opportunities for women and girls in Malawi. The campaign is a partnership between General Mills and leading international humanitarian organization CARE.
Join My Village puts the power of General Mills' corporate philanthropy in the hands of individuals. To unlock the dollars, users can visit joinmyvillage.com to learn more about girls and women in Malawi and be a part of the change in their future. Watching a video about a girl's new opportunity to attend secondary school, reading a story of a woman starting her own business, or listening to a sample of African music from a Malawi village enables users' 'clicks' to release donations from General Mills. In addition, General Mills will match all individual donations dollar for dollar, up to the $500,000 goal. Through videos, photos and frequent blog posts from Malawi, participants can follow the real impact being made every time they take an online action to "click-to-commit" General Mills' dollars, or make their own personal donation.
"We believe that if more people are simply aware of the issues, stories, and people of Malawi - even if it's only through watching a video or listening to a song - more positive, sustainable change can happen," said Ellen Goldberg Luger, Vice President of General Mills Community Action.
"As a mother of two girls, I see the opportunities that education has created for my daughters' future," said Lee Ann Womack. "I believe that every girl in the world has unlimited potential and by supporting Join My Village I know we can provide girls with opportunities to learn, achieve and improve their future."
Womack will appear in a public service campaign, various events and social media activities to raise awareness. Womack has also set a goal of rallying 100,000 of her fans to join the effort during her upcoming 18-city tour with George Strait and Reba McEntire next year.
Launched in September 2009, the Join My Village initiative combines General Mills' extensive consumer reach and cause marketing expertise with CARE's proven approaches to fighting global poverty through the empowerment of girls and women. Join My Village is an example of the organizations' belief that if we all click, we all become more aware and we all become a part of the solution to end global poverty.
"Giving back to our communities is inherent in our company's culture," said Ken Powell, Chairman and CEO of General Mills. "Extending opportunities to the developing world - especially empowering women - is part of the General Mills mission of Nourishing Lives."
"CARE is proud of our partnership with General Mills on this innovative and high impact program," said Helene D. Gayle, President and CEO, CARE USA. "The first year of Join My Village resulted in strong support for communities in Malawi with programs that integrated girls' education and women's economic empowerment. Join My Village is uniquely positioned to harness the power of consumer participation and change the way people support the fight against global poverty."
Malawi is one of the poorest countries in Africa, with 40 percent of the population below the poverty line. Life expectancy is 44 years of age. Only 50 percent of Malawian women are able to read and write. However, women and girls are also the greatest hope for ending global poverty. Investing in women and girls has proven to have enormous impact on families, communities and countries. In its second year, Join My Village will focus on empowering girls through education. Donations will provide secondary school scholarships to set girls on the path to a brighter future, bring female teachers to villages as much-needed role models and educational advocates for girls, and enable women to learn new business skills to contribute to their family's income.
Join My Village is part of General Mills' larger commitment to invest in the people of Africa for sustainable change. General Mills takes a multi-pronged investment approach to its corporate social responsibility, involving company operations, the General Mills Foundation and engaging employees at all levels.
About General Mills
One of the world's leading food companies, General Mills operates in more than 100 countries and markets more than 100 consumer brands, including Cheerios, Häagen-Dazs, Nature Valley, Betty Crocker, Pillsbury, Green Giant, Old El Paso, Progresso, Yoplait, Cascadian Farm, Muir Glen, and more. Headquartered in Minneapolis, Minnesota, USA, General Mills had fiscal 2010 global net sales of US$16 billion, including the company's $1.2 billion proportionate share of joint venture net sales. General Mills works with communities to enrich the lives of children and families and enhance the health and vitality of neighborhoods and cities around the world. Since the General Mills Foundation was created, it has awarded more than $420 million to nonprofit organizations and helped more than 4.4 million kids lead healthy, active lives. Visit us at www.facebook.com/GeneralMillsGives.
About CARE
CARE fights root causes of poverty in the world's poorest communities. CARE places special focus on working alongside poor women because, equipped with the proper resources, women have the power to help whole families and entire communities escape poverty. In over 70 countries, women are at the heart of CARE's community-based efforts to improve education, prevent the spread of HIV, increase access to water and sanitation, expand economic opportunity and protect natural resources. Each year, CARE helps tens of millions of people around the world effect real, positive changes in their lives. For more information, go to www.care.org.
About Lee Ann Womack
The sheer artistry of MCA Nashville recording artist Lee Ann Womack's straight-from-the-heart vocals - whether powerful, vulnerable, achingly sad or joyful - have made an impact in the world of music. Womack has sold over 6 million albums and been recognized over and over again with the industry's highest honors - including awards from the Grammys, American Music Awards, Country Music Association, Academy of Country Music and Billboard Awards. Of late, the sweet-voiced Texas native has received extensive notoriety for her 2005 album There's More Where That Came From, which was released on CD and classic vinyl, as well as the 2008 release of Call Me Crazy. There's More swept CMA Award trophies fall of '05 for "Album of the Year" and "Single of the Year" ("I May Hate Myself In The Morning"). Crazy garnered critical acclaim from Rolling Stone, USA Today, Entertainment Weekly, Billboard and The New York Times, to name a few. In '09 she was nominated for "Top Female Vocalist" at the ACM Awards and the album's leadoff single "Last Call" was nominated for a Grammy for "Best Female Country Vocal Performance." She was also nominated for "Musical Event of the Year" with George Strait for "Everything But Quits" at that year's CMA Awards. Womack was nominated for three Grammy awards at the '10 ceremony for "Best Female Country Vocal Performance" for "Solitary Thinkin'," "Best Country Collaboration With Vocals" for "Quits" and "Best Country Album" for Crazy. She is also recognized for #1 singles "The Fool," "A Little Past Little Rock," "I'll Think Of A Reason Later," the mega smash "I Hope You Dance" and most recently has been on tour with Strait and Reba McEntire. Visit www.leeannwomack.com for tour dates and more information.
Join My Village Effect Video available as a QuickTime file at: http://www.punyentertainment.com/transfer/JMV_ANIMATION_120210_530x396.zip.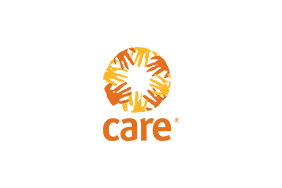 CARE
CARE
CARE is a leading humanitarian organization fighting global poverty. We place special focus on working alongside poor women because, equipped with the proper resources, women have the power to help whole families and entire communities escape poverty. Women are at the heart of CARE's community-based efforts to improve basic education, prevent the spread of HIV, increase access to clean water and sanitation, expand economic opportunity and protect natural resources. CARE also delivers emergency aid to survivors of war and natural disasters, and helps people rebuild their lives.
More from CARE