Published 12-08-10
Submitted by CSRHub
CSRHUB LLC announced today that it has been certified as a B Corporation (B Corp). CSRHUB joins more than 330 other certified B Corps, including Seventh Generation, Care2, Dansko, LLC, Numi Organic Tea, Method Products, LLC, and CSRwire. CSRHUB.com is a comprehensive global corporate social responsibility (CSR) and sustainability ratings system, with data on 5000+ publicly traded companies in more than 60 countries. Since our beta launch in September, we now aggregate data from over 90 leading CSR ratings sources and continue to add more.
Certified B Corps are a new type of corporation, which use the power of business to solve social and environmental problems. Unlike traditional businesses, B Corps meet transparent social and environmental performance standards and have expanded their legal accountability to include consideration of stakeholder interests.
"I have long believed in business as an agent for positive social change. We are excited to join a community of businesses that work to change the world while operating a financially sustainable enterprise," says Co-founder and COO Cynthia Figge.
CSRHUB's ratings allow corporate branding, supply chain, PR, and sustainability managers, consumer activists, foundations and non-governmental organizations, researchers, and reporters to understand and compare the sustainability performance of the world's major corporations. The CSRHUB site is built on data from more than 90 environmental, social and governance (ESG) analysts, public and non-profit sources, and contains more than 1.4 million data elements. Users have access to an unprecedented amount of information and transparent access to the world's major sources of CSR information. The site offers basic ratings information for free and additional rating details to its subscribers.
Rather than setting a single standard for CSR performance, CSRHUB enables its users to create a profile of their own values. The site then tailors its company performance ratings to those values, and links transparently to its sources, so that users can see the original data behind the ratings where publicly available. CSRHUB works with a number of social media and not-for-profits, including Climate Counts, CSRwire, WikiPositive, TriplePundit, 3BL Media, and Sustainable Life Media to provide rich and deep coverage of CSR issues.
About CSRHUB LLC
CSRHUB LLC, a New York-based company committed to being the leading source of value-based company sustainability ratings, was founded in 2008 by Bahar Gidwani, Cynthia Figge, and Stephen Filler. Gidwani was CEO of the New York-based Index Stock Imagery, Inc, from 1991 through 2006, has an MBA from Harvard Business School, and is a Chartered Financial Analyst. In 1996 Figge co-founded EKOS International, a consultancy that integrates sustainability and corporate strategy, and has an MBA from Harvard Business School. Filler, an attorney with more than twenty years of experience in business law, contracts and intellectual property, is the Director of Business Development for Prism Solar Technologies, Inc, a solar photovoltaics module manufacturer. The founders have served as board members on a wide variety of non-profits and trade associations including in the sustainability and environmental areas. For more information, visit www.csrhub.com or contact info@csrhub.com.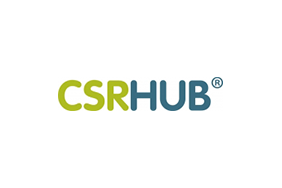 CSRHub
CSRHub
CSRHub provides access to the world's largest corporate social responsibility and sustainability ratings and information, covering over 13,700+ companies from 135 industries in 127 countries. By aggregating and normalizing the information from 370 data sources, CSRHub has created a broad, consistent rating system and a searchable database that links millions of rating elements back to their source. Managers, researchers and activists use CSRHub to benchmark company performance, learn how stakeholders evaluate company CSR practices, and seek ways to improve corporate sustainability performance.
CSRHub is a B Corporation, an Organizational Stakeholder (OS) with the Global Reporting Initiative (GRI), a silver partner with CDP (Carbon Disclosure Project), and an Advisory Council Member of Sustainability Accounting Standards Board (SASB).
More from CSRHub