Published 11-15-10
Submitted by Rebuilding Together, Inc.
/PRNewswire-USNewswire/ - Rebuilding Together today announced a three-year commitment from Scripps Networks as charity of choice for HGTV and DIY Network. As Rebuilding Together's television media partners, the networks made a $1 million cash donation as well as a commitment to provide $15 million in marketing support and media exposure for the organization's activities.
HGTV and DIY Network will work together to engage viewers in Rebuilding Together's mission to serve 800,000 low-income Americans each year. The organization's efforts include 10,000 projects annually to rehabilitate and provide critical repairs to homes as well as energy efficiency upgrades at no cost to homeowners. Additional details about the partnership are available at www.rebuildingtogether.org.
The new commitment comes as Rebuilding Together and HGTV wrap up Change the World. Start at Home, a three year community revitalization initiative that mobilized local volunteers, organized building projects and honored community heroes. During the campaign, the network also aired television specials that featured renovations for veteran's group homes and for homeowners in need.
"Rebuilding Together's mission critical work has been brought to the attention of millions of viewers by HGTV over the years," said Gary A. Officer, President & CEO, Rebuilding Together. "HGTV and DIY Network will allow us to increase our momentum to help America's low-income homeowners".
In August, HGTV was the official media partner of Rebuilding Together's Fifty for Five, a mass-volunteer gathering in which fifty hurricane damaged homes were restored in New Orleans' Gentilly neighborhood. HGTV promoted the event to audiences through a PSA campaign that featured actor Morgan Freeman. In addition, the network's popular home improvement experts Carter Oosterhouse and Scott McGillivray, along with DIY Network's Chris Grundy, volunteered at the event.
About Rebuilding Together
Rebuilding Together is the nation's leading nonprofit organization working to preserve affordable homeownership and revitalize neighborhoods by providing extensive rehabilitation and modification services to those in need at no cost to those served. With the help of everyday citizen volunteers, skilled trades people, the support of local business and major corporate partners, Rebuilding Together affiliates in America's largest cities and smallest towns make life considerably better for thousands of low-income homeowners and the communities in which they live by completing 10,000 projects per year. Rebuilding Together has programs dedicated to, energy efficiency, veteran's housing, aging in place and gulf coast reconstruction. For more information, visit www.RebuildingTogether.org. You can also follow Rebuilding Together on Twitter @rebldgtogthr or become a fan on Facebook at Facebook.com/RebuildingTogether.
About HGTV
HGTV, America's leader in home and lifestyle programming, is distributed to more than 99 million U.S. households and is one of cable's top-rated networks. HGTV's website, HGTV.com, is the nation's leading online home-and-garden destination and attracts an average of 5 million unique visitors per month.
About DIY Network
DIY Network, from the makers of HGTV and Food Network, is the go-to destination for rip-up, knock-out home improvement television. DIY Network's programs and experts answer the most sought-after questions and offer creative projects for do-it-yourself enthusiasts. One of the fastest growing digital networks and currently in more than 53 million homes, DIY Network's programming covers a broad range of categories, including home improvement and landscaping. The network's award-winning website, www.DIYnetwork.com, is a leader in the Nielsen Online Home and Garden category and features multiple resources, including thousands of do-it-yourself home improvement projects, expert advice, how-to videos and images, and user-friendly reference guides with step-by-step instructions.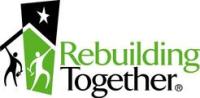 Rebuilding Together, Inc.
Rebuilding Together, Inc.
Rebuilding Together is the nation's largest non-profit organization whose mission is to preserve and revitalize houses and communities to assure that low-income homeowners, particularly those who are elderly and disabled, live in warmth, safety and independence. Through 2005 Rebuilding Together has rehabilitated over 96,120 houses, utilizing 2.5 million volunteers for a market value of $905 million.
More from Rebuilding Together, Inc.