Published 11-01-10
Submitted by IKEA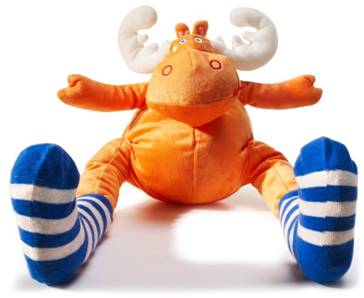 Click here to learn more about the IKEA Soft Toy Movement
Educating our children is certainly a top priority. It is integral to our future, our children's future and the future of our world. Yet everyday, millions of children around the world don't even have access to a quality education.
IKEA believes children are the most important people in the world. And during holiday shopping time, IKEA reaches out to their many customers to give back through their soft toy sales campaign, running from November 1 - December 24. For every soft toy sold, 1 euro (approximately $1.35 US dollar)* goes to IKEA global partners UNICEF and Save the Children to extend and start new children's educational programs in 22 countries. The funds raised through the soft toy campaign contribute to better school facilities, access to water and toilets, work towards strengthening the right to education for minority children, provide educational supplies, and go to training teachers in child-friendly teaching techniques.
Since the start in 2003, the IKEA soft toy program has helped fund children's educational projects in 40 countries in Central and Eastern Europe, Asia and Africa. These projects aim to improve the education of the most disadvantaged children recognizing that education is one of the best investments. A one dollar donation can buy books and school supplies for 5 children.
To date, the soft toy program has raised $31 million dollars and impacted the lives of over 8 million disadvantaged children. The 2010 campaign goal is to raise over $13 million dollars with $1 million being raised in the US.
"With over 300 IKEA stores and many millions of customers joining the movement for children's education, we can make a substantial and long-lasting impact on children's lives. This year, we hope to raise a record 10 million euro (13 million dollars) from the sale of soft toys, Children's IKEA products and the special kids' meal while also raising awareness of the importance of education. This will help millions of children learn and thrive," says Marianne Barner, head of IKEA Social Initiative.
This year's soft toy campaign also has an added benefit. In celebration of the 21st anniversary of the Convention of the Rights of the Child, from December 18th to the 24th, one dollar donations will also come from the sale of children's IKEA products and 'soft toy kids meal.'
"We are thrilled to partner with IKEA once again for their soft toy campaign," said U.S. Fund for UNICEF President and CEO Caryl Stern. "This program helps us to provide educational materials for children in the developing world, which is essential in our mission of bringing down the number of daily deaths under five from 22,000 to zero."
"Every holiday season, the IKEA soft toy campaign shines a light on the work that is being done to give all children in the developing world the opportunity to learn," said Charlie MacCormack, Save the Children President and CEO. "But there are still millions of children who do not have access to schools and will not be able to fulfill their potential without additional support. IKEA's partnership will help us to reach many more of those children in the coming year, giving each one a brighter future."
The IKEA soft toy campaign is driven by the IKEA Social Initiative program; a commitment to developing communities with the mission to improve children's rights and opportunities. IKEA additionally supports local women and children's organizations in the US IKEA store markets.
About IKEA:
IKEA, the world's leading home furnishings company, was founded in 1943 in Sweden. Since then, IKEA has offered home furnishings and accessories of great design and quality with functional living solutions at everyday low prices. Currently there are more than 300 IKEA stores in 37 countries, including 49 in North America (11 in Canada; 37 in the US; 1 in the Dominican Republic). IKEA has six distribution centers in North America, with a manufacturing facility in Danville, VA. IKEA has been named to Business Week's List of The Best Global Brands (August 7, 2006) for four consecutive years and Business Week's List of the Top 2009 Twenty Best Companies for Leadership (February 2010). Additionally, IKEA has been listed on Working Mother magazine's annual list of the "100 Best Companies for Working Mothers" for four consecutive years. IKEA was also listed in March 2007, on Fast Company's Fast 50, for its environmentally responsible products, as well as for five consecutive years in Training magazine's annual list of top companies that excel at human capital development. TIME Magazine (May 2009) listed IKEA as one of the top 8 most global eco conscious companies. IKEA incorporates environmentally friendly efforts into day-to-day business and continuously supports initiatives that benefit causes such as children and the environment including UNICEF, Save the Children and American Forests. To visit the IKEA Web site, please go to www.IKEA-usa.com and also learn more about IKEA environmental and social responsibility actions and programs. Also visit www.Facebook.com/IKEAUSA.
About IKEA Social Initiative
IKEA believes that home is the most important place in the world, and children are the most important people in the world. The mission of IKEA Social Initiative is to improve the rights and life opportunities of the many children and women thereby creating substantial and lasting change. We work together with UNICEF, Save the Children and UNDP to promote the rights of every child to a healthy, secure childhood with access to quality education as well as empower women. Current IKEA Social Initiative projects benefit an estimated 100 million children. Since 2003, the annual Soft Toy campaign has raised a total of 23.8 million euro, helping eight million children in need.
About Save the Children
SAVE THE CHILDREN is the world's leading children's rights organization, with 29 national Save the Children offices and operational programs in over 120 countries. Our vision is a world in which every child attains the right to survival, protection, development and participation. We deliver immediate and lasting improvements to children's lives worldwide. For more information about Save the Children please visit: http://www.savethechildren.net/
About UNICEF
UNICEF has saved more children's lives than any other humanitarian organization in the world. Working in more than 150 countries, UNICEF provides children with health care, clean water, nutrition, education, emergency relief, and more. The U.S. Fund for UNICEF supports UNICEF's work through fundraising, advocacy, and education in the United States. UNICEF is at the forefront of efforts to reduce child mortality worldwide. There has been substantial progress: the annual number of under-five deaths dropped from 13 million in 1990 to 8.8 million in 2008. But still, 22,000 children die each day from preventable causes. Our mission is to do whatever it takes to make that number zero by giving children the essentials for a safe and healthy childhood. For more information, visit www.unicefusa.org.
*(based on current market euro to dollar conversion)

IKEA
IKEA
IKEA strives to be 'The Life Improvement Store,' and since its 1943 founding in Sweden, has offered home furnishings of good design and function, at low prices so the majority of people can afford them. There are currently more than 320 IKEA stores in 39 countries, including 38 in the U.S. IKEA, the world's leading home furnishings company, incorporates sustainable efforts into day-to-day business and supports initiatives that benefit children and the environment. For more information, go to IKEA-USA.com.
More from IKEA