Published 10-28-10
Submitted by GSK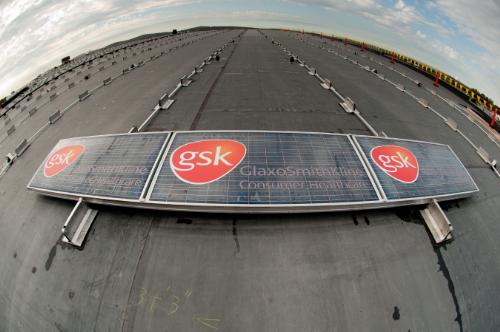 More than 11,000 solar panels are being deployed onto GlaxoSmithKline Consumer Healthcare's York, PA Regional Distribution Center rooftop today, generating enough electricity to meet the annual energy needs of the nearly 500,000 square foot building.
/PRNewswire/ - GlaxoSmithKline (NYSE: GSK) Consumer Healthcare is taking its commitment to renewable energy to the next level. Today, GSK begins installing North America's largest rooftop solar array at its Northeast Regional Distribution Center (RDC) in York, Pa. GSK's sustainability initiatives were just recognized in Newsweek's "2010 Green Ranking" as ranking fifth among the greenest companies in the world.
Nearly 11,000 solar panels will cover an area on the roof which is about the size of seven American football fields. The solar panels will generate enough electricity to meet the annual energy needs of the nearly 500,000 square foot building. That's equivalent to the power needed each year for almost 400 average sized homes.
"This solar rooftop array is a demonstration of GlaxoSmithKline Consumer Healthcare leadership not just in solar power, but in sustainability," said John Clarke, president of GlaxoSmithKline Consumer Healthcare. "We hope that GSK's renewable energy strategy will inspire other companies to look for ways to protect our planet."
Solar Panel Installation
Each solar panel weighs about 60 pounds and is more than six feet long and more than three feet wide. The panels are installed in a grid system in sets of three. Nearly 100 workers will spend the next two months hoisting the panels to the roof with a crane, securing them into place and networking them into the power system. American Capital Energy, the company responsible for the project, plans to install about 500 panels per day.
The 3-megawatt system is expected to generate approximately 3.4 million kilowatt hours of energy per year. This will enable the facility to reduce carbon dioxide emissions by 3,000 tons annually. It would take nearly 15,000 trees to absorb that much carbon dioxide in a single year. When the project is completed, it will be the first time a GSK facility anywhere in the world will be completely reliant on solar energy.
Government Incentives Key to Project's Start
"Solar power is helping to propel Pennsylvania towards a sustainable energy future," said Andrew Place, Acting Deputy Secretary, Office of Energy and Technology Deployment. "We need strong, business-leading advocates such as GlaxoSmithKline Consumer Healthcare to help us achieve this goal. The installation of this solar project shows how private sector leadership helps us all achieve a greener future."
GlaxoSmithKline Consumer Healthcare received government funding and solar incentives to help finance the project. A $1 million grant from the Commonwealth of Pennsylvania, Commonwealth Financing Authority and $4.1 million in federal tax credits will help pay for the project. GSK will also utilize energy savings and Solar Renewable Energy Credits (SREC) to offset costs.
"The support of state and federal leaders is instrumental in helping GSK expand our solar energy initiatives," said Larry Brown, Vice President, North America Supply, GlaxoSmithKline Consumer Healthcare. "This solar panel array provides a blueprint for GSK to bring solar power to each of its North American distribution facilities in the next few years. As a next step, we will then install solar panels at our Fresno, Ca. RDC by spring of 2011. Together, the York and Fresno facilities will generate 60 percent of the total GSK Consumer Healthcare North America RDC electricity supply from clean renewable solar energy. This is a remarkable step toward us becoming a more energy-efficient company."
Four other solar panel projects were recently completed at GSK facilities in Upper Providence and Collegeville, Pa., North Carolina; Belgium and Singapore.
GSK Consumer Healthcare and Sustainability
GlaxoSmithKline is dedicated to enhancing its efforts to become a more sustainable company. The corporate sustainability efforts are focused on six core areas, including packaging, total supply, water, product stewardship, climate, and communication.
Since 2007, the company has been implementing a climate change program with ambitious targets for emissions and energy use in operations and transport. GSK aims to reduce energy use by 45 percent by 2015, compared to 2006 levels.
About GlaxoSmithKline Consumer Healthcare
GlaxoSmithKline Consumer Healthcare is one of the world's largest over-the-counter consumer healthcare products companies. Its more than 30 well-known brands include the leading smoking cessation products, Nicorette® and NicoDerm®CQ®, and Commit®, as well as many medicine cabinet staples - alli®, Aquafresh®, Sensodyne®, and TUMS® - which are trademarks owned by and/or licensed to GlaxoSmithKline Group of Companies.
About GlaxoSmithKline
GlaxoSmithKline - one of the world's leading research-based pharmaceutical and healthcare companies - is committed to improving the quality of human life by enabling people to do more, feel better and live longer. For company information visit: http://www.gsk.com.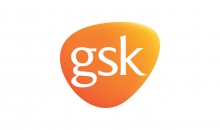 GSK
GSK
GlaxoSmithKline (GSK) is one of the world's leading pharmaceutical and healthcare companies and is committed to improving the quality of human life by enabling people to do more, feel better and live longer. GSK has a comprehensive global programme of community partnerships focused on improving health and education. In the UK, GSK supports over 70 charitable organizations in health, science education, the arts and the environment.
More from GSK