Published 10-22-10
Submitted by Points of Light
UPS, the world's largest package delivery company, and HandsOn Network, the country's largest volunteer network, are joining forces to keep delivering volunteer services and relief efforts in the Gulf region, which faces a long term recovery from the oil spill and natural disasters.
This Saturday, to celebrate Make A Difference Day, the largest day of national service, UPS employees will help volunteers from HandsOn Mississippi build a playground at Bayou Elementary. The school serves an area hard hit by, and still recovering from, Hurricane Katrina. Involvement in this project is part of the larger partnership between the two organizations to bring more services to the Gulf.
With the support of UPS, HandsOn Network and its action centers in the Gulf will create boot camps to train volunteers to meet community-specific needs. The training will focus on critical issues, such as job re-training and job-search clinics, restoration of parks and open spaces, safe after-school activities for kids, and assistance to small businesses to help them recoup losses or improve their economic sustainability. UPS employees will work with action centers on projects to aid areas affected by the oil spill and past hurricanes in Florida, Alabama, Louisiana and Mississippi.
"UPS has an extraordinary history of supporting communities through volunteerism, and it has been a foundational corporate leader in the corporate service movement. It has demonstrated the capacity of corporations to use their core assets to make a difference ""applying their logistical expertise to disaster response and rebuilding," said Michelle Nunn, CEO of Points of Light Institute and co-founder of HandsOn Network. "As we gather next year in New Orleans for the world's largest volunteer service gathering, we are excited to generate a service campaign throughout the Gulf and leave a lasting legacy through the efforts of 50,000 volunteers."
During the playground project in Mississippi, UPS will present HandsOn Network with a $300,000 non-profit effectiveness grant to help the national organization become more operationally efficient. "Volunteering is a core part of the UPS culture throughout the year. While UPS employees' volunteer efforts run the gamut, many choose to put their logistics expertise to good use during Global Volunteer Month," said Eduardo Martinez, Director of Philanthropy and Corporate Relations for The UPS Foundation. "Giving and volunteering to improve efficiency, allows organizations to stretch their dollars further, ensuring resources-dollars and volunteer time-are used effectively."
For more information on the partnership between HandsOn Network and UPS, contact HandsOn Network's Paul Hollahan, Director of Corporate Engagement, at phollahan@handsonnetwork.com, or Ronna Charles Branch, Global Reputation Management at UPS, at rcbranch@ups.com.
About HandsOn Network
HandsOn Network, the volunteer-focused arm of Points of Light Institute, is the largest volunteer network in the nation and includes more than 250 HandsOn Action Centers in 16 countries. HandsOn includes a powerful network of more than 70,000 corporate, faith and nonprofit organizations that are answering the call to serve and creating meaningful change in their communities. Annually, the network delivers approximately 30 million hours of volunteer service valued at about $600 million. For more information, please visit www.HandsOnNetwork.org.
About The UPS Foundation
UPS (NYSE:UPS) is the world's largest package delivery company and a global leader in supply chain and freight services. Since its founding in 1907, UPS has built a legacy as a caring and responsible corporate citizen, supporting programs that provide long-term solutions to community needs. UPS promotes community involvement through its ongoing volunteerism and grant programs, environmental sustainability and corporate philanthropy. In 2009, UPS's charitable contributions totaled nearly $100 million and UPS employees and their families contributed more than 1.2 million hours of volunteer service. The company can be found on the web at UPS.com. To get UPS news direct, visit pressroom.ups.com/RSS.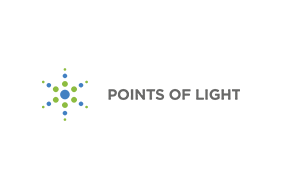 Points of Light
Points of Light
Points of Light is a nonpartisan, global nonprofit organization that inspires, equips and mobilizes millions of people to take action that changes the world. We envision a world in which every individual discovers the power to make a difference, creating healthy communities in vibrant, participatory societies. Through 177 affiliates across 38 countries, and in partnership with thousands of nonprofits and corporations, Points of Light engages 5 million volunteers in 16 million hours of service each year. We bring the power of people to bear where it's needed most.
More from Points of Light