Published 10-19-10
Submitted by Points of Light
Sixteen-year-old student Jennifer O'Neal's idea to create a hospital classroom for young cancer patients at Diamond Children's at University Medical Center in Tucson has been awarded the $25,000 grand prize grant from Scholastic Media's BE BIG Fund. The Arizona student will see her ambitious idea come to life with the support of Volunteer Center of Southern Arizona, an affiliate of HandsOn Network, the largest volunteer network in the nation. In addition, ten First Prize winners and 19 Second Place winners will be awarded grants to help implement their BE BIG ideas to improve their communities with the help of HandsOn Network affiliates across the country.
The national "BE BIG in Your Community Contest" is a signature part of Scholastic's ongoing Clifford The Big Red Dog BE BIG! Campaign sponsored by American Family Insurance. The contest invites participants to submit an idea that demonstrates Clifford's Big Ideas (Share, Help Others, Be Kind, Be Responsible, Play Fair, Be a Good Friend, Believe in Yourself, Have Respect, Work Together and Be Truthful) for a chance to win a community grant to be used to implement the winning proposals. Since its inception, the contest has brought in over 1,500 entries from more than 40,000 children, parents, teachers and community leaders ranging in age from 2 to 70. Scholastic Media is a division of Scholastic Inc., a global children's publishing, education and media company.
"The BE BIG program continues to inspire and equip children and families to adopt a tradition of service," said Michelle Nunn, CEO of Points of Light Institute and co-founder of HandsOn Network. "We are extremely pleased to partner with Scholastic Media in providing a way for a new generation, exemplified by Jennifer and the other award-winners, to make its mark on the world and realize its power to make a difference."
Jennifer was inspired to apply for a BE BIG grant after her sister was hospitalized at the University Medical Center in Tucson in 2009. During her sister's stay, O'Neal learned that children face substantial challenges keeping up with their school work while being treated, and that falling behind in school is one of many young patients' chief concerns. With help from two members of Girl Scout Troop 484, Sharon Fass and Lauren Evans, Jennifer developed the idea to create a study room for these young patients.
"Jennifer and her team drew from personal inspiration to develop a BIG idea that will meet the needs of their community for years to come," said Deborah Forte, President of Scholastic Media and Executive Vice President of Scholastic Inc. "Clifford's BIG Ideas are inspiring people of all ages to embrace civic engagement; Scholastic is delighted that so many children and families are committing to improve the lives of others in innovative ways, while taking pride in service to their communities."
The ten additional First Place prize winners will each be awarded a $2,500 community grant. Nineteen Second Place prize winning ideas - one from each state in American Family Insurance's 19-state business territory - also will receive grants totaling $25,000. The ten First Place prize winners are:
The 11 top-winning BIG Ideas were selected by a panel of judges based on four criteria - feasibility, creativity, sustainability and impact. A complete list of finalists, and profiles about their BIG ideas, can be found at www.scholastic.com/cliffordbebig.
About HandsOn Network
HandsOn Network, the volunteer-focused arm of Points of Light Institute, is the largest volunteer network in the nation and includes 250 HandsOn Action Centers in 16 countries. HandsOn includes a powerful network of more than 70,000 corporate, faith and nonprofit organizations that are answering the call to serve and creating meaningful change in their communities. Annually, the network delivers approximately 30 million hours of volunteer service valued at $626 million. For more information, please visit www.HandsOnNetwork.org.
About Scholastic
Scholastic Corporation (NASDAQ: SCHL) is the world's largest publisher and distributor of children's books and a leader in educational technology and related services and children's media. Scholastic creates quality books, print and technology-based learning materials and programs, magazines, multi-media and other products that help children learn both at school and at home. The Company distributes its products and services worldwide through a variety of channels, including school-based book clubs and book fairs, retail stores, schools, libraries, on-air, and online at www.scholastic.com.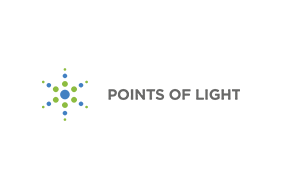 Points of Light
Points of Light
Points of Light is a nonpartisan, global nonprofit organization that inspires, equips and mobilizes millions of people to take action that changes the world. We envision a world in which every individual discovers the power to make a difference, creating healthy communities in vibrant, participatory societies. Through 177 affiliates across 38 countries, and in partnership with thousands of nonprofits and corporations, Points of Light engages 5 million volunteers in 16 million hours of service each year. We bring the power of people to bear where it's needed most.
More from Points of Light