Published 10-14-10
Submitted by Owens Corning
PRNewswire-FirstCall/ - Owens Corning (NYSE: OC), a world leader in building materials and glass fiber reinforcements, has been added to the 2010 Calvert Social Index, a stock market benchmark for measuring the performance of large, U.S.-based socially responsible companies.
The Calvert Social Index currently includes 662 companies selected from the 1,000 largest publicly traded companies in the United States using criteria established by Calvert Investments. The criteria relate to the environment, workplace, product safety, community relations, international operations and human rights. Calvert reconstitutes the Index once a year in September.
"We are delighted to have Owens Corning recognized in the Calvert Social Index," said Frank O'Brien-Bernini, chief sustainability officer. "The listing is another reflection of our commitment to sustainability as a core business strategy."
Owens Corning recently released its fourth annual Sustainability Report outlining the company's progress in reducing its environmental footprint, greening its product lines, providing energy-efficiency solutions for the built environment and supporting renewable energy sources. The full downloadable report and a summary of 2009 highlights are available online at www.sustainability.owenscorning.com.
Owens Corning is the world's leading manufacturer of glass fiber insulation "" a product that reduces energy consumption and greenhouse gas emissions while reducing heating and cooling costs. At a minimum of 50 percent recycled content, Owens Corning Fiberglasâ"¢ insulation products have the highest certified recycled content for fiberglass insulation in North America.
During the past year, the company's roofing business launched a program to simplify shingle recycling for roofing contractors. The program keeps material out of landfills and turns it into asphalt paving by connecting contractors with convenient drop-off and recycling centers operated by Heritage Environmental Services, the largest privately-held environmental services company in the United States.
Among the thousands of applications for the company's glass fiber reinforcements are lightweight composite parts for automobiles and trucks, helping vehicles use less fuel while resisting corrosion, requiring less maintenance and lasting longer. Owens Corning is also the leading provider of glass fiber reinforcements for wind turbine blades used in renewable electricity production.
About Owens Corning
Owens Corning (NYSE: OC) is a leading global producer of residential and commercial building materials, glass-fiber reinforcements and engineered materials for composite systems. A Fortune 500 Company for 56 consecutive years, Owens Corning is committed to driving sustainability by delivering solutions, transforming markets and enhancing lives. Founded in 1938, Owens Corning is a market-leading innovator of glass-fiber technology with sales of $4.8 billion in 2009 and about 16,000 employees in 28 countries on five continents. Additional information is available at www.owenscorning.com.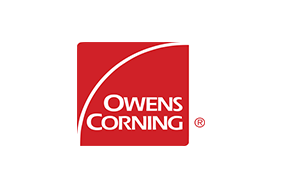 Owens Corning
Owens Corning
Owens Corning (NYSE: OC) develops, manufactures and markets insulation, roofing, and fiberglass composites. Global in scope and human in scale, the company's market-leading businesses use their deep expertise in materials, manufacturing and building science to develop products and systems that save energy and improve comfort in commercial and residential buildings. Through its glass reinforcements business, the company makes thousands of products lighter, stronger and more durable. Ultimately, Owens Corning people and products make the world a better place. Based in Toledo, Ohio, Owens Corning posted 2014 sales of $5.3 billion and employs about 15,000 people in 26 countries. It has been a Fortune 500® company for 61 consecutive years. For more information, please visit www.owenscorning.com.
More from Owens Corning