Published 09-24-10
Submitted by Grocon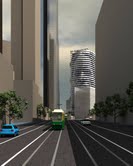 Grocon today unveiled its latest landmark building for Melbourne - Portrait, which celebrates the life of indigenous leader and artist William Barak.
Barak is believed to have been present as a young boy at the signing of an 1835 treaty with Melbourne's founder, John Batman, on the banks of the Merri Creek at Fitzroy.
Later in life, he became a tribal chief and worked hard to bridge the divide between black and white Australia.
Grocon CEO Daniel Grollo said it was appropriate to celebrate Barak's life through Portrait, in a landmark building designed by architects Ashton Raggatt McDougall (ARM).
"We are very proud to have worked with ARM to create what we believe will be Melbourne's next great landmark," he said. "Grocon has a proud history of developing iconic buildings in Australia, and we believe Portrait sets a new standard."
Mr Grollo said the image of William Barak would be difficult to see when close to the building but could be clearly seen at a distance. "This type of design is innovative and we believe world leading - we hope the people of Melbourne will embrace what it celebrates as part of our culture, in the same way that we embrace the Shrine of Remembrance at the other end of the Swanston Street axis."
Mr Grollo said the Wurundjeri tribe, of which William Barak was an elder, had also welcomed the concept of Portrait. "We are very glad to have Wurundjeri representatives here today and I believe they see Portrait as a fitting gesture to commemorate a great leader in their community."
Wurundjeri Tribal Land Council CEO Megan Goulding said there was full support for Grocon using William Barak's image on the façade of the building.
"The Elders have noted that it's Grocon's intention to pay respect to both Barak and the Wurundjeri people as the traditional owners of the Melbourne and greater Melbourne region over many thousands of years," she said. "The Wurundjeri community is very moved by this gesture and appreciates the respect that both Grocon and ARM have shown in developing this exciting concept."
Victorian Aboriginal Affairs Minister Richard Wynne said the Government also welcomed Portrait and the continuing redevelopment of the Carlton Brewery site.
"As this site has been vacant for more than 20 years, we are glad to see buildings such as Pixel and Portrait appearing," he said. "And this commemoration of the life of William Barak is one that the Victorian Government certainly applauds.
"The Victorian Government has celebrated the life of William Barak in other ways, including by naming the footbridge leading to the MCG in his honour, and we see him as a very significant figure in our history."

Grocon
Grocon
Grocon is a privately owned Australian construction, development and funds management company, started by Luigi Grollo in Melbourne in the 1950s. The current CEO is his grandson, Daniel Grollo, and the company has expanded during the past 50 years to Sydney and Brisbane, and also has an office in Dubai in the Middle East. It has built many iconic structures throughout Australia, such as the 300 metre tall Eureka Tower in Melbourne. Grocon has recently completed a carbon neutral building called Pixel, believed to be the first of its kind in the world. It is also constructing facilities for the chronically homeless in Australia's eastern states, in partnership with the not for profit sector, based on the Common Ground model which originated in New York.
More from Grocon