Published 09-22-10
Submitted by Ceres
Amid rising global temperatures, population growth and resource constraints, Ceres formed a collaboration today with Nike, the Skoll Foundation and the California Public Employees' Retirement System (CalPERS), the nation's largest public pension fund, to use their collective clout to urge the nation's largest companies to move more quickly to understand global sustainability risks and develop new business models and solutions.
Announced today at the Clinton Global Initiative, the collaboration catalyzes a powerful group of investors, corporate leaders and other key market players to propel 1,000 companies to embed sustainability factors into day-to-day decision-making, including operations, product development and global supply chains.
The initiative will include roundtables and forums in California and other parts of the country with companies and investors. Much of the activity will evolve around The 21st Century Corporation: Ceres Roadmap for Sustainability, a comprehensive Ceres report that outlines the urgency, vision and competitive advantages for companies to fully embrace sustainability and 20 key expectations for achieving such a goal.
"There's a vast gap between the challenges our global economy faces and the small steps companies are taking to deal with them," said Ceres president Mindy Lubber, speaking today on a CGI panel, Market-Based Solution for Protecting the Environment. "To narrow this gap, we need deeper collaboration between investors, companies and other economic players to accelerate environmental and social solutions."
"We expect our portfolio companies to do what is necessary to position themselves to be successful in a sustainable economy," said CalPERS CEO Anne Stausboll, who is hosting a roundtable in Sacramento later this fall. "Environmental and other sustainability issues are core to business performance in the 21st Century. We look forward to working closely with companies and other key stakeholders to ensure they are focusing their attention on sustainability risks and opportunities."
"We believe that environmental sustainability is inextricably linked to long-term economic growth," added Skoll Foundation CEO Sally Osberg. "The business sector has an opportunity to take a leadership role on sustainability in a way that will enhance profits while taking positive steps toward saving the planet, and we are proud to partner with Ceres on this initiative."
Today's announcement comes as social and environmental risks increasingly impact corporate bottom lines. Among the recent examples are the BP oil spill in the Gulf of Mexico, the disastrous flooding in Pakistan and coal-mining tragedies in West Virginia and Chile.
Some companies have stepped up their responses to sustainability threats like global water scarcity, climate change, workplace safety and human rights. But broader and deeper actions are needed given the colossal challenges.
"The poor decision-making that marked the BP and Massey disasters show that companies aren't prioritizing environmental and social factors across all of their operations," Lubber said. "Short-term profit and myopic attitudes on long-term risk and opportunity still rule the day. These attitudes and practices need to change - not just among companies, but investors, too."
The Ceres "21st Century Sustainable Corporation" report is a key tool for integrating sustainability into the DNA of business - from the boardroom, to copy rooms, and across entire supply chains. The roundtables and forums will help drive companies to implement key expectations outlined in the Roadmap, including:
Make energy efficiency and renewable energy the foundation for company operations;


Design and implement closed-loop systems so that air and wastewater emissions are eliminated and zero waste is produced;


Require 75 percent of top tier suppliers to meet company sustainability performance standards;


Dedicate 50 percent of R&D investment to developing sustainability solutions;


Compensate and provide incentives for top executives and other employees to drive sustainability into the business.
The full report is available at www.ceres.org/ceresroadmap.
About Ceres
Ceres is a leading coalition of investors, environmental groups and other public interest organizations working with companies and investors to address sustainability challenges such as global climate change. Ceres also directs the Investor Network on Climate Risk, a network of 90 institutional investors with collective assets totaling $10 trillion focused on the business impacts of climate change. For more information, visit http://www.ceres.org.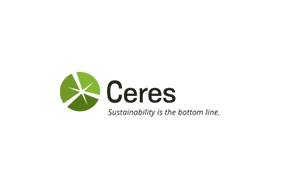 Ceres
Ceres
Our Mission: Ceres is transforming the economy to build a just and sustainable future for people and the planet. 
Ceres is a nonprofit organization working with the most influential capital market leaders to solve the world's greatest sustainability challenges. Through our powerful networks and global collaborations of investors, companies, and nonprofits, we drive action and inspire equitable market-based and policy solutions throughout the economy to build a just and sustainable future. For more information, visit ceres.org and follow @CeresNews. 
More from Ceres