Published 09-09-10
Submitted by Owens Corning
PRNewswire/ - Owens Corning (NYSE: OC), a world leader in building materials and glass fiber reinforcements, was added to the Dow Jones Sustainability World Index (DJSI World) today for its industry-leading sustainability initiatives.
The DJSI World Index is a highly recognized sustainability index comprised of leading sustainable companies around the world. Inclusion on this list means that the company ranks in the top 10 percent of the biggest 2500 companies worldwide based on long-term economic, environmental and social criteria."ª"ª
"We are pleased to be recognized as the only U.S.-based Construction and Materials company on the DJSI World Index," said Frank O'Brien-Bernini, Owens Corning's chief sustainability officer. "This ranking is a true reflection of Owens Corning's commitment to our customers, employees, communities and the environment. Sustainability is a core business strategy and will continue to guide our efforts for years to come."
One example of Owens Corning's contribution to environmental sustainability is its insulation products which make homes and buildings more energy efficient worldwide. In the first year of use, Owens Corning insulation products save 12 times the energy it takes to manufacture them. Owens Corning is also one of the largest users of recycled glass in the world.
The DJSI follows a best-in-class approach and includes sustainability leaders from industries worldwide, serving as an important guide for investors to assess a company's sustainability portfolio. Selection to the DJSI is based on an in-depth analysis of a company's economic, environmental and social aspects with a focus on long-term development of corporate value. Listed companies are considered to demonstrate continuous improvement every year with regard to sustainability and are assessed by analysts from the Sustainable Asset Management Group (SAM).
An in-depth look at Owens Corning's sustainability efforts can be found in the company's 2009 Sustainability Report and on the following website - www.sustainability.owenscorning.com.
About Owens Corning
Owens Corning (NYSE: OC) is a leading global producer of residential and commercial building materials, glass-fiber reinforcements and engineered materials for composite systems. A Fortune 500 Company for 56 consecutive years, Owens Corning is committed to driving sustainability by delivering solutions, transforming markets and enhancing lives. Founded in 1938, Owens Corning is a market-leading innovator of glass-fiber technology with sales of $4.8 billion in 2009 and about 16,000 employees in 28 countries on five continents. Additional information is available at www.owenscorning.com.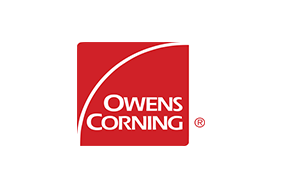 Owens Corning
Owens Corning
Owens Corning (NYSE: OC) develops, manufactures and markets insulation, roofing, and fiberglass composites. Global in scope and human in scale, the company's market-leading businesses use their deep expertise in materials, manufacturing and building science to develop products and systems that save energy and improve comfort in commercial and residential buildings. Through its glass reinforcements business, the company makes thousands of products lighter, stronger and more durable. Ultimately, Owens Corning people and products make the world a better place. Based in Toledo, Ohio, Owens Corning posted 2014 sales of $5.3 billion and employs about 15,000 people in 26 countries. It has been a Fortune 500® company for 61 consecutive years. For more information, please visit www.owenscorning.com.
More from Owens Corning