Published 08-19-10
Submitted by Blackbaud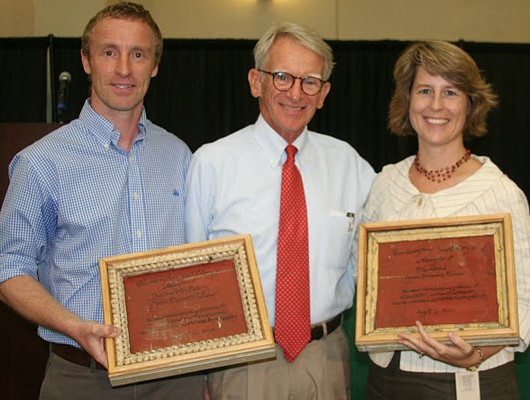 Charleston, SC Mayor Joe Riley (center) presented the Charleston Battery Soccer Team and Blackbaud with Green Business Pioneer Awards with Andrew Bell, president of the Battery, and Rachel Hutchisson, director of citizenship and philanthropy at Blackbaud.
Blackbaud, Inc (Nasdaq: BLKB), the leading global provider of nonprofit software and services, is rounding out the third quarter with a continued focus on its core value of "making the world a better place." As a result of its many employee-led initiatives, Blackbaud was named a Green Business Pioneer by the City of Charleston and the Charleston County Council. The Pioneer Award was presented to Blackbaud because of its work stewarding and protecting Charleston's environment and resources through achievable business practices.
"We are very humbled to be among the recipients of the Pioneer Award," said Rachel Hutchisson director of citizenship and philanthropy at Blackbaud. "When it comes to being green, it's not about what we've done; it's about what we can still do for our environment and the nonprofit community, which is why we have also entered the Charleston Green Business Challenge."
The Charleston Green Business Challenge is a voluntary opportunity for businesses of all types and sizes to pursue sustainability and green-driven strategies, while improving business performance. Developed by the City of Chicago, the challenge is being piloted in five cities across the nation through the initiative of ICLEI--Local Governments for Sustainability.
Blackbaud remains committed to programs developed to support and encourage employees to give back and focus on the environment with programs to include:

Day of Caring - In support of Trident United Way's National Day of Caring on September 14, a team of 150 employees will work on projects at 10 nonprofits in the Charleston area.


Blackbaud's-Adopt-A-Beach Program - On September 11, Greenbaud, Blackbaud's grassroots employee environmental team, will clean-up a two-mile stretch of beach on Isle of Palms, SC.


Employee-Led Community Garden - Taking advantage of the grounds surrounding the Blackbaud headquarters building, a team of employees has developed a garden where they will plant several vegetables and seasonal crops, which will all be donated to the Charleston-based nonprofit, Fields to Families. Vespa Pizza and Daniel Island Grill both located on Daniel Island, SC, are helping the Blackbaud Community garden by providing compost.


Focus on Back to School - With a third quarter focus on youth and education, Blackbaud employees are donating school supplies to Dorchester Children's Center and South Santee Senior and Community Center.
Employee Volunteer Impact Grants - "Reward Your Passion" is a corporate program that encourages employees to apply for grants on behalf of the nonprofits where they volunteer. More than 30 grants have been awarded globally this year based on employees' dedication and commitment to organizations they serve since the program's inception.


For more information and to read to the "Service to Others" blog, visit www.blackbaud.com/philanthropy.
About Blackbaud
Blackbaud is the leading global provider of software and services designed specifically for nonprofit organizations, enabling them to improve operational efficiency, build strong relationships, and raise more money to support their missions. Approximately 22,000 organizations -- including University of Arizona Foundation, American Red Cross, Cancer Research UK, The Taft School, Lincoln Center, In Touch Ministries, Tulsa Community Foundation, Ursinus College, Earthjustice, International Fund for Animal Welfare, and the WGBH Educational Foundation -- use one or more Blackbaud products and services for fundraising, constituent relationship management, financial management, website management, direct marketing, education administration, ticketing, business intelligence, prospect research, consulting, and analytics. Since 1981, Blackbaud's sole focus and expertise has been partnering with nonprofits and providing them the solutions they need to make a difference in their local communities and worldwide. Headquartered in the United States, Blackbaud also has operations in Australia, Canada, Hong Kong, the Netherlands, and the United Kingdom. For more information, visit www.blackbaud.com.
Forward-looking Statements
Except for historical information, all of the statements, expectations, and assumptions contained in this news release are forward-looking statements that involve a number of risks and uncertainties. Although Blackbaud attempts to be accurate in making these forward-looking statements, it is possible that future circumstances might differ from the assumptions on which such statements are based. In addition, other important factors that could cause results to differ materially include the following: general economic risks; uncertainty regarding increased business and renewals from existing customers; continued success in sales growth; management of integration of acquired companies and other risks associated with acquisitions; risks associated with successful implementation of multiple integrated software products; the ability to attract and retain key personnel; risks related to our dividend policy and share repurchase program, including potential limitations on our ability to grow and the possibility that we might discontinue payment of dividends; risks relating to restrictions imposed by the credit facility; risks associated with management of growth; lengthy sales and implementation cycles, particularly in larger organizations; technological changes that make our products and services less competitive; and the other risk factors set forth from time to time in the SEC filings for Blackbaud, copies of which are available free of charge at the SEC's website at www.sec.gov or upon request from Blackbaud's investor relations department. All Blackbaud product names appearing herein are trademarks or registered trademarks of Blackbaud, Inc.

Blackbaud