Published 08-18-10
Submitted by Net Impact
Released today, Net Impact's 2010 Business as UNusual: The Student Guide to Graduate Programs provides the most comprehensive collection of graduate programs' efforts to prepare students to use their careers to improve the world.
First created in 2006, the annual Business as UNusual guide is the only resource available to prospective business students that offers school profiles provided directly by students. Each profile includes student opinions on their program's social and environmental curriculum, student activities, career services, and more. The 2010 guide includes details on 95 programs, including 13 international schools, compiled from the opinions of 3,000 students within the Net Impact network.
"More and more students are interested in learning about how to use their business skills to make a positive impact," said Liz Maw, Executive Director of Net Impact. "The Business as UNusual guide fills a void for prospective students who want to compare experiences at different programs."
In response to their growing interest, business schools are offering impact-minded business students new courses, certificate programs, and experiential learning opportunities. For example, this year's guide reports on new classes such as "Sustainable Operations" and "Energy Audit Workshop," as well as new certificates in areas such as "Social Impact" and "Responsible Management." The guide also provides details on extracurricular activities such as career treks to nonprofits and sustainability-focused businesses.
In addition to offering the guide to prospective students, Net Impact encourages faculty and administrators to use the guide to learn about other MBA schools' efforts to address corporate responsibility, sustainability, social entrepreneurship, and related topics.
"We believe corporate responsibility and sustainability themes should be mainstreamed into all business education, and we're thrilled to see an increasing number schools offer opportunities to students in these areas," said Liz Maw. "We hope our guide will encourage the development of even more robust social and environmental impact curricula, career services, and support for student activities."
The 2010 Business as UNusual guide is available for download free-of-charge at www.netimpact.org/bizschoolguide.
About Net Impact
Net Impact is a global organization of students and professionals using business to improve the world. We offer a portfolio of programs and initiatives to educate, equip, and inspire more than 20,000 members to make a tangible difference through business. Spanning six continents, our membership is one of the most influential networks of students and professionals in existence today and includes current and emerging leaders in corporate social responsibility, social entrepreneurship, nonprofit management, international development, and environmental sustainability. The Net Impact network includes more than 260 volunteer-led chapters in cities throughout the world and a central office in San Francisco, CA. For more information, please visit netimpact.org.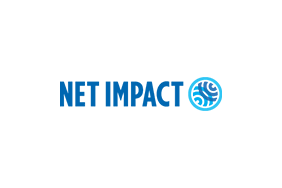 Net Impact
Net Impact
Net Impact is a global nonprofit inspiring a new generation to use their careers to tackle the world's toughest social and environmental problems. We empower student and professional leaders to act locally through our vibrant chapter network and connect globally online and through our flagship conference. By 2020, we will mobilize a million new leaders to drive positive change in the workplace and the world. For more information, please visit netimpact.org.
More from Net Impact