Published 08-18-10
Submitted by Article13 Group Ltd
On 30th September 2010 the Human Capital Forum will bring together some leading thinkers to present at a ground-breaking conference on the future of management.
At the end of a decade that has seen major organisational failures through accountancy scandals, excessive risk-taking by the banks and a high rate of failure in merger activity, this conference will explore the extent to which poor models of management have contributed.
It will reflect that, while most value in organisations resides in the human capital in the workplace, business theory has not caught up. Speakers will discuss how proper stewardship by the Board, supported by fuller reporting of business intelligence, can better inform managers, investors and the wider public about an organisation's value, its strengths and its risk profile.
This unique one-day conference on the future of management will be addressed by some of the leading thinkers in the field - including some of those who had warned of excessive risk-taking before the credit crisis.
This conference will explore the potential of:

A broader definition of the Board's role, in addition to shareholder returns,


Fuller reporting of business intelligence, including human capital reports,


A more complete definition of 'sustainability',


The potential for linking marketing investments and employee engagement,


More diversity of views in media coverage.


This conference will illustrate how the management agenda is changing radically following the banking crisis, and explore the inter-dependence of different disciplines - helping to move away from 'silo' management. It will also offer an opportunity for senior business leaders from different disciplines to network and share ideas.
It is a must for senior level executives with an interest in understanding the importance and the nature of a company's most valuable asset; and why traditional approaches to understanding this are out-dated. This will include CEOs, HR Directors, Financial Directors, Shared Services Directors, HR Business Partners, Organisational Development Directors, Pay and Benefits Directors.
For more information, contact conference@humancapitalforum.com
Or go to www.humancapitalforum.com/conference
Or call David Farrow on 020 7940 4848
Speaker biographies
Philip Whiteley is chair of the Human Capital Forum. He is the author or co-author of eight books and major reports. Making it Count, published September 2009 by the Human Capital Forum in association with Logica, shows the huge returns from human capital analysis. Strategic Risk & Reward, published in September 2008 by International Financing Review, Thomson Reuters, is a critique of people management and reward in the banking sector, in the context of the credit crisis.
Neela Bettridge is a non-executive Director of Article 13 with particular focus on Sustainable Development and Business Development. Neela also is an independent executive coach specializing in embedding innovation and leadership around these issues as well as working with the clean technology sector.
Adrian Moorhouse is managing director of Lane4 and an Olympic gold medalist. Drawing on extensive commercial expertise and an elite sporting background, Adrian balances his leadership role with performance consultancy projects for clients. He specialises in the fields of leadership development, organisational change and senior team facilitation.
Matt Rogan is commercial director, Lane4. His role includes strategic planning, the extension of the Lane4 proposition into new commercial markets and geographies as well as heading up the commercial team. He is board director of the European Sponsorship Association, with responsibility for education.
Professor Bob Garratt is an adviser to major corporations and governments around the world on governance, and on the structure and performance of the Board. He has worked with many financial services institutions including The International Monetary Fund, and the Public Investment Corporation, South Africa, and is visiting professor at the Cass Business School, City University, London.
Ann Graham has over 30 years' experience as a researcher, economist, journalist, and editor in the field of strategy and management. She is the editorial director of the Conscious Capitalism Institute, based at Bentley University in Massachusetts, and is a former editor of strategy + business and consultant with Booz.
Simon Caulkin, former Observer columnist, is winner of the 2010 Workworld Columnist of the Year award. He has a 'fan base' of around 100 leading academics and authors on an active LinkedIn group.
Stefan Stern, outgoing management columnist at the Financial Times, is the new director of strategy at PR giant Edelman. He is the winner of the 2010 Towers Watson award for excellence in HR journalism, and has won journalism awards from the Work Foundation and the Management Consultancies Association.
Michael Reddy is the founder of start-ups Human Potential Accounting, a consulting and events group in human capital; and HubCapDigital, an online human capital library. He is particularly interested in research in human capital. He is well connected with human capital academics and consultants.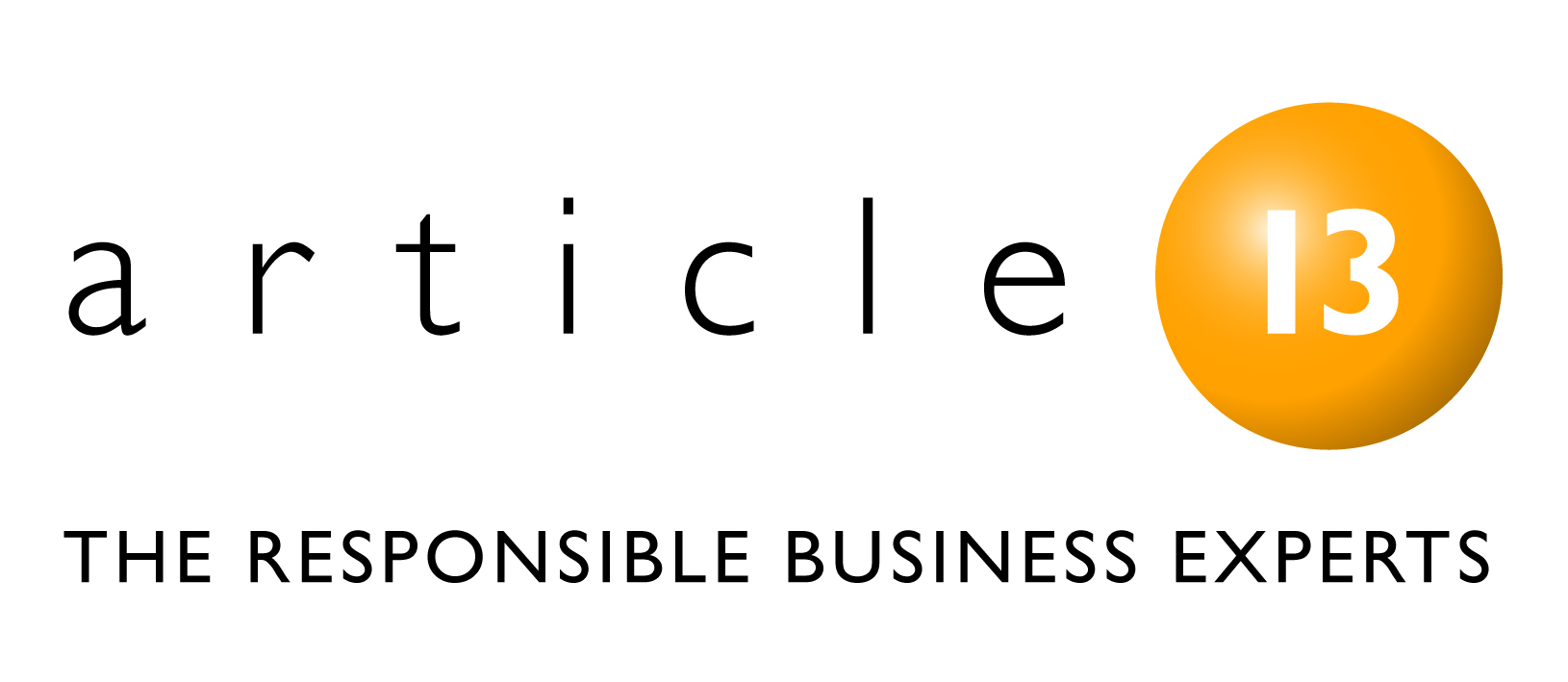 Article13 Group Ltd
Article13 Group Ltd
Corporate Social Responsibility (CSR) Experts: We are experts in business responsibility, typically in the areas of corporate social responsibility (CSR), sustainability and governance. Our services include:
Consultancy for business responsibility

CSR policy & strategy
CSR / sustainability audits & benchmarking
Stakeholder engagement
CSR & sustainability reporting
Non-financial risks & futures
Governance

Training for CSR & sustainability

Responsible business masterclass
Transformative leadership for responsible business
Building business success and values masterclass
Green learning (in association with REED)

Executive coaching

Coaching & mentoring for responsible business

Research on business responsibility

CSR case studies
Quarterly responsible business features
Biannual research reports
More from Article13 Group Ltd