Published 08-10-10
Submitted by NativeEnergy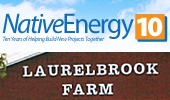 NativeEnergy, an innovator in the United States carbon market, today launched its year-long 10-Year Anniversary program. The company was formed in August 2000 and soon began working with the Rosebud Sioux Tribe to develop and help finance the first tribally owned large scale wind turbine in the country. NativeEnergy's newest project, posted on the company's website today, is the Laurelbrook (CT) Farm Compost project. Laurelbrook joins 47 other projects that have been built with NativeEnergy customer support. Through the Anniversary program, NativeEnergy will reinforce the importance of the voluntary carbon offset market as an effective tool in the overall effort to fight global warming.
"We started with a dream to help build new renewable generation that supports sustainable local economic development," says Tom Boucher, CEO and co-founder of NativeEnergy. "During the past decade, we - along with our many customers - have helped bring almost 50 exceptional new projects on line. Voluntary carbon offsets fashioned to bring upfront funding to deserving projects was new to the market. I didn't really know what we might be able to do when we set out, but looking back I'm gratified by what we've accomplished."
Fellow co-founder and NativeEnergy's General Counsel, Tom Stoddard adds, "It was lonely at the start. People were skeptical about our approach. We often work with small projects that cannot rely on some regulatory requirement to succeed. They face financing hurdles, and financial institutions are hesitant or unwilling to invest all that is required. We developed a mechanism to help these worthwhile projects move forward when the conventional markets failed them."
The NativeEnergy Help Build™ model provides project developers with critical upfront revenues in return for a long-term stream of the project's carbon reduction. NativeEnergy sells these reductions as carbon offsets. NativeEnergy's customers include a who's who of leaders in corporate sustainability, like Green Mountain Coffee Roasters, Stonyfield Farm, Ben & Jerry's, Clif Bar, Aveda - all Charter Supporters of NativeEnergy's previous project, the Greensburg (KS) Wind Farm.
"We're proud to have worked with NativeEnergy during the past decade," said Paul Comey, a pioneer in sustainability at Green Mountain Coffee Roasters. "Innovation is a risky business. I'm glad to see NativeEnergy thriving."
NativeEnergy's projects have included wind projects on tribal lands and in small communities in the Mountain West and Midwest, dairy farm methane abatement projects in both the East and West, and transportation efficiency. "We have concentrated on working with projects where important community values are honored," Mr. Boucher said, "and where exceptional environmental benefits are delivered."
Laurelbrook is a third-generation dairy farm located in East Canaan, Connecticut. Manure from livestock operations can be a major source of methane, a powerful greenhouse gas. Runoff from manure can also pollute waterways. Robert Jacquier, who oversees the family farm said, "We believe the composting operation is the best way to take full advantage of the nutrients in the waste stream, while significantly reducing the environmental threat posed by manure decomposition and nutrient run-off. It's a difficult time to operate a dairy farm, but we take pride in taking the best care of our animals and being good stewards of the land."
With the promise of upfront revenues from NativeEnergy in return for the greenhouse gas reductions that the farm's compost operation would produce, the equipment is now installed and operating.
Most recently, NativeEnergy helped build the Greensburg Wind Farm in Greensburg, KS. This project is part of the revitalization of Greensburg as the "greenest town in America," following a devastating tornado in 2007. The "Green Dedication" of the wind farm took place in Greensburg in May, on the third anniversary of the tornado.
During the past decade NativeEnergy customers have prevented more than 1.5 million tons of greenhouse gas pollution through their purchase of carbon offsets. "The projects we feature would not have been built without the voluntary carbon market," Mr. Boucher emphasizes. "Only by partnering with thousands of customers has this innovation moved forward."
NativeEnergy is a climate solutions innovator and recognized leader in offering services that reduce carbon emissions that fight global warming, create sustainable jobs, and reduce our country's dependence on fossil fuels. By helping finance construction of Native American, family farm, and community-based renewable energy and carbon reduction projects, our customers help at-risk local communities build sustainable economies pushing us all a little closer to a green economy.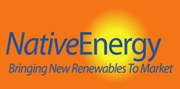 NativeEnergy
NativeEnergy
NativeEnergy is a climate solutions innovator and recognized leader in the US carbon market, offering services that reduce carbon emissions to fight, global warming. In the latest North American survey of top providers. NativeEnergy ranked #1. Since 2000, we have used our distinctive "help build" model to support the construction of new wind farms, other renewable generation and carbon reduction projects. NativeEnergy offers its customers carbon-solutions consulting services and carbon offsets and renewable energy credits (RECs).

By helping finance construction of Native American, family farm, and community-based renewable energy and carbon reduction projects, our customers help communities in need build sustainable economies. We also have significant Native American ownership, providing tribes the ability to share in the business value we are creating.

NativeEnergy a founding member of ICROA, the leading international organization of carbon offset providers.
More from NativeEnergy