Published 07-20-10
Submitted by General Electric Company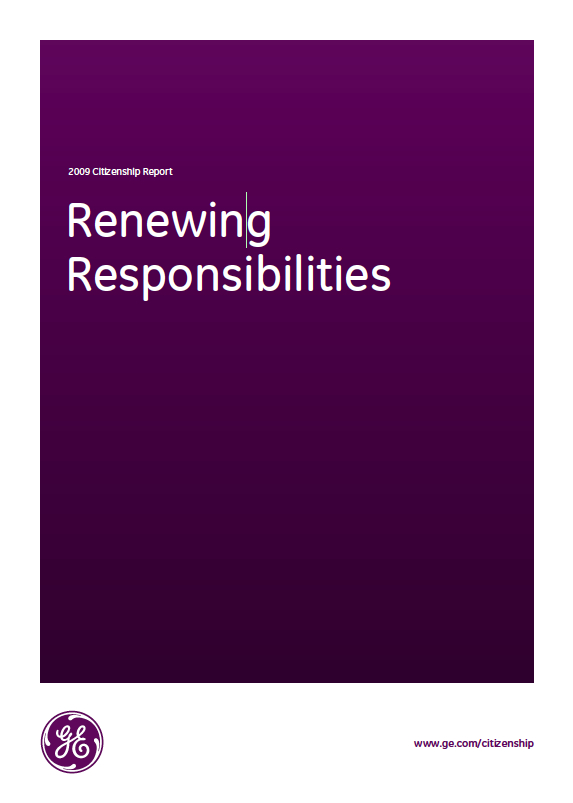 GE 2009 Citizenship Report, "Renewing Responsibilities"
GE today released its sixth annual Citizenship Report, entitled Renewing Responsibilities. The report covers GE's worldwide operations for the 2009 fiscal year and is structured around the discussion of three pillars of GE's strategy - energy and climate change, sustainable healthcare, and community building. The report also includes an in-depth discussion on the relationship between business and society, and how GE's people, products, and services help to enable prosperous and productive communities around the world.
"This year's report examines GE's partnerships with our employees, business partners and communities--in jointly tackling the world's most complex and pressing problems," said Jeff Immelt, chairman and CEO of GE. "Based on our commitments to integrity, performance and learning, GE is renewing our company coming out of this economic reset."
The 2009 report, related performance data and hundreds of pages of additional content are available to users on the company's newly redesigned citizenship website: www.ge.com/citizenship. The focus of the redesign was to provide unique, provocative and dynamic content for users to learn about GE's citizenship efforts around the world. The site is also home to citizenship feature articles and over 20 perspectives addressing key citizenship issues from the viewpoint of GE employees, customers and industry experts.
"This report represents the evolution of GE's effort to continually challenge ourselves to be more transparent, more accessible, and more cognizant of our impact on society and the environment," said Sam Nunn, chairman of the GE Board of Directors Public Responsibilities committee. "GE is making a dedicated effort to develop its business strategy so that its products and services have a positive human impact and produce long-term business success."
Highlights in this year's report include:



An Expert Advisory Panel that offered comments, questions and suggestions for the report and provided an unedited letter of public commentary. Also included is GE's response to last year's panel letter.


Updates on GE's human rights statement of principles implementation, product innovation in emerging markets, public policy engagement, and reporting on the company's greenhouse gas emissions and water use.


A letter from Sam Nunn, GE Director and Chairman of the Public Responsibilities Committee (PRC) for the GE Board of Directors.


Updated metrics and content on all performance areas including Environment, Our Suppliers, Compliance & Governance, Our People, Public Policy, Our Customers, Our Products & Services and Our Communities.


According to the Expert Advisory Panel, "GE's Citizenship Report this year takes the company a further step forward in fulfilling its commitment to transparency about how it does business, and how it impacts on people and the environment. The three pillars that frame the report; environment, healthcare, and community building, together with the foundation of operational excellence, provide a penetrating and insightful window into the core of GE's long-term business rather than a series of separate initiatives."
The report will be translated into six different languages. To order a copy of the 2009 GE Citizenship Report, visit https://www.ge.com/citizenship/reporting/order_report.html. To sign up for more information about GE's corporate citizenship initiatives and practices, please visit http://www.genewscenter.com/webuser/register.asp.
About GE
GE (NYSE: GE) is a diversified infrastructure, finance and media company taking on the world's toughest challenges. From aircraft engines and power generation to financial services, health care solutions, and television programming, GE operates in more than 100 countries and employs about 300,000 people worldwide. For more information, visit the company's Website at www.ge.com.

General Electric Company
General Electric Company
GE (NYSE: GE) is a diversified technology and financial services company. GE operates in more than 150 countries and employs about 300,000 people worldwide. GE works on things that matter. Finding solutions in energy, health and home, transportation and finance. Building, powering, moving and curing the world. Not just imagining. Doing. GE's approach to corporate citizenship and to business are driven by a common understanding of the role we can play….the best people and the best technologies taking on the toughest global challenges.
More from General Electric Company