Published 07-19-10
Submitted by 3BL CSRwire
Every day CSRwire publishes news and events from over 5,000 members in more than 200 countries about programs and initiatives that are helping to construct a sustainable global economy.
Taking charge in a global recession is not an easy feat; and, doing so in a manner that not only raises profits, but also helps to build up the people and communities surrounding the organization is something worth celebrating.
In regard to such extraordinary efforts, CSRwire is honored to recognize leading examples of good corporate citizenship:
Midweek Politics with David Pakman, Mother Nature Network (MNN) and Zen Peacemakers are all broadcasting CSR-related newsfeeds and messages through their CSRwire Enhanced Member Profiles (EMPs). An EMP enables an organization to visually demonstrate the impact of its CSR initiatives. Through the use of video, audio, logo placement, RSS feeds and share capabilities, this communication platform becomes the "first-stop" for the CSR community to view an organization's approach to environmental and societal issues.
Other noteworthy CSR contributions include Harvard University's and Greenopolis' sponsorships. CSRwire features 24 categories available for sponsorship. Harvard has taken the Academia page, while Greenopolis will be supporting Sustainability news.
"We are finally at a point when most serious brands consider it important to show how they are benefiting the world and not just their shareholders," Jan Morgan, CSRwire President states. "The way these organizations are utilizing CSRwire's services to connect with our readership and the broader CSR community is exciting as all these efforts are working to shape a more just and sustainable economy."
For more information about CSRwire EMPs or category sponsorships please contact Natalie Thomas, CSRwire Director of Business Administration and Development, at (802)251-0110 ext. 1108 or Natalie@csrwire.com.
About CSRwire
CSRwire is the leading source of corporate social responsibility and sustainability press releases, reports and information. CSRwire members are companies and NGOs, agencies and organizations interested in communicating their corporate citizenship, sustainability and socially responsible initiatives to a global audience through CSRwire's syndication network and Daily News Alerts. CSRwire content covers issues of Diversity, Philanthropy, Socially Responsible Investing (SRI) Environment, Human Rights, Workplace Issues, Business Ethics, Community Development, Corporate Governance and more.
Find CSRwire on Linkedin, Facebook and Twitter.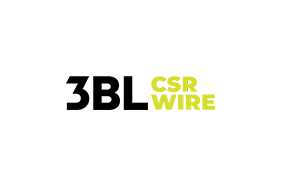 3BL CSRwire
3BL CSRwire
Respected and relied on by journalists, bloggers, business leaders and academics around the world, 3BL CSRwire is a dedicated, real-time source for major news and updates from within the worlds of ESG, corporate social responsibility and sustainability.
3BL CSRwire offers a-la-carte press release distribution to a global network of influential stakeholders and mainstream audiences—perfect for organizations just getting started in CSR or for those looking to get the most out of their corporate communications.
More from 3BL CSRwire