Published 07-16-10
Submitted by Green America
Today, Congress completed its vote on final passage of the historic financial reform package that has been debated for more than a year. The Senate voted 60 "" 39 to reign in a number of the abusive financial practices conducted by both small lenders in strip malls and mega-banks on Wall Street.

Green America, in partnership with the American Sustainable Business Council and Americans for Financial Reform, worked on a specific key component of the bill "" the Consumer Financial Protection Agency (now renamed a "Bureau."). The Bureau will protect consumers and small businesses from predatory financial products and services, including mortgages, credit cards, debit cards, pay day loans, and more. The creation of the Bureau is the farthest reaching consumer financial protection enacted in decades.
Todd Larsen, Green America's Program Director stated: "We recognize that the overall package of reforms includes historic provisions, while falling short of the deeper Wall Street overhaul needed to truly safeguard our financial future. At the same, we have achieved key protections for consumers and small business on which to build."
Thanks in part to the voice of green business, the Consumer Financial Protection Bureau (CFPB) will become law. Green America called for:
Creation of a new, independent entity specifically to protect consumer and small business (now called the Consumer Financial Protection Bureau) "" ACHIEVED
To be effective, the new Consumer Financial Protection Bureau needs:
Broad scope to cover the activity of most lenders -- ACHIEVED
A single director nominated by the President and confirmed by the Senate, rather than being run by a commission "" ACHIEVED
Independent funding, not subject to ongoing Congressional budget debates and pressure from financial industry lobbyists "" ACHIEVED
Ability for states to enact rules that are stronger than those of the CFPB so that states can address problems before they spread nationally "" ACHIEVED
Enforcement capability that is not easily vetoed by the new Financial Stability Oversight Council. This Council can only veto actions by the CFPB at a very high threshold of concern for major systemic issues "" ACHIEVED
Aspects of the CFPB that fall short, include:
Exemption of auto dealers from the CFPB's authority (although the FTC will have greater authority to address auto dealers.)
Giving certain lenders -- such as pay day lenders, debt collectors, and other small lenders that often have a history of predatory practices -- advance notice of provisions the CFPB is considering.
Allowing state level consumer protections to be blocked by the Office of the Comptroller of the Currency even if there is no federal level protection to address the issue.
For the CFPB, and the entire financial bill, to really make a difference there will need to be rigorous oversight, enforcement, and co-operation among different regulators. Fran Teplitz, Green America's Director of Social Investing stated: "Today's final passage of the financial reform bill, including strong protections for consumers and small business, demonstrates that the government is taking steps to prevent future financial abuses; the bill holds forth the promise of making financial security for our country a priority over Wall Street greed."
About Green America
Green America is a non-profit organization whose mission is to harness economic power-the strength of consumers, investors, businesses, and the marketplace-to create a socially just and environmentally sustainable society. www.GreenAmericaToday.org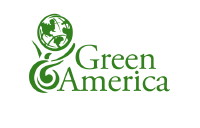 Green America
Green America
Green America is United States' leading green economy organization. Founded in 1982, Green America provides the economic strategies, organizing power and practical tools for businesses and individuals to solve today's social and environmental problems. Green America's green economy programs encourage corporate responsibility, tackle climate change, build fair trading systems, advance healthy, local communities, and provide green purchasing and investing information for families and businesses. To receive Green America's popular publications, including the Green American and the National Green Pages™, participate in Green Festivals, or to get its free e-newsletter, providing the latest green news, green discounts, and opportunities to take action for a green economy, visit http://www.GreenAmerica.org, email info@GreenAmericaToday.org, or call at 800-58-GREEN.
More from Green America