Published 07-05-10
Submitted by Fjord1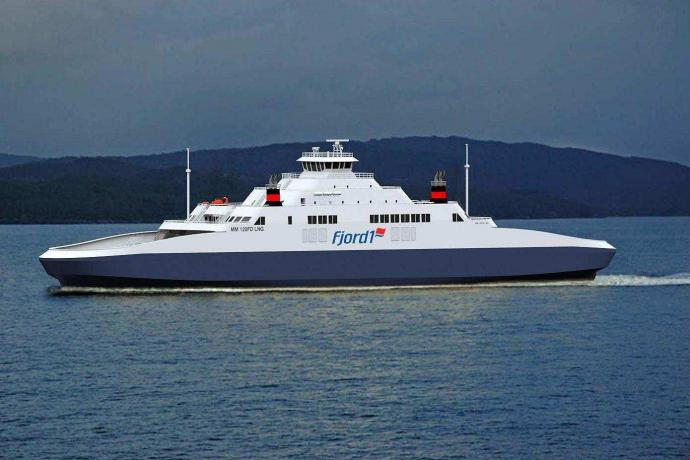 The new LNG-powered ferry is designed by Multi Maritime AS in Norway
The Norwegian transport corporation Fjord1 has entered into a contract with Fiskerstrand BLRT AS to plan and construct the world's largest gas-powered ferry. The ferry will run on Liquid Natural Gas (LNG) and will be delivered on 30 November 2011 for operation on Bokna Fjord between Arsvågen and Mortavika in Rogaland County. It will also function as a spare vessel for the Halhjem-SandvikvÃ¥g route in Hordaland County. The traffic on these ferry services has increased dramatically since Fjord1 took over management of them in January 2007.
The new LNG-powered ferry is designed by Multi Maritime AS in Førde and will have a total length of 129.9 metres, a maximum width of 19.2 metres and a capacity of 242 cars and/or 22 lorries in combination with cars.
The contract was won in a tough European shipyard competition. "We are very pleased to have won such a tough competitive tendering and to know that we can compete with other European shipyards," says CEO Rolf Fiskerstrand of Fiskerstrand BLRT.
More frequent departures

CEO Leif Øverland of Fjord1 points out that the new ferry will improve the everyday situation for commuters using the route. "This is a great day for motorists. With this third ferry in operation on Bokna Fjord, we will ensure departures every twenty minutes - compared with every thirty minutes at present."
These ferry services were used by more than two million private cars and goods vehicles in 2009, and without the new ferry, queues would soon increase to an unacceptable level. The Arsvågen-Mortavika and Halhjem-Sandvikvåg services are two of the three busiest stretches in the country, with 3.9 million PCE in 2009. The ferry will also be used as a spare vessel on Bjørnefjorden for planned maintenance or technical problems on this ferry service. In these cases, the ferry services will run according to the current timetable.
Environment-friendly solution

Øverland also expects a solid reduction of air pollution with the new vessel, with a 90% reduction in NOx emissions compared to conventional diesel operated ferries. "The fact that the government focuses strongly on environment-friendly forms of energy consumption in competitive tenderings is something we are very happy about."

LNG is an attractive alternative fuel not only because it is relatively clean, but also because Norway has an ample supply.
Fjord1 - a gas ferry world leader
Following the success of the world's first ferry to run on natural gas with Glutra in 2000, Fjord1 is still the only company using natural gas ferries for vehicle and public transportation with five more large vessels operating the busy links along the busy coastal roads of Norway. Since 2007, the ferry service on Kyststamvegen in Rogaland and Hordaland Counties has been served by five such ferries from Fjord1. This third ferry on the Arsvågen-Mortavika stretch - which will also be a spare ferry between Halhjem and Sandvikvåg - will thus be the sixth gas ferry in this area. Fjord1 will by the end of 2011 have 12 gas ferries in operation along the Norwegian coast, making the company a world leader.
About the ferry
The ferry will hold 600 passengers including staff, and shall be built according to Det Norske Veritas' Class +1A1, Car ferry A, gas fuelled, Clean, RPS, EO, R3 (NOR). Its deadweight will be approx. 1300 metric tonnes, and it will be approx. 7000 GRT. The ferry will be equipped with four azimuth thrusters driven by a gas-electric system consisting of three large LNG gas motors and AC generators. The gas motors will give a service speed of approx. 20 knots.
About Fjord1
Fjord1 is one of Norway's largest transport groups. Its core operations are car ferries, passenger and express ferries, buses, tourism and goods transport. The group has around 2200 employees and had a turnover of approx. NOK 2.9 billion in 2009. In total, the companies within the group operate 63 car ferries and express ferries and over 500 buses and goods vehicles. Its management is located in Florø. For more information, please visit our website at www.fjord1.no.
About Fiskerstrand
Fiskerstrand BLRT AS is a Norwegian-registered joint venture company, established 50/50 in 2007 by Fiskerstrand Verft AS near Ålesund, Norway and Western Shipyard in Klaipeda, Lithuania. The two shipyards have worked closely together since 2000, and the new company is responsible for the shipyard group's joint focus on shipbuilding and renewable energy projects. Fiskerstrand BLRT AS has a joint, overall responsibility for design/engineering, sales/marketing, contracts, financing, major procurements, project management, shipyard coordination and delivery to customers.
The hull and start equipment of the new ferry will be constructed at Western Shipyard, and the remaining equipment will be constructed by Fiskerstrand Verft AS. Fiskerstrand BLRT AS aims to be the leading provider of concept development and construction for medium-sized ferries in Europe, and this contract confirms this goal. Fiskerstrand BLRT AS had a turnover of approx. NOK 470 million in 2009 and is now due to deliver five ferries in 2010 and two large ferries in 2011.
Fjord1
Fjord1
About Fjord1 Fjord1 is one of Norway's largest public transportation corporations, with core activities on ferry-, speed passenger boat- and bus-transportation, as well as transportation of goods across the country. Altogether the Fjord1 companies operate more than 60 ferries and passenger boats, more than 500 buses and goods transport trucks - and had in 2008 about 28 million passengers and 8,7 million vehicles. The Fjord1 corporation has about 2300 employees and had a turnover of about 2,8 billion Norwegian kroner in 2008. The company is headquartered in Flora. For more information, please visit our website at www.fjord1.no.
More from Fjord1