Published 07-01-10
Submitted by Owens Corning
/PRNewswire-FirstCall/ - Owens Corning (NYSE: OC) today released its fourth annual Sustainability Report, which outlines the company's progress in reducing its environmental footprint, greening its product lines, providing energy-efficiency solutions for the built environment and supporting renewable energy sources. The full report and a downloadable summary progress report is available online at www.sustainability.owenscorning.com.
"Our fourth annual Sustainability Report demonstrates our commitment to setting and meeting aggressive goals related to greening our products and greening our operations," said Frank O'Brien-Bernini, chief sustainability officer at Owens Corning. "We have made solid progress with our sustainability efforts and remain focused on continuously improving."
Owens Corning is a leading manufacturer of energy-saving insulation, as well as composites that are used in wind turbine blades that generate renewable energy worldwide. The company's products address a significant and timely challenge: Forty percent of global energy consumption and associated greenhouse gas (GHG) emissions come from the world's homes and buildings, and there is a growing demand for low carbon, renewable energy.
"Sustainability is at the core of our business. For decades, our products have contributed to energy efficiency, affordable and clean renewable energy solutions and durability in buildings and infrastructure," said O'Brien-Bernini.
Results highlighted in Owens Corning's 2009 Sustainability Report include:

Continuing reduction of the company's environmental footprint, accomplishing four of seven key goals ahead of its 2012 target date


Meeting with President Obama to discuss and support his HOMESTAR legislation, a program that promotes the creation of tens of thousands of U.S. jobs and encourages consumers to make energy-saving improvements to their homes, including sealing and insulation


Converting all of its North American foam business to a new product and process that reduces manufacturing GHG intensity by more than 70 percent


Launching a shingle recycling program that makes it easier for contractors to recycle their asphalt shingles, which preserves resources and keeps shingle waste out of landfills


Partnering with a Kansas City glass-crushing facility to launch a city-wide glass recycling program, saving up to 80,000 tons of glass from landfills each year


Receiving Leadership in Energy and Environmental Design (LEED®) Gold certification in the New Construction category for its Gresham, Ore. foam insulation plant, the only LEED® Gold-certified insulation facility in the United States


Joining the United Nations Global Compact, a voluntary initiative bringing together more than 7,900 organizations throughout the world that share a commitment to sustainability and responsible business practices in the areas of human rights, labor, environment and anti-corruption


Ranking 56 out of 500 companies in the first Newsweek "Green Ranking" of 500 of the largest publicly-traded companies in the United States based on the company's environmental performance, policies and reputation


The report also includes additional information about Owens Corning's progress toward its 2012 goals for intensity reductions in energy usage, greenhouse gas emissions, nitrogen oxide, organic compounds, particulate matter, waste-to-landfill contributions and water usage.
Owens Corning's community involvement and good stewardship are also featured in the report. During the past year, Owens Corning employees throughout the world committed more than 8,000 hours of service to non-profit organizations, special causes and volunteer boards. In 2009, Owens Corning was named to Corporate Responsibility Magazine's "100 Best Corporate Citizens List" for its commitment to excellence in the areas of sustainability, human rights, philanthropy and employee relations.
Owens Corning's Sustainability Report is consistent with Global Reporting Initiative (GRI) guidelines known as GRI-G3. GRI's Sustainability Reporting Guidelines set a globally applicable framework for reporting the economic, environmental and social dimensions of an organization's activities, products and services.
About Owens Corning
Owens Corning (NYSE: OC) is a leading global producer of residential and commercial building materials, glass-fiber reinforcements and engineered materials for composite systems. A Fortune 500 Company for 56 consecutive years, Owens Corning is committed to driving sustainability by delivering solutions, transforming markets and enhancing lives. Founded in 1938, Owens Corning is a market-leading innovator of glass-fiber technology with sales of $4.8 billion in 2009 and about 16,000 employees in 28 countries on five continents. Additional information is available at www.owenscorning.com.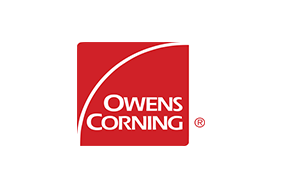 Owens Corning
Owens Corning
Owens Corning (NYSE: OC) develops, manufactures and markets insulation, roofing, and fiberglass composites. Global in scope and human in scale, the company's market-leading businesses use their deep expertise in materials, manufacturing and building science to develop products and systems that save energy and improve comfort in commercial and residential buildings. Through its glass reinforcements business, the company makes thousands of products lighter, stronger and more durable. Ultimately, Owens Corning people and products make the world a better place. Based in Toledo, Ohio, Owens Corning posted 2014 sales of $5.3 billion and employs about 15,000 people in 26 countries. It has been a Fortune 500® company for 61 consecutive years. For more information, please visit www.owenscorning.com.
More from Owens Corning