Published 06-22-10
Submitted by NativeEnergy
Jeff Bernicke has been promoted to President and Chief Operating Officer of NativeEnergy. In his new position, Mr. Bernicke will oversee all operating and administrative areas of the Company.
In announcing the appointment, Tom Boucher, NativeEnergy's Founder and CEO, said, "Jeff is an uncommon talent, bright, energetic, and charismatic. It became obvious to me and others at the Company that Jeff is the right person to provide us with daily leadership, as we continue to expand NativeEnergy's overall business operations.
"With this management structure in place, we have ensured that the Company continues to be strongly positioned for growth and success," Boucher added.
Boucher will continue as the company's CEO. "I will continue to provide overall strategic guidance to the Company and focus on corporate financing and strategic relationships," Boucher said. "It is now Jeff's task to take the business to the next level."
NativeEnergy is a leading carbon management and offset provider. Founded in 2000, NativeEnergy is known for its innovative Help Build model of project origination, a model in which the Company provides essential up-front funding to smaller renewable energy and other carbon offset projects that need additional funding to complete development. The Company's customers include such notable leaders in corporate social responsibility as Green Mountain Coffee Roasters, Ben & Jerry's, and Stonyfield Farm, and leading brands like Hilton Hotels.
Mr. Bernicke has served as the Vice President of Supply and Origination at the Company since 2008. In that role he has been responsible for the sourcing of offsets for the Company's individual and corporate customers in the voluntary carbon market. Recently Mr. Bernicke and his team successfully brought several noteworthy renewable-energy and carbon-reduction projects online. In May, the Company sponsored a dedication of the Greensburg Wind Project in Greensburg, Kansas, a project that NativeEnergy's customers helped build.
Commenting on his appointment, Mr. Bernicke said, "NativeEnergy is a highly regarded company, poised for significant growth. This is an exciting time to be using the marketplace to advance environmental performance. We have a number of opportunities to build out both our corporate sales and our carbon project origination. I look forward to working with my colleagues to bring new solutions to businesses as they expand their sustainability initiatives and address their greenhouse gas emissions."
Before joining NativeEnergy, Mr. Bernicke worked for Greenhouse Gas Solutions, a GE and AES joint venture, where he directed origination and development efforts in carbon offset and renewable energy projects. He also worked for DTE Energy Resources, leading strategy and development for its non-regulated renewable energy business. Jeff received dual degrees from the University of Pennsylvania in Economics and Engineering and graduated from the University of Michigan's Erb Institute with a Master's in Business Administration and an M.S. in Resource Ecology.
About NativeEnergy
NativeEnergy is a climate solutions innovator and recognized leader in offering services that reduce carbon emissions to fight global warming. Since 2000, we have used our distinctive Help Build model to help finance the construction of new wind farms and other carbon reduction projects, which are known for the environmental and social benefits they provide. For more information visit: www.nativeenergy.com.
NativeEnergy is a founding member of the International Carbon Reduction and Offset Alliance: www.icroa.org.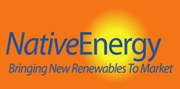 NativeEnergy
NativeEnergy
NativeEnergy is a climate solutions innovator and recognized leader in the US carbon market, offering services that reduce carbon emissions to fight, global warming. In the latest North American survey of top providers. NativeEnergy ranked #1. Since 2000, we have used our distinctive "help build" model to support the construction of new wind farms, other renewable generation and carbon reduction projects. NativeEnergy offers its customers carbon-solutions consulting services and carbon offsets and renewable energy credits (RECs).

By helping finance construction of Native American, family farm, and community-based renewable energy and carbon reduction projects, our customers help communities in need build sustainable economies. We also have significant Native American ownership, providing tribes the ability to share in the business value we are creating.

NativeEnergy a founding member of ICROA, the leading international organization of carbon offset providers.
More from NativeEnergy