Published 06-02-10
Submitted by CECP

Today, the Committee Encouraging Corporate Philanthropy (CECP) presents the 10th Annual Excellence Awards in Corporate Philanthropy to three corporations and one nonprofit for programs selected by an independent multidisciplinary jury according to the following criteria: demonstrated CEO leadership, dedication to measurement, successful partnerships, and innovation. This year's distinguished Excellence Awards recipients are: Intel Corporation for Intel® Teach, a program designed to improve the quality of education through teacher training on effective use of technology in classrooms around the world; General Mills, Inc. for the company's African Women and Children's Hunger Program working to eradicate the root causes of poverty; The Boston Beer Company for the Samuel Adams Brewing the American Dream® program supporting small food and beverage entrepreneurs; and the nonprofit Partners In Health, nominated by Eli Lilly and Company, for its work to eradicate multidrug-resistant tuberculosis in Russia. The Excellence Awards will be presented at a special afternoon awards ceremony at the Time Warner Center in New York by Christina Gold, president and chief executive officer of The Western Union Company and recipient of last year's Excellence Award.
Intel Corporation receives CECP's Chairman's Award, given annually to a corporation with revenues equal to or greater than US$20bn. Intel® Teach draws upon the company's technical expertise to improve science, technology, engineering, and math (STEM) education by providing in-depth professional development for K-12 teachers. The program, which is celebrating its tenth anniversary this year, has trained more than seven million teachers in 60 countries and is attuned to the current reality of each country's infrastructure, offering basic courses in developing countries and more advanced courses in highly developed nations. Intel® Teach is a critical component in Intel's global effort to provide students with the education, resources, and opportunities they need to become the next generation of innovators.

In 2008, Intel's President and CEO Paul Otellini made the largest long-term commitment to education in the company's history by approving a $120 million, ten-year grant to STEM education. He says, "Building a pipeline of highly skilled people will lead to new ideas and discoveries that will change the world as we know it. This is what has inspired Intel's commitment to empowering teachers and students globally with the tools to navigate the opportunities the global economy offers."

General Mills, Inc. is awarded the President's Award, given annually to a corporation with revenues between US$5bn and US$20bn. As the world's sixth largest food company, General Mills is dedicated to alleviating hunger and improving nutrition in some of the poorest nations in Africa and elsewhere around the globe. The company's African Women and Children's Hunger Program tackles the root causes of hunger and poverty by educating, empowering, and financially supporting women in their roles as farmers, food processors, and providers. Through this program, General Mills, together with its nonprofit partners, has helped more than 250,000 Africans gain the training and resources that they need to achieve economic self-sufficiency and job fulfillment.

General Mills strategically donates 5% of pre-tax profits and engages 82% of U.S. employees to volunteer through company programs or on their own. At CECP's CEO Conference in New York on February 22, Ken Powell, chairman and CEO, reinforced the importance of these initiatives, saying "Giving our employees a way to express their values through philanthropy is one of the most powerful things we can do."

The Boston Beer Company wins the Founder's Award for a corporation with revenues less than US$5bn. Drawing from the entrepreneurial roots of Founder and Brewer Jim Koch, The Boston Beer Company engaged in a partnership with ACCION USA, a leading nonprofit micro lending organization, in 2008. Together, they created Samuel Adams Brewing the American Dream to provide low income small business owners in the food and beverage industry with the tools and resources they need to become financially independent. Boston Beer provides the program's beneficiaries with business counseling through Speed Coaching events with participation from employees and top management, while ACCION USA manages a loan program, funded by Boston Beer.

Jim Koch says, "I wish I had had access to the resources the Samuel Adams Brewing the American Dream program is providing when I started The Boston Beer Company. To a small business owner, sound, free advice is invaluable. Through our Samuel Adams Brewing the American Dream Speed Coaching workshops, small business owners have access to experts in sales and distribution, packaging, the law, e-commerce, public relations, and marketing. We hope that the funding and counseling available through this program helps many other small business owners reach their American dream."

Partners In Health (PIH), nominated by Eli Lilly and Company, is presented the Directors' Award for a nonprofit organization in recognition of a highly effective corporate partnership. This award includes a $25,000 cash donation made by CECP's Board of Directors. PIH, known for providing high-quality care to the poorest of the poor through a comprehensive and community-based approach, assumed clinical responsibility in 2001 for the first on-the-ground multidrug-resistant tuberculosis (MDR-TB) project in Russia. The project was undertaken in collaboration with the Russian Ministry of Health and The Lilly MDR-TB Partnership, a public-private affiliation of 22 global organizations dedicated to eradicating MDR-TB. To date, the project in Russia has enrolled more than 1,500 patients for treatment and offered social support services to nearly 4,000. With financial support from the Lilly Foundation, PIH has provided training in MDR-TB treatment to 90% of all TB providers in Russia, reducing treatment default rates from 29% to less than 11%.

Ophelia Dahl, president and executive director of Partners In Health, says, "We could not shy away from the opportunity to bring hope to tens of thousands of people living with AIDS, tuberculosis, and malaria and for countless others whose lives are distorted by the grim realities of genocide, poverty, violence, hunger, and landlessness and who often feel their suffering has gone unnoticed by the rest of the world."

About the Excellence Awards in Corporate Philanthropy
Since 2000, CECP has presented Excellence Awards annually to companies such as Arch Chemicals, Cisco Systems, GlaxoSmithKline, GE, Grand Circle Corporation, Hasbro, IBM, Liquidnet Holdings, Inc., Merck, Moody's Corporation, Novartis, Pfizer, The PNC Financial Services Group, salesforce.com, Target, Timberland, The Western Union Company, and Whole Foods Market, and to nonprofits including the Boys & Girls Clubs of America, The Children's Health Fund, Community Voice Mail, Jumpstart, KaBOOM!, and National Academy Foundation. Excellence Award winners are selected by an independent selection committee composed of experts from the corporate, government, media, nonprofit, consulting, and academic communities.
About the Committee Encouraging Corporate Philanthropy (CECP)
CECP is the only international forum of business CEOs and chairpersons focused exclusively on corporate philanthropy. Founded by actor-philanthropist Paul Newman and other business leaders in 1999, CECP's 175 members lead the business community in raising the level and quality of corporate philanthropy. Membership includes global executives who are committed to advancing the business case for philanthropy and inspiring others to make a positive impact through sustainable corporate giving.
For more information, visit www.CorporatePhilanthropy.org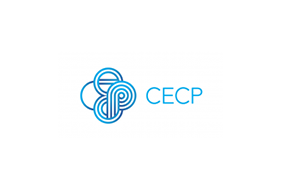 CECP
CECP
The Committee Encouraging Corporate Philanthropy (CECP) is the only international forum of business leaders focused on increasing the level and quality of corporate philanthropy. Membership includes more than 180 global CEOs and chairpersons of companies that collectively account for more than 40% of reported corporate giving in the United States. Membership is by invitation and is renewed annually.
CECP provides member companies with peer-to-peer executive convenings, premier networking events for corporate giving industry professionals, cutting-edge research publications, a proprietary, on-demand benchmarking system of corporate philanthropy data, and exclusive media opportunities.
Founded in 1999 by actor and philanthropist Paul Newman, together with John Whitehead, Peter Malkin, and other business leaders, CECP continues to inspire and challenge leaders in the private sector to find innovative ways to fulfill unmet social needs and to lead the way towards better alignment of business and social strategies.
Join CECP on Facebook, Twitter, Flickr and YouTube.
More from CECP