Published 05-19-10
Submitted by CA Technologies
/PRNewswire-FirstCall/ - CA WORLD -- CA Technologies (Nasdaq: CA), the School of Business Administration at Oakland University, Eller College of Management at the University of Arizona, and Kelley School of Business at Indiana University today announced the winners of the second International Case Competition on the Strategic Value of IT Management. The winners were chosen and announced at CA Technologies' user conference, CA World 2010, in Las Vegas.
The International Case Competition on the Strategic Value of IT Management brought together students from business and information technology disciplines to demonstrate and evaluate the strategic value of IT management for an organization. Twelve teams participated from different regions around the world. The teams included three graduate students with at least one student pursuing a degree in information technology (IT) or information systems (IS). The winners of the competition were:


First Place: Stephan Brostrom, Theis Malmborg and Christian Ohrgaard from Copenhagen Business School were awarded first place and $10,000.


Second Place: Ankit Jagwani, Bethany Lipton and Bedanta Talukdar from Texas A&M University were awarded second place and $5,000.


Third Place: Priyanka Chandrasekaran, Jelanna Olivera-Morgan and Dan Resnick from Indiana University and Ian Cruickshank, Kenneth Lee and Jason Robertson from University of British Columbia were tied for third place and both teams were awarded $2,500.


Prior to arriving at CA World, the students were presented with a business challenge similar to what today's CIOs face. In this particular case, the "CIO" of a global financial services organization was concerned about the value proposition of moving an in-house application to a Software-as-a-Service (SaaS) model in a cloud environment. The students were asked to analyze the proposal, the security and data issues inherent with such a move, and provide a recommendation for action. The featured case study and judging support was provided by Citigroup, Inc.
"We were incredibly pleased with the quality of work and dedication demonstrated by the winning students from Copenhagen Business School and by all of the participants," said Connie Smallwood, senior director of Innovation and University Programs at CA Technologies. "It is critical to the technology industry that we engage students early on and give them the experience of confronting real-world problems that are similar to ones they may face after graduation."
"Today's students are tomorrow's business leaders," said Antonio Di Caro, senior vice president, AXA Technology Services North America. "The competition presented significant lessons that will be beneficial to the professional growth of the students and their ability to link IT and its strategic value to business." Mr. Di Caro, along with other industry professionals and academic leaders, participated on the judging panel for the competition.
For additional information on the International Case Competition on the Strategic Value of IT Management, please visit http://www.sba.oakland.edu/cacase.
For the complete CA World 2010 agenda and registration details visit http://www.ca.com/caworld. To join the CA World community on the Web or your mobile device, visit: http://caworld.ca.com/. You can also:
About School of Business Administration at Oakland University
The internationally accredited School of Business Administration at Oakland University sustains its 40 years of educational excellence by remaining relevant to the ever-changing global business environment and providing students a distinctive educational experience that integrates classroom learning with real-world business experience and research. Through its unique Center for Integrated Business Research and Education (CIBRE), OU's SBA serves as a catalyst for transforming the region's economic future, educates a workforce to find success in it and drives business success in a rapidly changing global marketplace.
About Eller College of Management at the University of Arizona
The Eller College of Management at the University of Arizona is internationally recognized for pioneering research, innovative curriculum, distinguished faculty, excellence in entrepreneurship, and social responsibility. U.S.News & World Report ranks the Eller undergraduate program #15 among public business schools with MIS ranked #1 among public business schools. Financial Times ranked the Eller MBA full-time program #19 in the U.S. and #41 in the world in 2009. The College leads the nation's business schools in generating grant funds for research. The Eller College of Management supports more than 5,000 undergraduate and 600 graduate students on the UA campus in beautiful Tucson, Arizona.
About Kelley School of Business at Indiana University
Founded in 1920 as the Indiana University School of Commerce and Finance, the Kelley School has grown into one of the most respected business schools in the world. Our programs are consistently ranked among the best in the nation, our faculty members are internationally recognized for their teaching and thought leadership, and businesses worldwide hire our highly qualified graduates.
About CA
CA (Nasdaq: CA) is an IT management software and solutions company with expertise across all IT environments -- from mainframe and physical, to virtual and cloud. CA manages and secures IT environments and enables customers to deliver more flexible IT services. CA's innovative products and services provide the insight and control essential for IT organizations to power business agility. The majority of the Global Fortune 500 relies on CA to manage their evolving IT ecosystems. For additional information, visit CA at www.ca.com. Follow CA on Twitter at www.twitter.com/cainc.
Connect with CA
Legal Notices
Copyright © 2010 CA. All Rights Reserved. One CA Plaza, Islandia, N.Y. 11749. All trademarks, trade names, service marks, and logos referenced herein belong to their respective companies.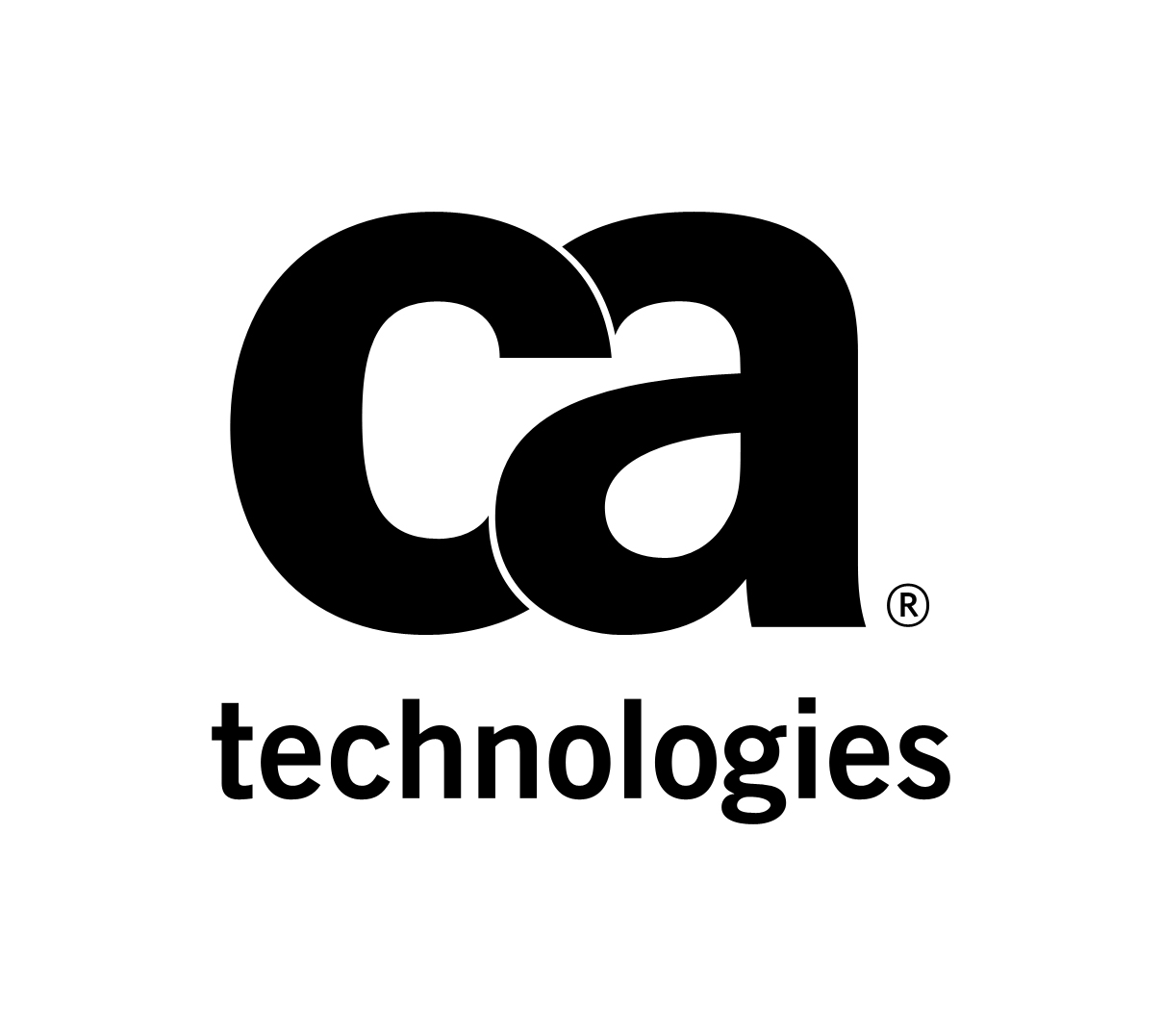 CA Technologies
CA Technologies
CA Technologies (NASDAQ: CA) provides IT management solutions that help customers manage and secure complex IT environments to support agile business services. Organizations leverage CA Technologies software and SaaS solutions to accelerate innovation, transform infrastructure and secure data and identities, from the data center to the cloud. Learn more about CA Technologies at ca.com.
About CA Together: CA Technologies is a global corporation with a local commitment. The company works to improve the quality of life in communities where its employees live and work worldwide and is fully committed to advancing social, environmental and economic sustainability. CA Together, the company's Corporate Social Responsibility program, is driven by the core philanthropic focus of improving the lives of underserved children and communities around the world. CA Technologies does this by supporting organizations, programs and initiatives that enrich the lives and well-being of others with a primary focus on Science, Technology, Engineering and Math (STEM) education. CA Together activities encompass employee volunteerism and matching gifts; in-kind donations of CA Technologies products and services; and wide-ranging partnerships and philanthropic support to community organizations worldwide.
More from CA Technologies