Published 04-20-10
Submitted by Points of Light
Rickie Santer, of Levittown, NY has been named a University of Phoenix Volunteer Leader Award Honoree, an award given by HandsOn Network and the University of Phoenix to 10 outstanding volunteer leaders in the nation. These leaders motivate others and are catalysts for change in their communities.
The award celebrates the first anniversary of the landmark Edward M. Kennedy Serve America Act, which authorized the largest expansion of national service in America in decades. Santer will receive $10,000 to donate to the nonprofit organization of his choice and has selected to donate it to the Kiwanis Pediatric Trauma Center at North Shore - LIJ.
Rickie Santer has made service an integral part of his life. His involvement with the Woodland Middle School Builders Club, a community service club for middle school students sponsored by Kiwanis International, inspired him to value service.
In high school, he continued serving through Key Club, a student-led organization that teaches leadership through service to others. He was elected President of the Division Avenue Key Club, and began creating a community of youth excited to develop themselves as they built up their schools and communities.
The following year, as the acting New York District Key Club Lt. Governor, Santer planned and coordinated service projects for the 11 Key Clubs of his division. In his first large- scale service project, he coordinated a Spotlight 4 Sight Talent Show benefiting the Foundation Fighting Blindness. Santer was inspired to raise $10,000 for research after learning that one of his Key Club presidents had been diagnosed with retinitis pigmentosa, a genetic disease which causes reduced vision and/or blindness.
When Santer graduated high school, he continued his work building healthy communities. At Adelphi University, his coordination of large service projects continues.
Most important, Santer is leading leaders. He recently helped charter K-Kids and Builders Clubs in elementary and middle schools in New York. These clubs provide elementary and middle school students with the opportunity to grow in leadership through service to the community. He involves these younger K-family members in service projects, providing mentor opportunities between older volunteers and elementary and middle-school K-family members.
Santer has grown the Long Island Circle K Division from one club when he entered Adelphi as a freshman, to five clubs with more in the process of chartering. His Circle K Division has had the largest growth in the state, and one of his newly chartered clubs is the largest in the world with more than 115 members.
At the New York District Circle K Convention in March, Santer was elected Governor. His goals for the state include increasing memembership, expanding service opportunities for members and recognizing those that make a difference in their community through volunteerism.
About University of Phoenix
University of Phoenix is constantly innovating to help students balance education and life in a rapidly changing world. Through flexible schedules, challenging courses and interactive learning, students achieve personal and career aspirations without putting their lives on hold. As of February 28, 2010, 458,600 students were enrolled at University of Phoenix, the largest private university in North America. University of Phoenix serves a diverse student population, offering associate's, bachelor's, master's, and doctoral degree programs from campuses and learning centers across the U.S. as well as online throughout the world. For more information, visit www.phoenix.edu.
About HandsOn Network
HandsOn Network, the volunteer-focused arm of Points of Light Institute, is the largest volunteer network in the nation and includes more than 250 HandsOn Action Centers in 16 countries. HandsOn includes a powerful network of more than 70,000 corporate, faith and nonprofit organizations that are answering the call to serve and creating meaningful change in their communities. Annually, the network delivers approximately 30 million hours of volunteer service valued at about $600 million. For more information, please visit www.HandsOnNetwork.org.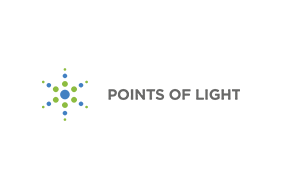 Points of Light
Points of Light
Points of Light is a nonpartisan, global nonprofit organization that inspires, equips and mobilizes millions of people to take action that changes the world. We envision a world in which every individual discovers the power to make a difference, creating healthy communities in vibrant, participatory societies. Through 177 affiliates across 38 countries, and in partnership with thousands of nonprofits and corporations, Points of Light engages 5 million volunteers in 16 million hours of service each year. We bring the power of people to bear where it's needed most.
More from Points of Light