Published 04-20-10
Submitted by Points of Light
Carla Koren, of Berkeley, CA has been named a University of Phoenix Volunteer Leader Award Honoree, an award given by HandsOn Network and the University of Phoenix to 10 outstanding volunteer leaders in the nation. These leaders motivate others and are catalysts for change in their communities.
The award celebrates the first anniversary of the landmark Edward M. Kennedy Serve America Act, which authorized the largest expansion of national service in America in decades. Koren will receive $10,000 to donate to the nonprofit organization of her choice.
Carla Koren gives children the greatest gift; a passion for learning. While researching volunteer service projects, Koren learned that one of the strongest predictors of academic success is a child's reading ability in the primary grades. She wanted to make a difference for children who stuggle with reading in elementary school. Studies show that they are at greater risk of dropping out of high school. Koren led the launch of Super Stars Literacy (SSL), a successful after-school program designed to give every child a foundation for lifelong learning and achievement, and currently serves as President of the Board of Directors.
Super Stars Literacy (www.superstarsliteracy.org) works exclusively with schools in underserved communities. It provides early intervention for children in kindergarten through second grade who show significant delay in reading skills. The goal is to reduce the students' risk of later school failure by ensuring that they graduate from the program with grade level reading ability, engagement in the learning process and family support.
Without SSL, hundreds of students in the Oakland, CA community would have fallen farther behind their peers and developed increasingly negative attitudes towards school. Instead they are using their new reading skills for learning in all subjects, are confident in their abilities, and view school as a safe and positive place.
Koren was selected as a 2010 University of Phoenix Volunteer Leader, because her accomplishments with the Super Stars Literacy program illustrate how one committed individual has the power to effect lasting societal change.
In her words, "If we invest in our children's education, the returns are phenomenal."
About University of Phoenix
University of Phoenix is constantly innovating to help students balance education and life in a rapidly changing world. Through flexible schedules, challenging courses and interactive learning, students achieve personal and career aspirations without putting their lives on hold. As of February 28, 2010, 458,600 students were enrolled at University of Phoenix, the largest private university in North America. University of Phoenix serves a diverse student population, offering associate's, bachelor's, master's, and doctoral degree programs from campuses and learning centers across the U.S. as well as online throughout the world. For more information, visit www.phoenix.edu.
About HandsOn Network
HandsOn Network, the volunteer-focused arm of Points of Light Institute, is the largest volunteer network in the nation and includes more than 250 HandsOn Action Centers in 16 countries. HandsOn includes a powerful network of more than 70,000 corporate, faith and nonprofit organizations that are answering the call to serve and creating meaningful change in their communities. Annually, the network delivers approximately 30 million hours of volunteer service valued at about $600 million. For more information, please visit www.HandsOnNetwork.org.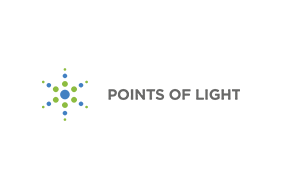 Points of Light
Points of Light
Points of Light is a nonpartisan, global nonprofit organization that inspires, equips and mobilizes millions of people to take action that changes the world. We envision a world in which every individual discovers the power to make a difference, creating healthy communities in vibrant, participatory societies. Through 177 affiliates across 38 countries, and in partnership with thousands of nonprofits and corporations, Points of Light engages 5 million volunteers in 16 million hours of service each year. We bring the power of people to bear where it's needed most.
More from Points of Light