Published 04-20-10
Submitted by Points of Light
Charles Bell, of Livermore, CO has been named a University of Phoenix Volunteer Leader Award Honoree, an award given by HandsOn Network and the University of Phoenix to 10 outstanding volunteer leaders in the nation. These leaders motivate others and are catalysts for change in their communities.
The award celebrates the first anniversary of the landmark Edward M. Kennedy Serve America Act, which authorized the largest expansion of national service in America in decades. Bell will receive $10,000 to donate to the nonprofit organization of his choice.
In 1995 Charles "Chuck" Bell, a volunteer ranger for the U.S. Forest Service, became extremely worried about budget cuts to the ranger district's staff. To counter the effect of those cuts, and to ensure that the Northern Colorado community could continue enjoying the trails and wilderness areas of the Canyon Lakes Ranger District, Bell founded Poudre Wilderness Volunteers (PWV).
Poudre Wilderness Volunteers recruits, trains and equips citizen volunteers to serve as "ranger-educators" for the U.S. Forest Service lands of northern Colorado. The organization assures that visitors have a safe, enjoyable wilderness experience and minimizes their impact on the land. Through Bell's leadership, PWV has become the largest, all-volunteer organization of its kind in the nation, with more than 250 volunteers dedicated to educating and assisting users of the back-country.
In addition to PWV, Bell's passion for the environment led him to create and lead other organizations. In one case, he used his experiences with Ski for Light International, which offers cross-country skiing for the visually impaired, to create a similar experience in the back country. He also founded "Trek for Light," a llama trek for visually impaired persons who want a safe but exciting wilderness experience.
Over the last 20 years, Charles Bell has dedicated his life to conserving natural resources and educating wilderness users. As a 2010 University of Phoenix Volunteer Leader Honoree, Bell says, "I feel I have energies and talents that can help others. I'd get terribly bored if I wasn't out there "¦ starting something that will benefit others and the environment in which we live."
About University of Phoenix
University of Phoenix is constantly innovating to help students balance education and life in a rapidly changing world. Through flexible schedules, challenging courses and interactive learning, students achieve personal and career aspirations without putting their lives on hold. As of February 28, 2010, 458,600 students were enrolled at University of Phoenix, the largest private university in North America. University of Phoenix serves a diverse student population, offering associate's, bachelor's, master's, and doctoral degree programs from campuses and learning centers across the U.S. as well as online throughout the world. For more information, visit www.phoenix.edu.
About HandsOn Network
HandsOn Network, the volunteer-focused arm of Points of Light Institute, is the largest volunteer network in the nation and includes more than 250 HandsOn Action Centers in 16 countries. HandsOn includes a powerful network of more than 70,000 corporate, faith and nonprofit organizations that are answering the call to serve and creating meaningful change in their communities. Annually, the network delivers approximately 30 million hours of volunteer service valued at about $600 million. For more information, please visit www.HandsOnNetwork.org.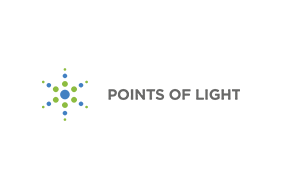 Points of Light
Points of Light
Points of Light is a nonpartisan, global nonprofit organization that inspires, equips and mobilizes millions of people to take action that changes the world. We envision a world in which every individual discovers the power to make a difference, creating healthy communities in vibrant, participatory societies. Through 177 affiliates across 38 countries, and in partnership with thousands of nonprofits and corporations, Points of Light engages 5 million volunteers in 16 million hours of service each year. We bring the power of people to bear where it's needed most.
More from Points of Light