Published 04-20-10
Submitted by Points of Light
Doris Turner, of Perryburg, OH has been named the University of Phoenix Volunteer Leader Award Grand Prize Honoree, the top award given by HandsOn Network and the University of Phoenix to an outstanding volunteer leader in the nation. These leaders motivate others and are catalysts for change in their communities.
The award celebrates the first anniversary of the landmark Edward M. Kennedy Serve America Act, which authorized the largest expansion of national service in America in decades. Turner will receive $15,000 to donate to the nonprofit organization of her choice.
On a chilly Thanksgiving Day in 2004, Doris Turner took her four-year-old daughter Hannah to help serve dinner at a local homeless shelter. In the middle of the hustle of filling plates, Hannah tugged on her mom's sweater and said, "Mommy, won't his feet be cold?" Hannah was worried about a man in line whose shoes had split open to reveal bare feet. The next day Turner and a still-concerned Hannah purchased 100 pairs of socks for the shelter.
Keeping their efforts a secret, Turner and her daughter began a Thanksgiving tradition of donating socks to the shelter. They eventually learned that new socks and undergarments were needed the most but were rarely donated. Turner knew she had the seed of a great idea and decided to co-found Hannah's Socks Inc. with her husband.
Hannah's Socks Inc. now serves more than 40 shelters and programs across three Midwestern states. Because of her family's dedication, in 2009 Hannah's Socks distributed more than 125,000 pairs of socks to families in need.
"Hannah's Socks began as a dream. It was a dream that I saw through my young daughter's eyes," said Turner. "The compassion that I saw in her that day became my heartfelt mission. I couldn't let her down."
Turner was recognized at the first-ever LEAD - A Get HandsOn! Summit at the Newseum in Washington, D.C. on April 20. Presented by the University of Phoenix and HandsOn Network, this all-day gathering of volunteer leaders addressed innovative strategies to change the landscape of service and the utilization of new technologies for social good.
About University of Phoenix
University of Phoenix is constantly innovating to help students balance education and life in a rapidly changing world. Through flexible schedules, challenging courses and interactive learning, students achieve personal and career aspirations without putting their lives on hold. As of February 28, 2010, 458,600 students were enrolled at University of Phoenix, the largest private university in North America. University of Phoenix serves a diverse student population, offering associate's, bachelor's, master's, and doctoral degree programs from campuses and learning centers across the U.S. as well as online throughout the world. For more information, visit www.phoenix.edu.
About HandsOn Network
HandsOn Network, the volunteer-focused arm of Points of Light Institute, is the largest volunteer network in the nation and includes more than 250 HandsOn Action Centers in 16 countries. HandsOn includes a powerful network of more than 70,000 corporate, faith and nonprofit organizations that are answering the call to serve and creating meaningful change in their communities. Annually, the network delivers approximately 30 million hours of volunteer service valued at about $600 million. For more information, please visit www.HandsOnNetwork.org.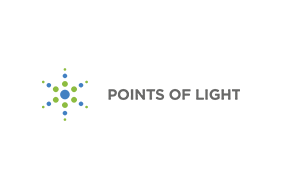 Points of Light
Points of Light
Points of Light is a nonpartisan, global nonprofit organization that inspires, equips and mobilizes millions of people to take action that changes the world. We envision a world in which every individual discovers the power to make a difference, creating healthy communities in vibrant, participatory societies. Through 177 affiliates across 38 countries, and in partnership with thousands of nonprofits and corporations, Points of Light engages 5 million volunteers in 16 million hours of service each year. We bring the power of people to bear where it's needed most.
More from Points of Light