Published 04-20-10
Submitted by Points of Light
Captain James Kreglo, of St. Thomas, Virgin Islands has been named a University of Phoenix Volunteer Leader Award Honoree, an award given by HandsOn Network and the University of Phoenix to 10 outstanding volunteer leaders in the nation. These leaders motivate others and are catalysts for change in their communities.
The award celebrates the first anniversary of the landmark Edward M. Kennedy Serve America Act, which authorized the largest expansion of national service in America in decades. Kreglo will receive $10,000 to donate to the organization of his choice.
Kreglo's dedication to service stretches back three decades. He moved to St. John in the US Virgin Islands (USVI) and became a sea captain and EMT. He quickly recognized the need to develop youth into civic leaders and became involved in local sporting and scouting organizations.
Kreglo used his unique talents as a fencer and fisherman to train young people, ages 8-19, in the athletic, moral and ethical principles emphasized by these sporting and scouting organizations, which encourage self-respect and hard work.
To further engage youth, Kreglo, a scout leader with the Boy Scout Council of the USVI established the Boy Scout Sea Explorers program. More than 200 young people from underserved neighborhoods have participated in the program and have become environmental stewards of the island chain.
Kreglo continues to lead by example. He identifies unmet needs and mobilizes people and resources to address critical health, education, and public safety issues. He is a volunteer EMT, and a CERT, CPR, First Aid and Boating Safety Instructor, preparing youth and adults for disaster mitigation and response. He has trained more than 20,000 residents of the Virgin Islands and Florida in CPR, First Aid and CERT.
Most recently, he established the first Coast Guard Auxiliary Flotilla. The 18-member group provides boating safety courses to the public, educates youth groups on environmental issues and life jacket use, and provides courtesy boat inspections.
With more than 8,000 hours of service recorded since 2001, Captain Kreglo has inspired adults and youth in the US Virgin Islands and Florida. He has empowered them to improve their community in significant ways by becoming active change agents.
About University of Phoenix
University of Phoenix is constantly innovating to help students balance education and life in a rapidly changing world. Through flexible schedules, challenging courses and interactive learning, students achieve personal and career aspirations without putting their lives on hold. As of February 28, 2010, 458,600 students were enrolled at University of Phoenix, the largest private university in North America. University of Phoenix serves a diverse student population, offering associate's, bachelor's, master's, and doctoral degree programs from campuses and learning centers across the U.S. as well as online throughout the world. For more information, visit www.phoenix.edu.
About HandsOn Network
HandsOn Network, the volunteer-focused arm of Points of Light Institute, is the largest volunteer network in the nation and includes more than 250 HandsOn Action Centers in 16 countries. HandsOn includes a powerful network of more than 70,000 corporate, faith and nonprofit organizations that are answering the call to serve and creating meaningful change in their communities. Annually, the network delivers approximately 30 million hours of volunteer service valued at about $600 million. For more information, please visit www.HandsOnNetwork.org.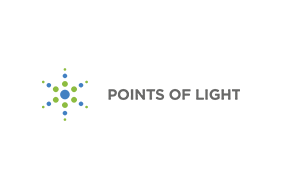 Points of Light
Points of Light
Points of Light is a nonpartisan, global nonprofit organization that inspires, equips and mobilizes millions of people to take action that changes the world. We envision a world in which every individual discovers the power to make a difference, creating healthy communities in vibrant, participatory societies. Through 177 affiliates across 38 countries, and in partnership with thousands of nonprofits and corporations, Points of Light engages 5 million volunteers in 16 million hours of service each year. We bring the power of people to bear where it's needed most.
More from Points of Light