Published 04-07-10
Submitted by BBB Foundation of Metropolitan New York
On May 4th, 2010, the third annual CSR Forum presented by Metro New York BBB's Education and Research Foundation will take place at EmblemHealth Conference Center, 55 Water Street in New York City, from 8:00 AM to 12:30 PM. Attendees will discover what senior leaders have learned about how to engage consumers, strengthen brands, protect business reputations, and get results during these tough times. The program is sponsored by Ernst & Young and hosted by EmblemHealth.
CEOs and CSR experts will share how to drive powerful business results by leveraging socially responsible strategies and authentic brand communications.

Chairman & CEO of Ernst & Young, James S. Turley, keynotes and will kick off the half-day event by presenting his C-Suite View: The Outlook for Responsible Leadership, about how CSR initiatives can make an effective impact and drive success.
Global CEO Christopher Graves from Ogilvy Public Relations Worldwide, an authority in CSR, 360-Degree Brand Stewardship, and Crisis Management, will be featured in a Newsmaker Interview, led by Stuart Elliott, the Advertising Columnist for The New York Times. The two experts will conduct a lively discussion about Managing Your Brand's Reputation.
Executive Vice President and Group Leader of Corporate Social Responsibility-New York for Edelman, Michael Holland, will reveal key findings from those studies and discuss Driving Business Growth with CSR Programs. Edelman publishes the well-known Edelman Trust Barometer and Good Purpose studies.
Macy's Group Vice President-Media Relations, Cause Marketing & Visitor's Center, Robin Reibel will provide her insights about engaging customers and stakeholders in ways that matter to them.
"Anyone who manages a business or organization can benefit from what these thought leaders will share," says Claire Rosenzweig, President and CEO of the Metro New York BBB and its Foundation. "This is a rare opportunity to hear insights from these experts and to network with colleagues."
Attendees at the BBB's CSR Forum include senior executives and leaders from CSR, PR, marketing, advertising, communications, governance, general counsel, ethics, compliance, sustainability, HR, philanthropy, the nonprofit sector, business owners and managers, and other disciplines.
Many distinguished business associations and organizations are Event Supporters for the May 4th BBB Forum on CSR, including: The ADVERTISING Club of New York; Council of Better business Bureaus and its National Advertising Division; Ethics and Compliance Officer Association; Direct Marketing Association; Manhattan Chamber of Commerce; New York Society of Association Executives; PMA-The Association for Integrated Marketing; and The Robert Zicklin Center for Corporate Integrity at Baruch College (list in formation).
COST TO ATTEND:
BBB Accredited, Event Supporter Guests, Nonprofits: $95 per person
Non-BBB Accredited: $135 per person
HOW TO REGISTER:
Online: http://www.nycharities.org/events/EventLevels.aspx?ETID=1252
Call: 212-358-2842
Email: llewis@newyork.bbb.org
We urge you to register now, as space is limited.

Additional details will be posted at www.newyork.bbb.org/good-business-2010.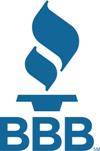 BBB Foundation of Metropolitan New York
BBB Foundation of Metropolitan New York
BBB Serving Metropolitan New York, Long Island and the Mid-Hudson Region is an unbiased non-profit organization that works to foster a transparent marketplace where buyers and sellers can trust each other. Businesses that earn BBB accreditation formally agree to uphold the BBB's high standards of ethical business practices. BBB provides objective advice, free business BBB Business and Charity Reports, and educational information on topics affecting marketplace trust.
To further promote trust, BBB also offers complaint and dispute resolution support for consumers and businesses when there is a difference in viewpoints. The first BBB was founded in 1912 by advertising executives. The BBB of Metropolitan New York was founded in 1922 by the NY Stock Exchange. Today, 112 BBBs serve communities across the U.S. and Canada, evaluating and monitoring more than 4.5 million local and national businesses and charities. Please visit
www.bbb.org
for more information about BBB.
More from BBB Foundation of Metropolitan New York