Published 03-03-10
Submitted by Outback Steakhouse International
/PR Newswire/ - Outback Steakhouse, a longtime supporter of U.S. military troops, today announced its commitment to donate $1 million to Operation Homefront, a non-profit organization that provides emergency and morale support for active troops, veterans and their families.
"The sacrifices that our troops and their families make so we can enjoy the freedoms we have in the United States is something Outback employees have recognized and appreciated since we opened our doors 22 years ago," said Liz Smith, CEO of OSI Restaurant Partners, parent company of Outback Steakhouse. "Our commitment to donate $1 million to Operation Homefront reflects our appreciation to those who give so much."
Also starting today, Outback is holding a month-long "Thanks for Giving" effort in participating restaurant locations in the U.S. and Hawaii. Restaurant-goers are invited to express their appreciation to our country's dedicated servicemen and women by visiting Outback restaurants this month and ordering from the "Red, White and Bloomin'" menu. Proceeds from menu sales during the month of March will help to meet the $1 million commitment to Operation Homefront. The menu will be available through March 31.
"As a retired member of the U.S. military and on behalf of our troops serving in locations far and wide, I'd like to thank Outback Steakhouse for its support over the years," said General Tommy Franks (Ret.). "This support, coupled with the current effort to help our active and retired servicemen, women and their families, is greatly appreciated."
To further raise awareness about this important cause, Outback has partnered with country music superstar Tim McGraw on his Southern Voice concert tour, scheduled to visit more than 60 U.S. cities this spring and summer. Proceeds from a Southern Voice commemorative t-shirt will also be donated to Operation Homefront.
"When I learned about Outback's commitment to the troops and history of helping our local communities, it really felt like the perfect fit to partner with them in their efforts," said McGraw. "Together with Outback, our shared goal is to help raise awareness and funds to help our selfless servicemen and women."
For more information about the program, please visit Outback.com.
About Outback Steakhouse
Outback Steakhouse has been an innovator in casual dining for 22 years. During that time, it has perfected the art of serving great-tasting steaks. In fact, Outback was recently voted #1 Best Steak in the 2009 Zagat Survey of National Full-Service Restaurant Chains. Outback is not only known for the "Best Steak" award, but also serves fresh, "made from scratch" appetizers, salads, entrees, sides and desserts that use only the highest-quality ingredients available. Outback's menu of new choices, classic favorites and "down under prices," offers something for everyone. Outback promises delicious, affordable food, spirited service, and an energetic atmosphere that will make casual nights out the most enjoyable available. Please visit www.Outback.com for more information.
About Operation Homefront
Operation Homefront's mission is to provide emergency and morale assistance for our troops, the families they leave behind, and for wounded warriors when they return home. A nonprofit 501(c)(3), Operation Homefront leads more than 4,500 volunteers in 30 chapters nationwide and has met more than 105,000 needs of military families. Operation Homefront also hosts the Web community, Operation Homefront Online, at www.HomefrontOnline.com.
To view the multimedia assets associated with this release, please click: http://multivu.prnewswire.com/mnr/outback/42752/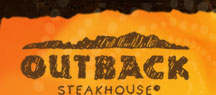 Outback Steakhouse International