Published 02-22-10
Submitted by CECP
Today, leading companies and organizations around the world celebrate International Corporate Philanthropy Day (ICPD), a day designated to highlight milestones and achievements in corporate philanthropy and encourage further corporate community investment. The Committee Encouraging Corporate Philanthropy (CECP) - an international forum of business CEOs and chairpersons with a mission to raise the level and quality of corporate philanthropy - leads the global initiative by hosting a series of executive-level events, highlighted by the fifth annual Board of Boards CEO Conference at The McGraw-Hill Companies in New York City. This is the first of three global CEO events in 2010, with additional CEO Conferences to be held in London on May 7 and in Abu Dhabi on November 11.
President Barack Obama has sent a letter of support to business leaders in recognition of ICPD. "Today's challenges," he writes, "demand solutions that come not only from government, but also from entrepreneurs and business leaders around the world. Through their skills, ingenuity, financial support, and dedication, corporate philanthropists and their employees have answered the call to serve, giving back in meaningful ways that help those in need and improve our communities."
Charles Moore, executive director of CECP says, "The Board of Boards CEO Conference provides a unique opportunity for CEOs to engage in meaningful dialogue about business' role in society. Today's business leaders are integrating the social strategies of their companies with their business strategies for the purpose of reinforcing their competitive advantage."
Board of Boards CEO Conference
The conference, which is consistently ranked among the world's top CEO events by Weber Shandwick, will convene up to 50 leading global CEOs to discuss the theme "Solving Social Problems through Business Strategy," focusing on what corporate leaders can do now to stay ahead of increasingly complex social issues and rising social expectations. In preparation for this event, CECP, together with McKinsey & Company, has been exploring the global forces that will affect the landscape of corporate community involvement in the next ten years. Klaus Kleinfeld, President and CEO of Alcoa and Ken Powell, Chairman and CEO of General Mills, will lead a discussion, moderated by ABC News' National Correspondent Chris Bury, on how companies can have the greatest impact with their corporate giving strategies in the next decade. Domestic Policy Adviser Melody Barnes will address attending CEOs at an Executive Luncheon following the conference.
New Impacts Measurement Research
In addition, on February 22 CECP will release a new report, Measuring the Value of Corporate Philanthropy: Social impact, business benefits, and investor returns, that assesses current practices and measurement trends in corporate philanthropy. This report, which focuses on three primary conversations -- between giving practitioners and grantees, between giving practitioners and the CEO, and between the CEO and investor community -- clarifies the demands for evidence of the social and business benefits of corporate giving and identifies the most promising steps forward for practitioners.
Joint Event on Philanthropy with the United Nations
In the afternoon of ICPD, CECP will join the UN Economic and Social Council and the UN Office for Partnerships in hosting a special program focusing on "Engaging philanthropy to promote gender equality and women's empowerment." Confirmed executive panelists include Alan Hassenfeld (Hasbro); Michael Patsalos-Fox (McKinsey & Company); Sharon Allen (Deloitte LLP); and Sharon D'Agostino (Johnson & Johnson). UN Secretary General Ban Ki-Moon will address attendees.
New York Stock Exchange Bell-Ringing
Senior giving practitioners from CECP member companies including Alcoa, Bloomberg, Capital One, General Mills, Intel, Moody's, The McGraw-Hill Companies, and ITT will open the day's activities by ringing the Opening Bell at the New York Stock Exchange in recognition of their companies' philanthropy initiatives.
Recent Trends in Corporate Philanthropy
Corporate philanthropy programs are investments in the future: for a company's employees, for its communities, and for the business itself. This trend is evidenced by CECP's 2009 "Giving in Numbers" report, which found that among companies with decreased pre-tax profit in 2008, 53 percent still increased their total giving, with an impressive 27 percent of companies having increased their giving by 10 percent or more.
Landmark Lightings
On the evening of International Corporate Philanthropy Day, the Empire State Building in New York and the clock tower of the Wrigley Building in Chicago will light in the colors of ICPD, blue and green, to mark the occasion.
About the Committee Encouraging Corporate Philanthropy
The Committee Encouraging Corporate Philanthropy (CECP) is the only international forum of business CEOs and chairpersons focused exclusively on corporate philanthropy. Co-founded by actor-philanthropist Paul Newman in 1999, CECP's 175 members lead the business community in raising the level and quality of corporate philanthropy. Membership includes global executives who are committed to advancing the business case for philanthropy and inspiring others to make a positive impact through sustained corporate giving.
For more information, visit www.corporatephilanthropy.org.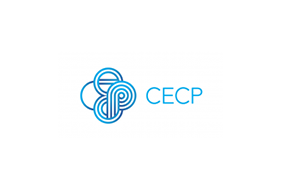 CECP
CECP
The Committee Encouraging Corporate Philanthropy (CECP) is the only international forum of business leaders focused on increasing the level and quality of corporate philanthropy. Membership includes more than 180 global CEOs and chairpersons of companies that collectively account for more than 40% of reported corporate giving in the United States. Membership is by invitation and is renewed annually.
CECP provides member companies with peer-to-peer executive convenings, premier networking events for corporate giving industry professionals, cutting-edge research publications, a proprietary, on-demand benchmarking system of corporate philanthropy data, and exclusive media opportunities.
Founded in 1999 by actor and philanthropist Paul Newman, together with John Whitehead, Peter Malkin, and other business leaders, CECP continues to inspire and challenge leaders in the private sector to find innovative ways to fulfill unmet social needs and to lead the way towards better alignment of business and social strategies.
Join CECP on Facebook, Twitter, Flickr and YouTube.
More from CECP