Published 02-12-10
Submitted by ArcelorMittal
ArcelorMittal, the world's largest steel company, today announces the launch of Liberia's Corporate Responsibility Forum - a new public private partnership and a key milestone designed to encourage responsible investment, good corporate citizenship and collective action for sustainable development. The CR Forum will unite representatives from the private sector, Liberian government, civil society and international organisations, creating a platform for Liberian businesses to exchange experience, knowledge, research and best practice in corporate responsibility, ensuring the sustainable development of the country's economy and infrastructure.
The effects of two civil wars between 1989 and 2003 devastated Liberia's economy, leaving nearly 85 per cent of its citizens unemployed and dependent on outside aid. Through the CR Forum, ArcelorMittal aims to return self-sufficiency back to Liberia's business community and provide a model for other developing markets.
Over 100 guests from the business community, government, civil society, foreign embassies, the UN and international organizations will attend the CR Forum launch at the Cape Hotel in Mamba Point, Monrovia. Her Excellency, President Ellen Johnson-Sirleaf, will serve as the official Guest of Honour at this event.
The CR Forum will strive to achieve a successful framework, through which the public and private sectors can collaborate to build economic prosperity. Aspirations for year one will include:



Increasing membership from 7 to 75 Liberian businesses


Producing 5 seminars and workshops aimed at improving business in Liberia


Supporting local entrepreneurs and domestic suppliers through preferential procurement


Launching an official website for continuing knowledge transfer and information dissemination


Forming a business community in Liberia which successfully interchanges between Government and individuals



"Government cannot, by itself, achieve the vision for Liberia that is enshrined in our Poverty Reduction Strategy. We need the participation of the private sector - one that will bring in sustainable investment and promote good corporate citizenship," commented Liberian President Ellen Johnson-Sirleaf. "We see this Forum as a useful partner to Government in meeting our objectives. We therefore endorse the Forum, and offer our support to ensure that it directly impacts the lives of Liberians," she added.

By seeking to engage with the communities in which it operates, ArcelorMittal has encouraged the private sector to play a more positive and proactive role in shaping Liberia's sustainability restructure strategy. Its total investment into Liberia is expected to be close to $1.5 billion. Other key achievements to date have included:



Contributing $3 million per annum to benefit local communities through an innovative community development fund


Carrying out environmental studies and producing the first ever biodiversity map of parts of the unique rainforest of the Nimba mountain range - information that will now be made publicly available to researchers and NGOs


Implementing a robust compensations programme for communities affected by the rehabilitation of its railroad


Creating an annual scholarship fund of $200,000 that will be for advanced studies for Liberian college graduates


Support the development of a mining and geology department at the University of Liberia


Providing free medical care and education for all Liberian employees and their dependants as well as providing the local community access to its schools and hospitals


Working with the Liberian Extractive Industries Transparency Initiative (EITI) to help Liberia become the first African nation to be designated EITI compliant



During the official launch, the Executive Committee of the Corporate Responsibility Forum will unveil its inaugural project - Capacity Building for Better Business in Liberia. This Project will help businesses prepare for the challenges presented by the development of a vibrant private sector in Liberia.

The CR Forum will be supported by the German Technical Cooperation (GTZ), which will provide advisory and financial support, including an ongoing programme of partnership projects.

"Foreign assistance to Liberia remains critical to the country's post-conflict recovery," explained Doris Popp, Head of GTZ Centre for Cooperation with the Private Sector. "Longer-term, however, Liberia's success will depend upon the private sector - its ability to operate efficiently in the market place and calibrate its commercial and social investments with the country's development strategy. We see this Forum as an important step towards this end," she commented.

This announcement is part of ArcelorMittal's global corporate responsibility framework, which spans its steel production and mining facilities in countries such as Brazil, Canada, Kazakhstan, Mexico, Poland, Romania, Spain, Ukraine and the USA.

As the first major investor in Liberia, ArcelorMittal is also working alongside the Liberian government to uphold the mineral development agreement (MDA), originally signed in 2005. In addition to infrastructure development and skills training, this landmark agreement includes an annual contribution of $3 million by ArcelorMittal towards an innovative County Social Development Fund.

"It's a huge privilege to lead the way in promoting business and business excellence in Liberia. Our vision is to invest in an infrastructure which rebuilds Liberia and unites best practice from both the public and private sectors. We invite our partners to work towards the broad adoption of sustainable and responsible business practices in Liberia," commented Joseph Mathews, CEO - ArcelorMittal Liberia and Chairman of the CR Forum Liberia.

About ArcelorMittal

ArcelorMittal is the world's leading steel company, with operations in more than 60 countries. ArcelorMittal is the leader in all major global steel markets, including automotive, construction, household appliances and packaging, with leading R&D and technology, as well as sizeable captive supplies of raw materials and outstanding distribution networks. With an industrial presence in over 20 countries spanning four continents, the Company covers all of the key steel markets, from emerging to mature.

Through its core values of Sustainability, Quality and Leadership, ArcelorMittal commits to operating in a responsible way with respect to the health, safety and wellbeing of its employees, contractors and the communities in which it operates. It is also committed to the sustainable management of the environment and of finite resources. ArcelorMittal recognises that it has a significant responsibility to tackle the global climate change challenge; it takes a leading role in the industry's efforts to develop breakthrough steelmaking technologies and is actively researching and developing steel-based technologies and solutions that contribute to combat climate change.

In 2008, ArcelorMittal had revenues of $124.9 billion and crude steel production of 103.3 million tonnes, representing approximately 10 per cent of world steel output.

ArcelorMittal is listed on the stock exchanges of New York (MT), Amsterdam (MT), Paris (MT), Brussels (MT), Luxembourg (MT) and on the Spanish stock exchanges of Barcelona, Bilbao, Madrid and Valencia (MTS).

For more information about ArcelorMittal visit: www.arcelormittal.com.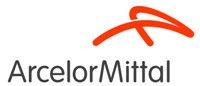 ArcelorMittal