Published 02-08-10
Submitted by CSR Insightâ"¢ LLC
The CSR Insight™ Report, the product of over two years of research, is available now for a limited time on a complimentary basis at www.csr-insight.com. Published by CSR Insight™ LLC, an independent advisory firm focusing exclusively upon global Sustainability Regulation, Metrics, and Public Policy, the CSR Insight™ Report provides a comprehensive and global perspective on key issues pertinent to Sustainability Reporting, Sustainability Investment, and Sustainability Regulation.
CSR Insight™ Report Highlights include:

TRENDS Section: an overview and comprehensive synopsis of Sustainability Reporting and Sustainability Investment Trends and Key Drivers, including key global legislative and regulatory developments.

METRICS Section: an in-depth analysis of metrics used by Dow Jones and Standard & Poors in their sustainability investment indices, including detailed charts.

REGULATION Section: an overview of the SEC regulatory regime, and a comprehensive synopsis and analysis of U.S. securities regulation relevant to Sustainability Disclosure, including detailed charts.

CSR Insight™ Viewpoint: a presentation of key Message Points for Policymakers and Regulators, including specific public policy proposals pertaining to global and U.S. leadership on Sustainability Regulation.

The CSR Insight™ Report is an introduction to three CSR Insight™ archetypal publications, available in May 2010: the CSR Insight™ Regulatory Report, the CSR Insight™ Metrics Report, and the CSR Insight™ Reference Guide.

The CSR Insight™ Regulatory Report provides a concise executive-level briefing on sustainability-related legislation and regulation, including financial, securities, and environmental regulation, accounting standards, and stock exchange requirements.

The CSR Insight™ Metrics Report provides a detailed examination of non-regulatory (voluntary) sustainability-related metric and reporting frameworks that have a global impact, developed by the private, public, and NGO sectors.

The CSR Insight™ Reference Guide provides concise information about legislative and regulatory bodies, intergovernmental and quasi-governmental bodies, and NGOs, organized into three convenient sections: Governmental Bodies and Sustainability Initiatives; U.N. Agencies and Sustainability Initiatives; and NGOs and Sustainability Initiatives.

Special discounted subscription rates for all three publications are available until April 1, 2010, at http://www.csr-insight.com/subscribe.aspx.
CSR Insight™ also provides custom consulting services and is available for public policy advisory work and educational workshops.
For more information, please visit www.csr-insight.com or contact info@csr-insight.com.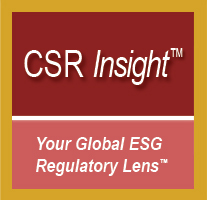 CSR Insightâ"¢ LLC
CSR Insightâ"¢ LLC
CSR Insightâ"¢ LLC, founded in 2007 by Linda M. Lowson, Esq., is an independent, nonpartisan consultancy uniquely specializing in Global ESG Regulatory Education, global financial regulatory policy, ESG metrics and voluntary reporting frameworks, and ESG capital market issues. In 2012, CSR Insightâ"¢ launched the exciting Global ESG Regulatory Academyâ"¢ as its flagship business unit, the first-ever provider of independent professional education on Global ESG Regulation and Reporting. The Global ESG Regulatory Academyâ"¢ also provides customized, on-site educational seminars and workshops for companies, boards, asset owners and managers, analysts, professional advisors, and NGOs.
CSR Insightâ"¢ completed a comprehensive 5-year, US$5.5 million Global ESG Regulatory and Capital Market Research Program to develop the Knowledge Base content foundation for this unique, important, and sophisticated professional education. This Research Program included comprehensive, drill-down legal, regulatory, accounting, and technical analyses of global ESG regulatory and voluntary reporting regimes, including the first comprehensive technical analysis of the entire SEC regime as it applies to ESG issues.
Management:
• Linda Lowson, J.D., LL.M., CEO, is an internationally recognized expert in global ESG regulation, global financial regulation, and ESG capital market issues. Previously, Ms. Lowson served as a Shearman and Sterling Attorney and Arthur Andersen Partner, and launched and led Andersen's U.S. Financial Services Strategy Practice and served as a member of its North American Financial Services Executive Leadership Team and Global Financial Services Thought Leadership Team. She holds a J.D. degree from Cornell Law School and an LL.M. degree from New York University Law School.
• Alison Dempsey, J.D., LL.M., Ph.D., Director of Research, is an accomplished and experienced international attorney and international corporate governance expert, and recently published the ground-breaking book, "Evolutions in Corporate Governance--Towards an Ethical Framework for Business Conduct" (November 2013), published by Greenleaf Publishing (Hardback ISBN: 978-1-906093-86-0, PDF Ebook ISBN: 978-1-78353-057-1).
For further information on the Global ESG Regulatory Academyâ"¢ and our educational courses, on-site workshops, and live online webinars, contact Linda Lowson at inquiry@globalregulatoryacademy.com, or visit http://www.cvent.com/d/64qx7p.
More from CSR Insightâ"¢ LLC