Published 02-03-10
Submitted by Engage for Good
The executives who enlist millions of runners, walkers, cyclists, swimmers and hikers to raise billions of dollars to fight disease, hunger and other social ills will hold their annual conference at the Omni Mandalay Hotel on March 3 & 4.
"Athletic event fundraising has grown into a multi-billion dollar industry, but in this challenging economy program leaders need both solid practical advice and inspiration," said David Hessekiel, founder and president of the Run Walk Ride Fundraising Council. "The Run Walk Ride Fundraising Conference will give event managers access to the hard data, best practices and expert counsel they need to produce programs that deliver stronger bottom-line results for the worthy causes they support."
Among the featured speakers at the Run Walk Ride Fundraising Conference will be Dave McGilliviray, race director of the BAA Boston Marathon and president of DMSE Sports, Inc. DMSE has produced hundreds of fundraising events from the massive Boston Marathon Jimmy Fund Walk to the unique Vision 5K in which sighted participants run a course blindfolded to demonstrate solidarity with vision-impaired athletes.
Drawing on his inspiring personal history (he ran across the country at age 23, he ran 55 miles this summer on his 55th birthday) Dave will open the conference with a talk on the incredible things individuals can accomplish when they believe in themselves. The next day he'll call on his vast experience as a race director to counsel athletic event fundraising professionals on how to balance cost and quality control.
Information on the conference, to be held at the Omni Mandalay Hotel on March 3 & 4, is available at www.rwrconference.com or by calling (914) 921-3914.
Other program highlights include:



The premiere of the Run Walk Ride Thirty, the annual ranking of America's top athletic event fundraising programs
Presentations on leveraging social media, fundraising incentives, corporate sponsorship and ancillary revenue programs
The first Endurance Program Summit, a preconference gathering for leaders of programs that engage supporters to raise money by participating in long distance runs, rides and triathalons.


Conference sponsors include Blackbaud, Charity Dynamics, CircServ, Convio, CSRWire, Custom Print Now, Event 360, Softerware, The NonProfit Times and The Osiris Group.


About the Run Walk Ride Fundraising Council (RWRFC)
www.runwalkride.com
The Run Walk Ride Fundraising Council (RWRFC) was launched in May 2007 to support the professionals who manage events that raise several billion dollars each year for North American charities. The RWRFC provides event managers with easy access to the statistics and information on best practices that can help them improve and expand their programs.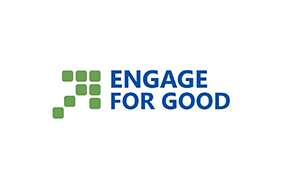 Engage for Good
Engage for Good
Engage for Good (formerly the Cause Marketing Forum) helps business and nonprofit executives succeed together by providing access to actionable information, valuable contacts and recognition for outstanding work through conferences, distance learning, online resources and customized services.
More from Engage for Good