Published 01-28-10
Submitted by Blackbaud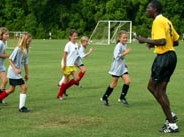 Charleston Battery soccer players regularly volunteer with local youth clubs, teaching them soccer basics
Blackbaud, Inc. (Nasdaq: BLKB), the leading global provider of nonprofit software and services, announced that it is partnering with the Charleston Battery professional soccer team to incorporate a different philanthropic theme to every home match.
Blackbaud and the Charleston Battery will bring the company's mission of "making the world a better place" to life at 13 home matches by featuring a nonprofit-of-the-match, raising awareness for a local nonprofit organization. With philanthropic focus areas including the environment, education, and families in need, Blackbaud and the Charleston Battery will work together to make each home game a special "giving back" event.
"Blackbaud is well known both locally and within the nonprofit community; it's an organization that knows nonprofits," said Andrew Bell, president of the Charleston Battery. "Our season starts with the first home game on March 13, and we are looking forward to leveraging the expertise Blackbaud has with the nonprofit industry and bringing a sense of philanthropy to our community."
The Charleston Battery has an 18-year history of community involvement with initiatives such as Kicks for Kids, a program that provides complimentary game tickets to youth in the tri-county area.The Battery players and staff are regular visitors at area schools, organizations and soccer clubs throughout the year and Blackbaud Stadium is a focal point within the community for fundraising events.
The Charleston Battery is also committed to spreading the word about the preservation of the environment. In the past three years, the soccer facility has undergone a "green" retrofit, a process that included the installation of an 11-kilowatt solar array at the scoreboard end of Blackbaud Stadium.
"The Charleston Battery shares our commitment to giving back to the community," said Rachel Hutchisson, Blackbaud's director of corporate relations and philanthropy. "The goal of the program and our partnership is to increase awareness within the Charleston community of the important work nonprofits do and to help remove the barriers that often exist between a citizen's desire to give back and the knowledge of how to do so."
Blackbaud provides more than 22,000 nonprofits with software and services, enabling them to improve operational efficiency, build strong relationships, and raise more money to support their missions. The company also strives to make a difference in the world both as a good corporate citizen and as a catalyst for individual employees to give back through innovative volunteerism programs. With quarterly and ongoing philanthropic initiatives, employees demonstrate Blackbaud's mission to "make the world a better place by working with the nonprofit community to improve lives" with the following projects:


"Reward Your Passion" - A grant program encouraging Blackbaud employees from United States, Australia, Canada, the Netherlands, and the United Kingdom to apply for grants on behalf of the nonprofits where they volunteer. Team Blackbaud Global, a committee of employees representing Blackbaud's global offices, reviews the applications and selects the recipient organizations.
Volunteer for Vacation - Employees worldwide earn additional vacation days by volunteering with nonprofit organizations. Additionally, many employees participate in United Way's Day of Caring, taking a company-sponsored day off of work to volunteer with a nonprofit and make a difference in their communities.
Community grants - Blackbaud makes grants from its fund at The Coastal Community Foundation to organizations in the Lowcountry of South Carolina, where the company is headquartered, focusing on education for disadvantaged youth. Employees determine how the funding is distributed.


For more information on Blackbaud's philanthropy efforts and to read the "Service to Others" blog, visit www.blackbaud.com/philanthropy.
About Blackbaud
Blackbaud is the leading global provider of software and services designed specifically for nonprofit organizations, enabling them to improve operational efficiency, build strong relationships, and raise more money to support their missions. Approximately 22,000 organizations - including University of Arizona Foundation, American Red Cross, Cancer Research UK, The Taft School, Lincoln Center, In Touch Ministries, Tulsa Community Foundation, Ursinus College, Earthjustice, International Fund for Animal Welfare, and the WGBH Educational Foundation - use one or more Blackbaud products and services for fundraising, constituent relationship management, financial management, website management, direct marketing, education administration, ticketing, business intelligence, prospect research, consulting, and analytics. Since 1981, Blackbaud's sole focus and expertise has been partnering with nonprofits and providing them the solutions they need to make a difference in their local communities and worldwide. Headquartered in the United States, Blackbaud also has operations in Australia, Canada, the Netherlands, and the United Kingdom. For more information, visit www.blackbaud.com.
Forward-looking Statements
Except for historical information, all of the statements, expectations, and assumptions contained in this news release are forward-looking statements that involve a number of risks and uncertainties. Although Blackbaud attempts to be accurate in making these forward-looking statements, it is possible that future circumstances might differ from the assumptions on which such statements are based. In addition, other important factors that could cause results to differ materially include the following: general economic risks; uncertainty regarding increased business and renewals from existing customers; continued success in sales growth; management of integration of acquired companies and other risks associated with acquisitions; risks associated with successful implementation of multiple integrated software products; the ability to attract and retain key personnel; risks related to our dividend policy and share repurchase program, including potential limitations on our ability to grow and the possibility that we might discontinue payment of dividends; risks relating to restrictions imposed by the credit facility; risks associated with management of growth; lengthy sales and implementation cycles, particularly in larger organization; technological changes that make our products and services less competitive; and the other risk factors set forth from time to time in the SEC filings for Blackbaud, copies of which are available free of charge at the SEC's website at www.sec.gov or upon request from Blackbaud's investor relations department. All Blackbaud product names appearing herein are trademarks or registered trademarks of Blackbaud, Inc.

Blackbaud