Published 01-26-10
Submitted by Rebuilding Together, Inc.
Rebuilding Together today announced that they are working with Honeywell, one of their long-established partners, in order to provide immediate aid to the earthquake relief efforts in Haiti.
Honeywell has announced that they will commit $1 million, including a 100% match of employee donations, to fund Rebuilding Together's revitalization and rebuilding projects in Haiti. Additionally, Honeywell is making its business jets available to provide airlift support to deliver 1,500 lbs. of medical supplies, including urgently-needed, high-value antibiotics.
Rebuilding Together, a leading nonprofit that works diligently to preserve affordable homeownership and reconstruct communities in the U.S., recognizes the urgency to help the communities in Haiti that have been devastated by the earthquake. Rebuilding Together will allot their fundraised donations and grants for Haiti to three core activities: emergency medical assistance, community clean-up and neighborhood rebuilding; with the help of their partners.
"We are delighted with Honeywell's generous support for rebuilding tasks that will be needed in Haiti," stated Gary A. Officer, President and CEO of Rebuilding Together. "We are confident that with the involvement of Operation USA, we will, together, provide much needed reconstruction work on the schools and community centers within the country of Haiti."
The contributions and partnership with Honeywell will assist Rebuilding Together in their efforts to implement projects aimed at facilitating the clean-up and rebuilding process in Haiti.
To make a donation through Rebuilding Together to help their rebuilding process in Haiti, please visit their website and donate today.
ABOUT REBUILDING TOGETHER
Rebuilding Together is the nation's leading nonprofit organization working to preserve affordable homeownership and revitalize neighborhoods by providing critical home repair and modification services to those in need at no cost to homeowners. With the help of everyday citizen volunteers, skilled trades people, the support of local business and major corporate partners, Rebuilding Together affiliates in America's largest cities and smallest towns make life considerably better for thousands of low-income homeowners and the communities in which they live by completing 10,000 projects per year. In addition to its core home repair work, Rebuilding Together also rehabilitates community centers and conducts home modification and repair programs that focus on aging in place. Rebuilding Together has programs dedicated to aging in place, energy efficiency, veteran's housing, and disaster recovery and reconstruction.
For more information, visit www.RebuildingTogether.org
ABOUT HONEYWELL
Honeywell (www.honeywell.com) is a Fortune 100 diversified technology and manufacturing leader, serving customers worldwide with aerospace products and services; control technologies for buildings, homes, and industry; automotive products; turbochargers; and specialty materials. Based in Morris Township, N.J., Honeywell's shares are traded on the New York, London, and Chicago Stock Exchanges. For more news and information on Honeywell, please visit www.honeywellnow.com.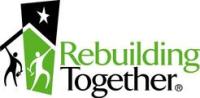 Rebuilding Together, Inc.
Rebuilding Together, Inc.
Rebuilding Together is the nation's largest non-profit organization whose mission is to preserve and revitalize houses and communities to assure that low-income homeowners, particularly those who are elderly and disabled, live in warmth, safety and independence. Through 2005 Rebuilding Together has rehabilitated over 96,120 houses, utilizing 2.5 million volunteers for a market value of $905 million.
More from Rebuilding Together, Inc.