Published 01-16-10
Submitted by Rebuilding Together, Inc.
Rebuilding Together is currently accepting donations in support of relief efforts in Haiti. It is estimated that up to 3 million people may have been directly affected by the earthquake's damage, and many more around the world have felt its impact through the loss of family members and loved ones.
Donations made through Rebuilding Together to assist the people of Haiti will be dedicated to addressing three core activities: Emergency Medical Assistance, Community Clean Up and Neighborhood Rebuilding.
"As a 4 star-rated organization by Charity Navigator, working to preserve affordable homeownership and revitalize communities in the United States, we recognize the urgency to come together and support those in need," President and CEO of Rebuilding Together, Gary A. Officer, stated. "We would like to express great sadness for the loss of life and the tremendous amount of damage caused by the earthquake that recently struck Haiti and encourage everyone to support the efforts first responders in Haiti, while preparing for the long-term process of recovery and rebuilding."
In addition to donations, Rebuilding Together will be gathering with members of the Haitian community in Miami to show our support during these difficult times. The Miami community is home to many families with connections and loved ones in Haiti. We will take this opportunity to not only rebuild the local Miami community, but also bring attention to the broader global need.
To provide immediate first response, Rebuilding Together will work through its Disaster Recovery and Reconstruction Program to provide assistance on the long term reconstruction of communities impacted by the earthquake. We will ensure that the long-term commitment to rebuilding and recovery is met.
In the aftermath of this devastating earthquake, Rebuilding Together is working to meet the needs of Haitians. Please support these efforts. To learn more about how your donation works and to donate through Rebuilding Together, please visit: http://www.rebuildingtogether.org/.
ABOUT REBUILDING TOGETHER
Rebuilding Together is the nation's leading nonprofit organization working to preserve affordable homeownership and revitalize neighborhoods by providing critical home repair and modification services to those in need at no cost to homeowners. With the help of everyday citizen volunteers, skilled trades people, the support of local business and major corporate partners, Rebuilding Together affiliates in America's largest cities and smallest towns make life considerably better for thousands of low-income homeowners and the communities in which they live by completing 10,000 projects per year. In addition to its core home repair work, Rebuilding Together also rehabilitates community centers and conducts home modification and repair programs that focus on aging in place. Rebuilding Together has programs dedicated to ageing in place, energy efficiency, veteran's housing, and disaster recovery and reconstruction. For more information, visit www.RebuildingTogether.org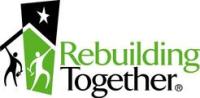 Rebuilding Together, Inc.
Rebuilding Together, Inc.
Rebuilding Together is the nation's largest non-profit organization whose mission is to preserve and revitalize houses and communities to assure that low-income homeowners, particularly those who are elderly and disabled, live in warmth, safety and independence. Through 2005 Rebuilding Together has rehabilitated over 96,120 houses, utilizing 2.5 million volunteers for a market value of $905 million.
More from Rebuilding Together, Inc.