Published 01-15-10
Submitted by The Mosaic Company
The Mosaic Company (NYSE: MOS) announced today it is contributing $500,000 for earthquake relief efforts in Haiti. Mosaic's $500,000 contribution will provide both immediate and long-term assistance, supporting emergency medical services, triage and mobile communications.
Mosaic will contribute $125,000 to each of the following four organizations: Canadian Red Cross, American Refugee Committee, American Red Cross and International Red Cross.
The company also said it will match contributions for each of its 7,400 global employees to relief organizations working to rebuild Haiti.
"As a global company whose mission is to help the world grow the food it needs, our employees everywhere share a great concern for the Haitian people," said Jim Prokopanko, Mosaic's President and Chief Executive Officer. "We are partnering with relief organizations that are making an immediate impact, as well as providing a long-term commitment to rebuilding Haiti."
About The Mosaic Company
The Mosaic Company is one of the world's leading producers and marketers of concentrated phosphate and potash crop nutrients. Mosaic is a single source provider of phosphate and potash fertilizers and feed ingredients for the global agriculture industry. More information on the company is available at www.mosaicco.com.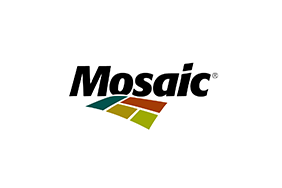 The Mosaic Company
The Mosaic Company
The Mosaic Company is the world's leading combined producer and marketer of concentrated phosphate and potash, two of the primary nutrients required to help the world grow the food it needs. Mosaic engages in every phase of crop nutrition, from the mining of resources to the production of crop nutrients, feed and industrial products for customers around the globe. Our customer base includes wholesalers, retail dealers and individual growers in more than 40 countries.
Headquartered in Plymouth, Minn., Mosaic employs approximately 8,000 people in eight countries. Our shares trade on the New York Stock Exchange under the ticker symbol MOS.
More from The Mosaic Company