Published 01-14-10
Submitted by 3BL CSRwire
CSRwire and PR Newswire have waived fees for all news releases relating to aid in rescue and recovery efforts for the Haiti earthquake crisis.
CSRwire and PR Newswire will waive fees through midnight on Sunday, January 17 for U.S. organizations that wish to communicate their efforts of assistance to media and public audiences in the United States, Latin America and the Caribbean. CSRwire will support this action by adding its audience of academics, activists, CSR investment houses, NGOs, educational institutions and government bodies. CSRwire is the Corporate Social Responsibility partner of PR Newswire.
CSRwire's CEO Joe Sibilia said, "The devastating earthquake in Haiti has killed, injured and displaced hundreds of thousands of people. It is in times like these that humanity comes together, sets aside their differences and helps out. In our own small way, we want to help spread the message of hope. CSRwire.com will open our communication resource of committed citizens to communicate and connect initiatives to aid victims of the earthquake."

"There is a huge rescue and relief effort underway to help the people of Haiti recover from this devastation and it is critical that any organization in a position to help does so," said Scott Mozarsky, executive vice president, PR Newswire. "By granting access to our vast communications network PR Newswire can assist those organizations who are announcing initiatives to aid the victims of the earthquake in Haiti get their important messages to their intended audiences. Our customers and employees have come to expect that PR Newswire will offer our assistance in times of crisis such as this, and we are very happy to be able to do so."
To view news releases issued by PR Newswire members offering aid, please visit: http://www.prnewswire.com/news-releases/earthquake-in-haiti-latest-news-81309442.html under Earthquake in Haiti.
About CSRwire
CSRwire is the leading source of corporate social responsibility and sustainability press releases, reports and information. CSRwire members are companies and NGOs, agencies and organizations interested in communicating their corporate citizenship, sustainability, and socially responsible initiatives to a global audience through CSRwire's syndication network and Daily News Alerts. CSRwire content covers issues of Diversity, Philanthropy, Socially Responsible Investing (SRI) Environment, Human Rights, Workplace Issues, Business Ethics, Community Development, Corporate Governance and much more.
About PR Newswire
PR Newswire is the global leader in innovative communications and marketing services, enabling organizations to connect and engage with their target audiences worldwide.
Through its multi-channel distribution network, multimedia, audience intelligence, targeting, measurement and compliance services, PR Newswire helps corporations and organizations conduct rich, timely and dynamic dialogues with the media, consumers, policymakers, investors and the general public, in support of building brands, generating awareness, impacting public policy, driving sales, and raising capital.
Pioneering the commercial news distribution industry 55 years ago, PR Newswire connects customers with audiences in more than 170 countries and in over 40 languages through an unparalleled network of offices in 16 countries across North and South America, Europe, Asia, and the Middle East, and via unique affiliations with the leading news agencies across the globe. PR Newswire is a subsidiary of United Business Media Limited (UBM.L), a leading global business media company that serves professional commercial communities around the world. For more information, go to www.UBM.com.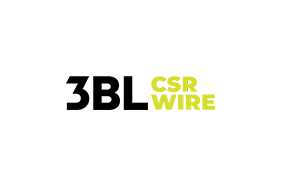 3BL CSRwire
3BL CSRwire
Respected and relied on by journalists, bloggers, business leaders and academics around the world, 3BL CSRwire is a dedicated, real-time source for major news and updates from within the worlds of ESG, corporate social responsibility and sustainability.
3BL CSRwire offers a-la-carte press release distribution to a global network of influential stakeholders and mainstream audiences—perfect for organizations just getting started in CSR or for those looking to get the most out of their corporate communications.
More from 3BL CSRwire