Published 12-17-09
Submitted by Ceres
Ceres and the Association of Chartered Certified Accountants (ACCA) today announced the shortlist of candidate reports for the Ceres-ACCA North American Sustainability Reporting Awards for 2009. Of the 92 sustainability reports received, 14 were selected for further consideration by the judges' panel that meets next month. The final winners will be announced at the Ceres Annual Conference at the Boston Seaport Hotel on May 5-6th.
Now in its ninth year, the awards program is designed to highlight best practices in reporting on sustainability issues by North American organizations, and to provide guidance to other groups and companies that are publishing or intend to publish sustainability or corporate social responsibility reports.
"More corporations are voluntarily disclosing their sustainability performance than ever before - and a future where sustainability disclosure becomes mandatory may not be too far in the distance." said Mindy Lubber, president of Ceres. "The Ceres-ACCA awards recognize those companies that not only document their performance, both positive and negative, but also set clear targets for future progress."
The awards are not intended to endorse or reward corporate sustainability performance, but rather to acknowledge exemplary disclosure that places performance in the broader context of sustainability challenges, risks and opportunities. The judging criteria address completeness, credibility and quality of communication. The independent judging panel includes North American leaders and experts representing a broad spectrum of backgrounds.
"Recognition of the importance and benefits of sustainability is an important ingredient in promoting ground breaking reporting practices by leading organizations," said Paul Costello, Head of ACCA Canada and USA. "This year's finalists are all fine examples for other companies to emulate as they demonstrate leadership in public disclosure of important non-financial information."
Short-Listed Reports


AEP


Baxter


Bristol-Meyers Squibb


Citi


Coca-Cola Enterprises


Ford


GE


HP


Intel


PG&E


Seventh Generation


Suncor


Sunoco


Timberland


For more information about the awards program visit www.ceres.org or www.accaglobal.com/sustainability.
About Ceres
Ceres is a national network of over 130 investment funds, environmental organizations, labor unions and other public interest groups working to increase corporate responsibility. Formed in 1989, Ceres created the Ceres Principles, a pioneering 10-point code of corporate environmental conduct that led to widespread adoption of environmental principles by corporations worldwide. In 1997, Ceres launched the Global Reporting Initiative (GRI), which has become the internationally established standard for corporate reporting on the "triple bottom line" of economic, social and environmental performance. GRI is now an independent institution, with over 1500 companies using the guidelines. Ceres also directs the Investor Network on Climate Risk (INCR) with over 70 investor members with over $7 trillion in assets under management.
About ACCA
ACCA (Association of Chartered Certified Accountants) is the world's largest international accountancy body with 325,000 students and 122,000 members in 170 countries. ACCA has promoted transparency in reporting the impact of business activities on sustainable development since 1991. ACCA is involved in reporting awards in more than 20 countries across the world and participates in a number of influential organizations, including the Global Reporting Initiative (GRI). In recognition of their UK social and environmental issues program, ACCA has been awarded a Queen's Award for Sustainable Development.

About CorporateRegister
CorporateRegister.com is the Communications Supporter of the Ceres-ACCA Sustainability Reporting Awards program. CorporateRegister.com is the global corporate responsibility (CR) resources website. It hosts the world's most comprehensive directory of CR and sustainability reports, profiling nearly 23,000 reports worldwide from over 5,000 companies. With an archive stretching back to 1990 it is indispensable for anyone working in the field of CR and sustainability reporting.
www.corporateregister.com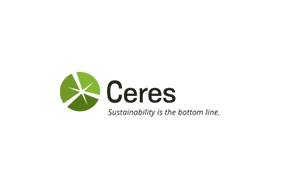 Ceres
Ceres
Our Mission: Ceres is transforming the economy to build a just and sustainable future for people and the planet. 
Ceres is a nonprofit organization working with the most influential capital market leaders to solve the world's greatest sustainability challenges. Through our powerful networks and global collaborations of investors, companies, and nonprofits, we drive action and inspire equitable market-based and policy solutions throughout the economy to build a just and sustainable future. For more information, visit ceres.org and follow @CeresNews. 
More from Ceres