Published 12-09-09
Submitted by Equal Exchange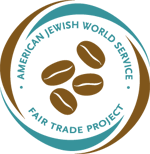 Equal Exchange is proud to announce the formation of a new fairly traded coffee and chocolate partnership with American Jewish World Service (AJWS). The Partnership is Equal Exchange's first Jewish partnership and it's twelfth overall. The AJWS "Better Beans" Fair Trade Project was formally launched at the United Jewish Communities General Assembly held in Washington, D.C. on November 8th-10th. In celebration of this new partnership, Equal Exchange also donated fairly traded coffee at the Union for Reform Judaism Biennial in Toronto, Canada, on November 7th. Equal Exchange and AJWS will work together to involve the Jewish community in Fair Trade.
AJWS is an international development organization dedicated to alleviating poverty, hunger and disease among the people of the developing world, motivated by Judaism's imperative to pursue justice. AJWS invites all Jewish brotherhoods, sisterhoods, youth groups, or religious schools to serve Equal Exchange fairly traded coffee and chocolate at Oneg Shabbats, brunches, events or to use them for fundraising. When synagogues or Jewish organizations order fairly traded products through the AJWS Project, a portion of every pound of coffee or chocolate purchased will go to support AJWS's Fighting Hunger from the Ground Up campaign.
Equal Exchange is a democratically organized, worker-owned co-operative, founded in 1986, to pioneer a new model of trade built upon fairness and stronger relationships between farmers and consumers. Purchasing Equal Exchange coffee and chocolate allows participants to join a network that enables farmers in Latin America, Africa and Asia to stay on their land, support their families, plan for the future, and care for the environment. Equal Exchange applies the principles of democracy, ownership, participation and transparency to its own model; each worker has an equal stake in ownership, an equal vote, and a voice in key decisions.
The AJWS "Better Beans" Fair Trade Project includes Equal Exchange kosher certified coffee and chocolate products only. Equal Exchange coffee is kosher certified by the Orthodox Union or "OU". The Organic Hot Cocoa mix, Organic Baking Cocoa, Organic Spicy Hot Cocoa and Organic Drinking Chocolate are certified by the Kashruth Council of Canada. Chocolate bars are certified by Rabbi Abraham Hochwald, Chief Rabbi of the Northern Rhine-Germany.
Chanukah is a perfect time for the Jewish community to give gifts of AJWS fairly traded chocolate and coffee to family and friends. AJWS brochures and stickers are available.
About American Jewish World Service
AJWS is international development organization dedicated to alleviating poverty, hunger and disease among the people of the developing world, and is active in 36 countries in Africa, Asia and the Americas. AJWS also educates the American Jewish community about global issues, offers service volunteer opportunities, and is an advocate for human rights and peaceful conflict resolution. www.ajws.org
About Equal Exchange
A pioneer and U.S. market leader in Fair Trade since 1986, Equal Exchange is a full service provider of high quality, organic coffee, chocolate, cocoa, and other products. Customers include grocery stores, restaurants, cafes, schools and places of worship nationwide. 100% of Equal Exchange products are fairly traded, benefiting more than 40 small farmer co-operatives in 22 countries around the world.
For more information see www.equalexchange.coop/ajws

Equal Exchange
Equal Exchange
Equal Exchange, founded in 1986, is the worker-owned and governed co-operative who pioneered the Fair Trade concept in the U.S. coffee industry. They have since successfully expanded their Fair Trade program into the tea, cocoa, chocolate, sugar and healthy snack categories. Equal Exchange products are sold and served in thousands of locations nationwide, including supermarkets, natural food stores, cafés, and places of worship. Overall they now trade with 40 small-farmer co-operatives around the world, including 2 in the United States. With $25 million in annual sales, and 100+ employees, Equal Exchange has grown to be the nation's sixth largest worker co-op. It is their mission to continue to grow the Fair Trade market, and to demonstrate the contributions and viability of democratic worker co-operatives.
More from Equal Exchange