Published 12-03-09
Submitted by Hormel Foods Corporation
Following its reduction of 5.2 million pounds of product packaging in 2008, Hormel Foods Corporation (NYSE: HRL) is proud to announce the results of several new packaging projects.
"Our new initiatives build on about 40 packaging reduction projects completed in 2008 and reflect the way we continuously look for means to improve the packaging of our products and reduce our environmental footprint," said Daniel S. Miller, Research and Development manager of packaging development at Hormel Foods. "In this process, we work with our suppliers to find innovative solutions."
New packaging reduction highlights and projected savings include:


The elimination of extra room in the Jennie-O Turkey Store® burgers carton is expected to have an annual paperboard savings of more than 175,000 pounds.


Lloyd's® barbeque tubs no longer have an extra paper sleeve. This modification will eliminate enough solid waste to fill 22 garbage trucks and save more than 660,000 pounds of paper fiber annually.


Reducing the thickness of the glass used to produce each jar of Hormel® bacon bits will produce annual material savings around 411,000 pounds.


Reconfiguration of the shipping box for Hormel® Compleats® microwave meals removed 23 percent of the material required to make the previous corrugated packaging box and generated an annual materials savings of 1.2 million pounds. In addition, changes to the size of the carton flaps of the product and reallocation of materials resulted in annual savings of more than 980 million pounds of solid waste.


Hormel® party trays packaging was redesigned to eliminate the need for shrink wrap to produce an annual savings of approximately 100,000 pounds. The corrugated case to ship the product will be smaller, resulting in a corrugated material savings of more than 174,000 pounds per year.


Redesign of the shipping box for Hormel® pork ribs, butts and bone-in offers more strength while creating an annual corrugated materials savings of about 2.4 million pounds.


Reducing the height, width and length of each box used to ship Hormel® pepperoni, increased the amount of product on each pallet, saving materials and reducing the number of trailers needed each year. The anticipated savings is 188,000 pounds of wood fiber annually and 49,000 pounds of corrugated.


Changes to the shipping of canned food products made by Hormel Foods will result in efficiencies that reduce the number of pallets needed annually by 14,573 and require less plastic and bundling film.


These packaging reduction projects are part of the overall corporate responsibility strategy and goals set by Hormel Foods. Companywide commitments in the areas of people, process, products, performance and philanthropy are highlighted in the 2008 Hormel Foods Corporate Responsibility Report at http://www.hormelfoods.com/csr/2008/.
About Hormel Foods
Hormel Foods Corporation, based in Austin, Minn., is a multinational manufacturer and marketer of consumer-branded food and meat products, many of which are among the best known and trusted in the food industry. The company leverages its extensive expertise, innovation and high competencies in pork and turkey processing and marketing to bring quality, value-added brands to the global marketplace. The company is a member of the Standard & Poor's 500 Index, and in each of the past 10 years, Hormel Foods was named one of "The 400 Best Big Companies in America" by Forbes magazine. The company enjoys a strong reputation among consumers, retail grocers, foodservice and industrial customers for products highly regarded for quality, taste, nutrition, convenience and value. For more information, visit http://www.hormelfoods.com.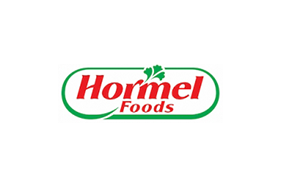 Hormel Foods Corporation
Hormel Foods Corporation
About Hormel Foods – Inspired People. Inspired Food.™
Hormel Foods Corporation, based in Austin, Minn., is a global branded food company with over $9 billion in annual revenue across 75 countries worldwide. Its brands include SKIPPY®, SPAM®, Hormel® Natural Choice®, Applegate®, Justin's®, Wholly Guacamole®, Hormel® Black Label® and more than 30 other beloved brands. The company is a member of the S&P 500 Index and the S&P 500 Dividend Aristocrats, was named one of "The 100 Best Corporate Citizens" by Corporate Responsibility Magazine for the ninth year in a row, and has received numerous other awards and accolades for its corporate responsibility and community service efforts. In 2016, the company celebrated its 125th anniversary and announced its new vision for the future - Inspired People. Inspired Food.™ - focusing on its legacy of innovation. For more information, visit www.hormelfoods.com and https://csr.hormelfoods.com/.
More from Hormel Foods Corporation