Published 09-29-09
Submitted by United Airlines
United Airlines today released its 2008-2009 Corporate Responsibility Report - Every Action Counts(SM), highlighting the company's actions and commitments to business discipline and leadership, safety, customer satisfaction, employee development and opportunity, community engagement, and environmental stewardship.
Every Action Counts(SM) underscores United's progress toward making a meaningful difference in the cities and communities where its people live, work, travel, and do business. It illustrates the company's efforts to achieve industry leadership in safety and customer satisfaction; its ongoing support to our communities to address important economic and social needs; and the progress in implementing responsible environmental initiatives that reduce impact in the air and on the ground.
"Corporate responsibility means forging strong relationships with the people and communities we serve and using our resources to make a difference," said Glenn Tilton, chairman, president, and chief executive officer of United Airlines. "Our success is driven by how we work as a team to improve our airline and better serve our customers-how we are stepping up to meet environmental challenges and addressing community needs, and how we work together to make every action count."
Highlights within the report include:
Communities and Local Engagement
United uses its resources - aircraft, people, and global network - to aid organizations that help others. United cares about the economic issues that affect its communities and works collaboratively to help them prosper.
United enables and promotes customer donations to causes and partners that are important through the company's Charity Miles program, resulting in more than $1 billion worth of miles since 1996.
United contributes to and enables the support of nearly $12 million to its community partners and causes in 2008.
United employees and customers are committed to battling cancer; United employees have raised $2 million for the Breast Cancer Network of Strength through annual participation in the Walk to Empower, and United's customers donated more than 100 million Mileage Plus miles and enabled the company to deliver 20,000 teddy bears to children with cancer.
United provides inner-city youth opportunities to build their skills and reach their potential; United mentors high school students, sponsors youth learning programs such as After School Matters and Junior Achievement, and connects students with enriching experiences such as the opportunity to participate in the inauguration of President Barack Obama.
United participates on the boards of nearly 40 civic and non-profit organizations, providing expertise and ideas to benefit the communities it serves.
The Environment
United is working across the company and industry to minimize carbon dioxide emissions, conserve energy resources, and explore energy alternatives and expand waste management efforts.
United saves 1 billion pounds of fuel through conservation initiatives from 2004 through 2008.
United improves fuel efficiency by 32% between 1990 and 2008 (gallons per revenue ton mile).
United has nearly 1,800 alternative-fueled and zero-emitting vehicles, representing nearly 25% of the active Ground Support Equipment (GSE) fleet.
United will save 3 million gallons of jet fuel per year by using EcoPower Engine Wash.
The Business
United reinforced its commitment to safety and strengthening its business discipline by improving service, launching award-winning products, and reducing costs.
United maintains a focus on safety that is at the core of its business and the foundation of everything it does.
United is number one among its competitors in on-time performance year to date, awarding frontline employees more than $18 million for meeting on-time performance goals.
United invested more than $4.3 billion in Total Rewards for its people in 2008 and promotes programs and unique training experiences to develop its employees and cultivate future leaders.
United is the first U.S. carrier to provide award-winning 180 degree lie-flat seats in both international first and business class, and Travel Options that enable customers to enjoy an enhanced travel experience.
To access the Corporate Responsibility Report-Every Action Counts(SM) online, please visit united.com/corporateresponsibility or contact us directly at crinfo@united.com.
About United
United Airlines (Nasdaq: UAUA) operates approximately 3,300* flights a day on United and United Express to more than 200 U.S. domestic and international destinations from its hubs in Los Angeles, San Francisco, Denver, Chicago and Washington, D.C. With key global air rights in the Asia-Pacific region, Europe and Latin America, United is one of the largest international carriers based in the United States. United also is a founding member of Star Alliance, which provides connections for our customers to 916 destinations in 160 countries worldwide. United's 48,000 employees reside in every U.S. state and in many countries around the world. News releases and other information about United can be found at the company's Web site at united.com.
*Based on United's forward-looking flight schedule for July 2009 to June 2010
*Includes Scheduled and Charter Operations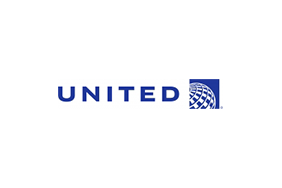 United Airlines
United Airlines
About United
United's shared purpose is "Connecting People. Uniting the World." For more information, visit united.com, follow @United on Twitter and Instagram or connect on Facebook. The common stock of UAL is traded on the Nasdaq under the symbol "UAL".
More from United Airlines