Published 09-14-09
Submitted by Blackbaud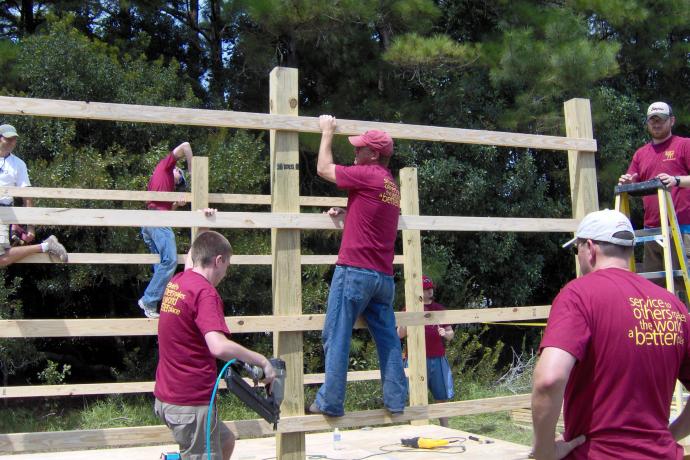 Blackbaud employees volunteer at Fields to Families as part of the 2009 Day of Caring.
Blackbaud, Inc. (Nasdaq: BLKB) the leading global provider of nonprofit software and services, participated in the Trident United Way 2009 Day of Caring on Sept. 11. More than 150 Blackbaud employees volunteered to work on projects that benefited the Charleston community at 13 different nonprofits as part of the National Day of Service and Remembrance.

This year, 350 projects were planned by 150 local charities and schools. Blackbaud participated in activities such as building structures and planting vegetables at 13 different local nonprofits: St. John's High, Rein and Shine, Keep North Charleston Beautiful,
Fort Dorchester Elementary, Murray-Lasaine Elementary, Springfield Elementary, People Against Rape, Fields to Families, Alice Birney Middle School, Sea Island Habitat, Septima Clark Academy (through Communities in Schools), Alston Middle School, and HALOS.
"The nonprofits we work with count on us to be far more than just a technology partner. That's why one of Blackbaud values is 'service to others makes the world a better place,'" said Rachel Hutchisson, Blackbaud's director of corporate relations and philanthropy and president of the Association of Fundraising Professionals' SC Lowcountry chapter. "It is important to our employees that the company they work for enables and supports the causes that are important to them."
An event that drew more than 6,000 participants across the Charleston area, Trident United Way's Day of Caring 2009 had more projects, volunteers, teams, companies, agencies, and schools than ever before. In 2008, Trident United Way held the largest Day of Caring in the nation, with the value of labor and supplies topping $1 million.
For photos of the event, visit the official Blackbaud Flickr page, and for video of the volunteer projects visit the official Blackbaud YouTube Channel.
About Blackbaud
Blackbaud is the leading global provider of software and services designed specifically for nonprofit organizations, enabling them to improve operational efficiency, build strong relationships, and raise more money to support their missions. Approximately 22,000 organizations - including University of Arizona Foundation, American Red Cross, Cancer Research UK, The Taft School, Lincoln Center, In Touch Ministries, Tulsa Community Foundation, Ursinus College, Earthjustice, International Fund for Animal Welfare, and the WGBH Educational Foundation - use one or more Blackbaud products and services for fundraising, constituent relationship management, financial management, website management, direct marketing, education administration, ticketing, business intelligence, prospect research, consulting, and analytics. Since 1981, Blackbaud's sole focus and expertise has been partnering with nonprofits and providing them the solutions they need to make a difference in their local communities and worldwide. Headquartered in the United States, Blackbaud also has operations in Australia, Canada, the Netherlands, and the United Kingdom. For more information, visit www.blackbaud.com.
More photos:http://www.flickr.com/photos/blackbaud
Click here to watch the video: http://www.youtube.com/user/blackbaudinc#play/all/uploads-all/0/WMfd8okNsAE

Blackbaud