Published 09-10-09
Submitted by Circle of Blue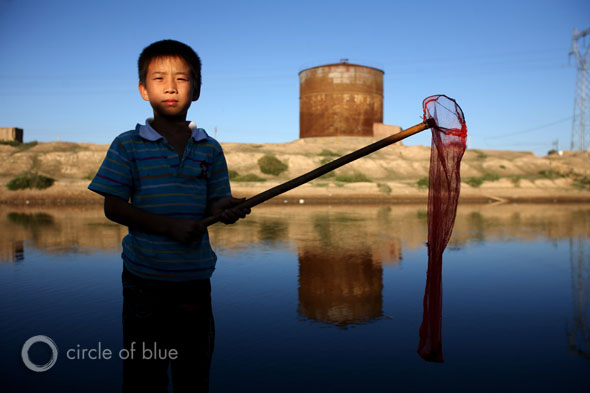 A Chinese boy fishes after school on the shores of the Yellow River in Huijihe, west of Baotou in Inner Mongolia.


Water pollution seen as top environmental priority, exceeding climate change
Chinese respondents do not feel empowered to address water problems
Government considered most responsible for providing clean water


China poll is part of comprehensive international survey


http://www.circleofblue.org/waternews/
Contamination of China's fresh water resources from industrial pollution and inadequate sewage treatment is seen by Chinese residents as the nation's most critical environmental priority, according to a new public opinion survey. The survey by Circle of Blue, an American multi-media news and science organization, and GlobeScan, a global public opinion polling firm, also found that people are hungry for more information.
The Circle of Blue / GlobeScan survey's China focus was published today at the World Economic Forum New Champions conference here this week. The findings in China were part of a comprehensive public opinion survey that interviewed 1,000 people in each of 15 countries. The poll asked more in-depth questions concerning attitudes about fresh water sustainability, management, and conservation to 500 people in China and each of six other nations: Canada, India, Mexico, Russia, the United Kingdom and the United States.
The Circle of Blue / GlobeScan poll, the most comprehensive global public opinion survey on water, found that people around the world - especially in China - viewed water pollution and scarcity as the planet's top environmental problems, greater than air pollution, depletion of natural resources, loss of habitat and climate change.
"We found very significant concern among the Chinese people about water quality and access to clean water," said Rob Kerr, vice president of GlobeScan and one of the survey's principal researchers. "The data show that the Chinese are aware of the condition of their waters and understand action is needed to improve conditions."
Public concern in China about the quality and availability of clean fresh water mirrors the global consequences of water scarcity and pollution. More than five million people die each year due to a lack of safe drinking water, and the United Nations estimates that 5.5 billion people will lack adequate access to fresh water in the next 20 years. Water scarcity and declining water quality have emerged as serious impediments to economic development and security in dozens of industrialized and developing countries.

Sixty-seven percent of Chinese respondents are very concerned about water pollution, 62 percent agree that water shortages are too big a problem for individuals to be able to contribute to the solution, while 34 percent believe individuals can make a difference. Eighty-eight percent want to be more informed before they contribute to the solution.
"We're finding that people around the world are awakening to global water challenges such as scarcity and pollution," said J. Carl Ganter, Circle of Blue co-founder and director, at the World Economic Forum's New Champions Conference in Dalian, China. "The trend here is that as people awake to the problem, they are not only seeking solutions, they want to know more and how to be a part of the solution. China is at so many crossroads and the public and political climates are changing rapidly."
The independent survey was commissioned by Circle of Blue, the Michigan-based international network of leading journalists, scientists and communicators focused on global water issues. Molson Coors Brewing Company (NYSE: TAP) supported the in-depth research, which was conducted by GlobeScan, a global survey research firm. A global snapshot of the survey was presented August 18 at World Water Week in Stockholm.
The survey results come at a time when protests over water quality in China are now occurring with such frequency, say China specialists and environmental advocates, that they signal the opening of public and government conscience about the environment. They've also led to improvements last year in Chinese water quality statutes. (Read full Circle of Blue coverage of these China trends at Circle of Blue WaterViews.)
Despite containing the world's fourth-largest fresh water supply, "two thirds of China's approximately 660 cities have less than they need and 110 of them suffer severe shortages," according to Elizabeth Economy, a China scholar at the Council on Foreign Relations. Cities like Beijing and Tianjin could run out of water in five to seven years, says China water expert and environmentalist Ma Jun.
The full report, including details about China, interactive visualizations using Qlikview and award-winning photojournalism is online at Circle of Blue WaterViews.
China is not alone. A close look at the survey results shows that people around the world view water pollution as the most important facet of the fresh water crisis, and that shortages of fresh water are very close behind.
"It's the axis issue that intersects the world's greatest challenges, from health, poverty and security to climate, immigration and environment, even financial and commodities markets," Ganter said.
Chris Coulter, vice president of GlobeScan, said, "This research confirms the general public's awareness and understanding of water as a critical resource, as well as the importance of conserving and protecting fresh water supplies through stewardship.."
Resources
Full survey results, including photos, interactive maps, and detail for each of the seven featured countries, is available at http://www.circleofblue.org/waterviews. Daily reports on the world's water issues are available at Circle of Blue WaterNews.
A webcast of the Stockholm presentation, including an introduction by Molson Coors CEO Peter Swinburn, is available online at http://www.molsoncoors.com
About Circle of Blue
Circle of Blue is the international nonprofit network of leading journalists, scientists and communications design experts that reports and presents the information necessary to respond to the global fresh water crisis. It is an affiliate of the internationally recognized water, climate and policy think tank, the Pacific Institute. Circle of Blue publishes WaterNews, the daily go-to source for global water news and data. It is also the co-founder of the global initiative, Designing Water's Future, a partnership with Collins: Transformative Design, AIGA and INDEX that emerged from a session at the World Economic Forum. Circle of Blue practices non-advocacy journalism and science, striving to report issues to the highest standards of journalistic and scientific ethics. For more information, visit the Circle of Blue Web site, www.circleofblue.org
About Globescan
GlobeScan Incorporated is a global survey research firm providing strategic advice to companies, multilateral institutions, governments and NGOs, on reputation, sustainability, and corporate responsibility. GlobeScan is a world leader in conducting comprehensive survey research in all regions of the world amongst general publics and stakeholders. www.GlobeScan.com

Circle of Blue
Circle of Blue
Founded by leading journalists and scholars, Circle of Blue covers the global freshwater crisis with original front-line reporting, dynamic data spaces and engaging social media, using pioneering communications and information technologies to inform decision-making. Circle of Blue is a nonprofit independent journalism project of the Pacific Institute. It was featured recently at the Aspen Ideas Festival and the Clinton Global Initiative, and received initial development funding from the Ford Foundation.

CSRwire did their first Member Spotlight on Circle of Blue. Click here to read the story!
More from Circle of Blue